Best WordPress ad management plugin
If you have your own or operate a WordPress website you can sell ad space, too using ad management plugin. You can sell space on blog posts and web pages where other companies can promote their content, and in return, your website is rewarded every time a user clicks on an ad.
Let's dig into this a little more and talk about how you can easily manage ad campaigns.
Most WordPress themes don't even have dedicated spots to display ads. This means you often have to edit theme files to insert ad code into your website, so instead of editing the code we can use plugin which is more convenient an popular in use.
Many use this plugin to generate revenue from their websites, and it's very common nowadays in almost every website you see there is an ad that shows that it is an effective method to generate revenue.
To make this work, there are several steps you'll need to take to get your advertising content set up. Like you have to upload and manage advertisements.
Optimizing the ads for the best possible performance is of utmost importance.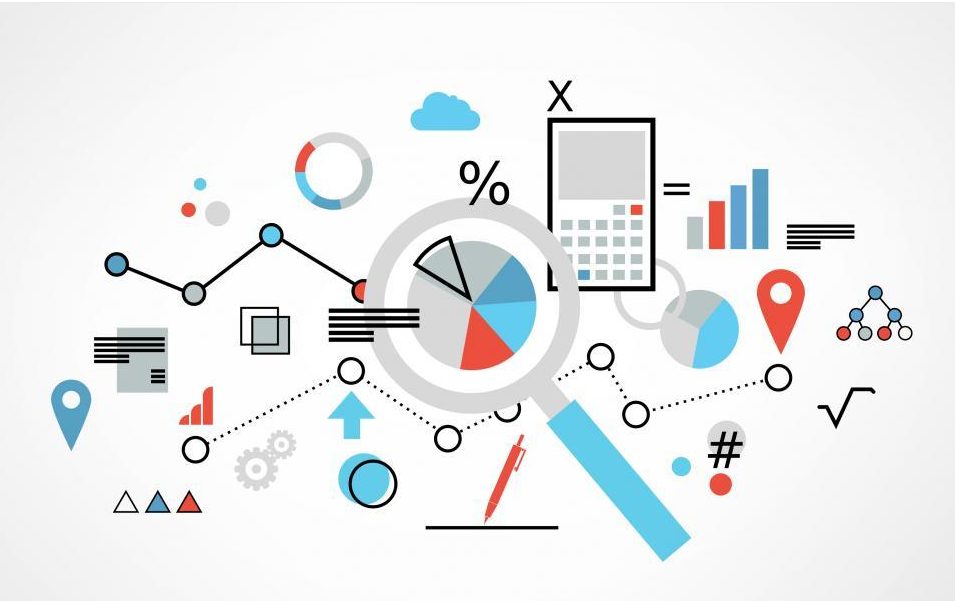 What is WordPress Ad manager plugin?
A WordPress ad manager plugin will allow you to quickly and easily insert ads anywhere on your website that you want.
This helps you optimize the ad, and ad placement, and make the most use of the advertising real estate you have available on your website.
Most of these plugins will also include ad widgets. You can use these widgets to display ads in sidebars, pages, footers, headers, and any other widget area provided by your WordPress theme.
A good WordPress ad plugin is lightweight and easy to use. It will also perform a lot of the following functions when used correctly:
That's why we put together this list of the best WordPress ad management plugins. Read on to learn about what each plugin does, how much it costs to install, and why it might be beneficial for your site.
List of best Ad management WordPress plugins
1. Ads pro plugin: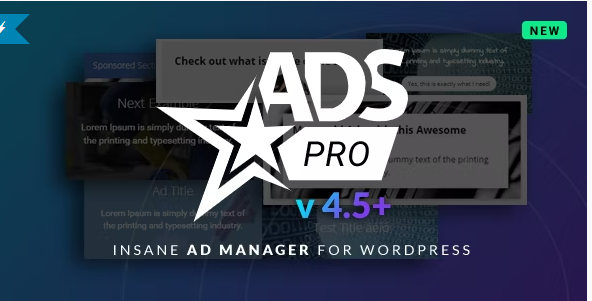 This tool is one of the most comprehensive ad management plugins on this list as it offers tons of unique features and customization options.
The Ads Pro plugin is a premium plugin available on Codecanyon which helps you manage, sell, and display your advertising space.
And it's 100% free from an Adblocker. A quarter of desktop users are using ad blockers nowadays and you can reduce your chance by 25% so getting this pro version of ad blockers can be of best use that helps you to bypass those blockers.
Core Features
Geographical targeting (countries, states/provinces, cities, or zip-codes)
Schedule your ads and control their delay
Option to show Ads on Specific Devices (mobile, tablet, or desktop)
Filters on Categories and Tags
Hooks to show Ads before / inner / after Content
Options to show / close Ads after X seconds
Capping option to show Ads only X times per User / Session
Display your ads in more than 20 different ways (sidebar, floating, video, background, corner peel, grids, hover, and others)
Huge Backend manager (easily manage your ads)
25+ ready-to-use Responsive and User-friendly Ad Templates
The plugin includes things like geographical targeting, categories, tags, hooks, and the ability to display ads in more than 20 different ways with the use of its built-in responsive and user-friendly templates.
The pricing starts from $57 with envanto licenses to $199.
2. WP-Insert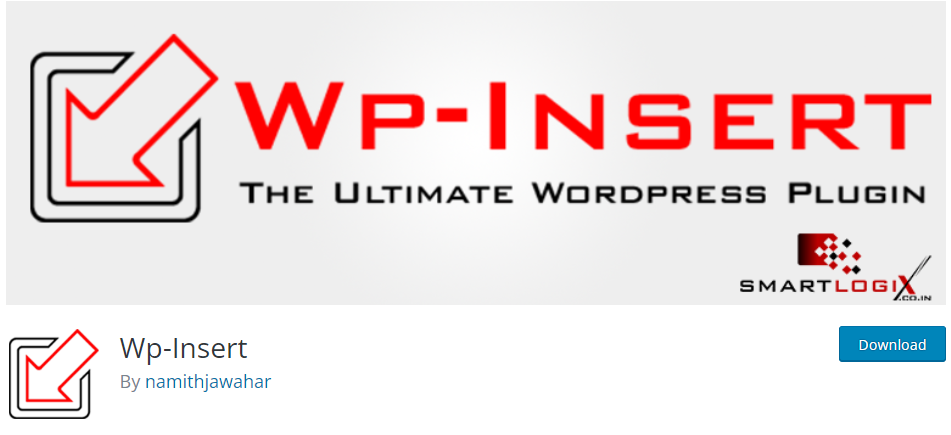 Surely WP-Insert is one of the most powerful WP ads plugins nowadays and it impresses with tons of useful functions. It supports Multiple Ad Network Support, ten various ad widgets, twenty custom ad areas, and so on.
Without a doubt, this is the leading software for WordPress advertising.
Features
Insert into multiple locations
Supports Google Page-Level Ads
Hide ads on specific pages
Hide ads for logged-in users
The plugin is packed with features like inserting ads anywhere on a page, post, or sidebar with quick fix management, various ad styles, Google Analytics support, and fast site speed. Ads can easily to inserted directly into themes for easy customization as well.
The pricing of this all-in-one plugin is free.
3. AdRotate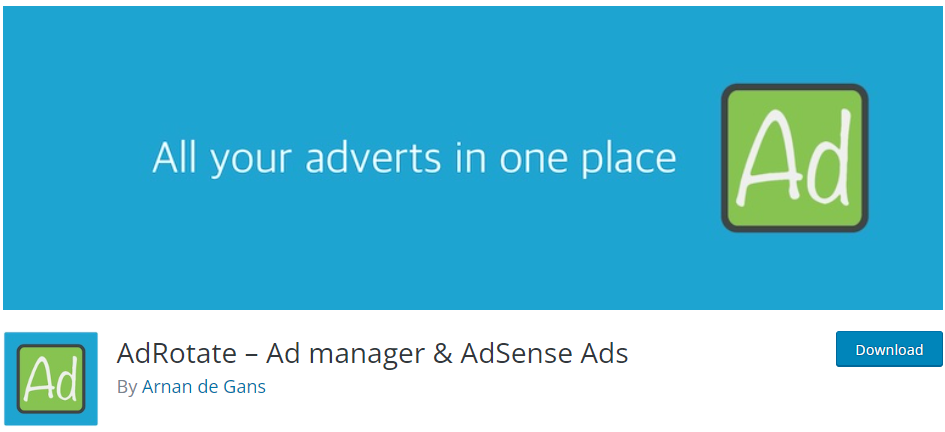 AdRotate is a great WordPress banner ad plugin that works even if you are a beginner or an advanced user. You can easily add and manage the ads by showing a random banner on your blog.
It supports all kinds of ad types as well, such as rotating ads, banners, and network ads. It is extremely easy to set up and use. you can create ad groups, ads, banners, etc., and display them wherever you want.
This WordPress Ad rotator plugin also enables you to add custom widgets to your website and insert advertisements into the sidebars.
There's also a geo-targeting feature that's compatible with all countries and cities. That way, you can make sure your ad is translated into the right language whenever you advertise in different cities, states, and countries.
It offers a free version that works fine for most small blogs and websites as well as a premium subscription if you want to use advanced features like scheduling, geo-targeting, AdBlock disguise, mobile adverts, media, and assets management, and more.
Additional features include:
Insert ads from multiple ad servers
Multiple groups per banner location
Automated JavaScript cycles of ads with Dynamic Groups
Let your advertisers add/edit/manage their ads and contact you
Accept PayPal payments from the dashboard when selling adverts
Disguise adverts from ad blockers so they're not removed
Easy to use stats so you can follow how each advert is performing
Put random, or selected, banners in pages or posts
Show multiple ads at once in a grid, column, or row
Automatically disable ads after they expire
Use shortcodes, widgets, or PHP to put ads on your site
Insert HTML or JavaScript
Disguises ads from blockers
It is a freemium plugin so the premium pricing starts at $39/year.
4. Adning advertising

Like Ads Pro Plugin, Adning Advertising is another ad management plugin boasting features.
It's also compatible with multiple ad platforms such as Google AdSense, and YAHOO! advertising and AOL advertising. Adning Advertising can even help you add ads to your MailChimp newsletters.
Here are some of the important features of this WordPress advertising plugin:
modern transition effects
Manage Ads for all custom post type
This plugin is also 100% responsive, so your ads will look great no matter what device or browser your users are viewing them on. As per a study, more than 50% of all internet traffic comes from mobile devices, this is an important feature to have if you want to focus on mobile visitors coming to your site.
There's also an auto-positioning feature that adds banners to your pages automatically. It doesn't require shortcodes or widgets, you just have to tell the plugin what type of ad you want and it will "ad it there."
The price starts at $26 to $198 for the pro premium plugin.
5. Quick AdSense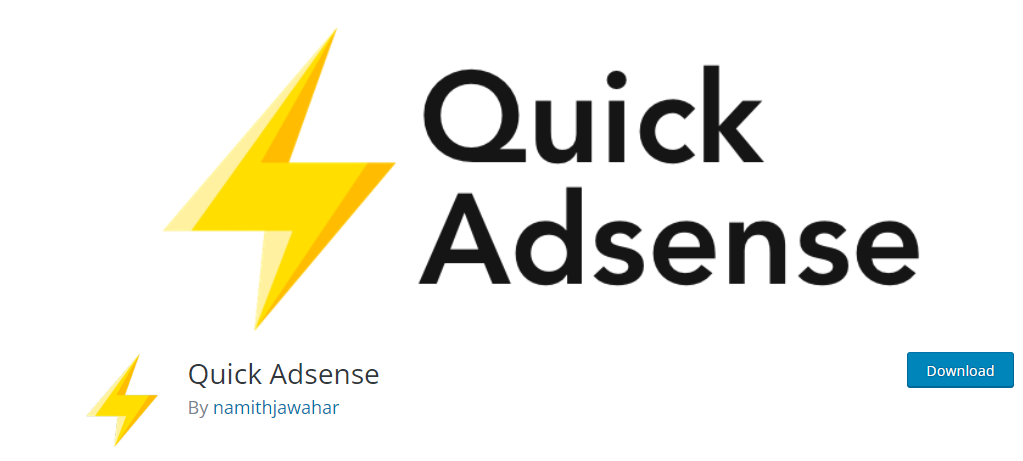 Quick AdSense is a popular free WordPress ad management plugin. This plugin is simple, free, and easy to use. Plus, it allows you to place an ad randomly on your site. This keeps your site looking fresh, and reduces the chance of ad blindness that might occur with repeat visitors.
Although this WordPress plugin is designed specifically for Adsense and requires a Google Adsense account to use, it's still compatible with other advertising platforms. This makes it an excellent choice for those who are primarily using Google Adsense to create and manage online ads.
In general, placing Adsense randomly within a past is a good way to experiment with a variety of ad formats & placements besides optimizing your Adsense. It has custom ad widgets that will display ads in sidebars and other widget-ready areas.
Using this plugin, you can display up to 10 ads on a page, Overall, Quick Adsense is a flexible & handy plugin for easy and seamless ad management.
Features:
It supports any ads codes
Simple configuration interface
Display & Support up to a maximum of 10 Ads codes on sidebar widgets.
6. Corner ad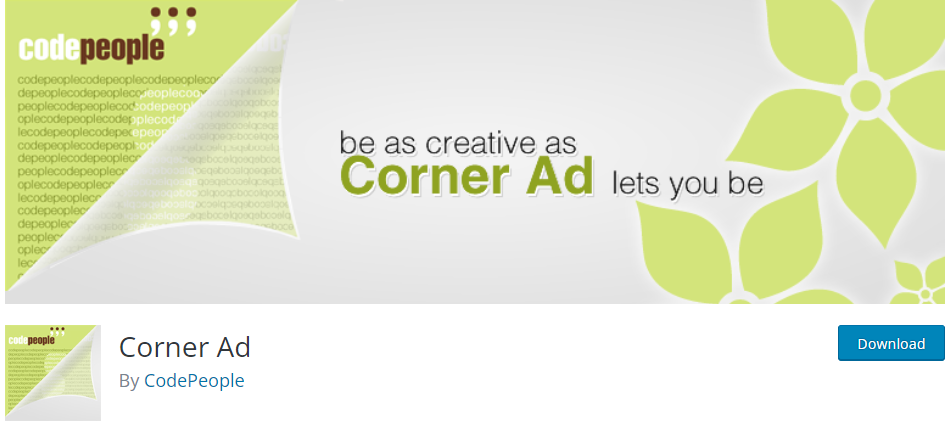 Corner Ads are minimally invasive to your webpage, but they are still able to get the attention of your visitors even though they didn't take up much space.
They initially display a partial ad, which attracts attention; when the user hovers the mouse over it, the ad opens to its full size while imitating a page-flip effect; once the mouse is moved away, the ad returns to its initial size.
Corner Ad features:
Display the ad in the top corner area of the page
The animation in the Corner Ad captures the user's attention
It is possible to associate an image and an URL to the Corner Ad
The target of the link can be selected
Configurable background color for the ad to match the web page design
Configurable time for automatic open and close actions
The "Corner Ad" plugin allows the specific integration with the following editors: Classic WordPress Editor, Gutenberg Editor, Elementor, Page Builder by SiteOrigin, and Beaverbuilder Editor. For other editors, the shortcodes should be inserted using other controls of general purpose, like the controls for inserting HTML or shortcodes.
It is a freemium plugin so the pricing of premium plans starts at $25.
7. Ad sanity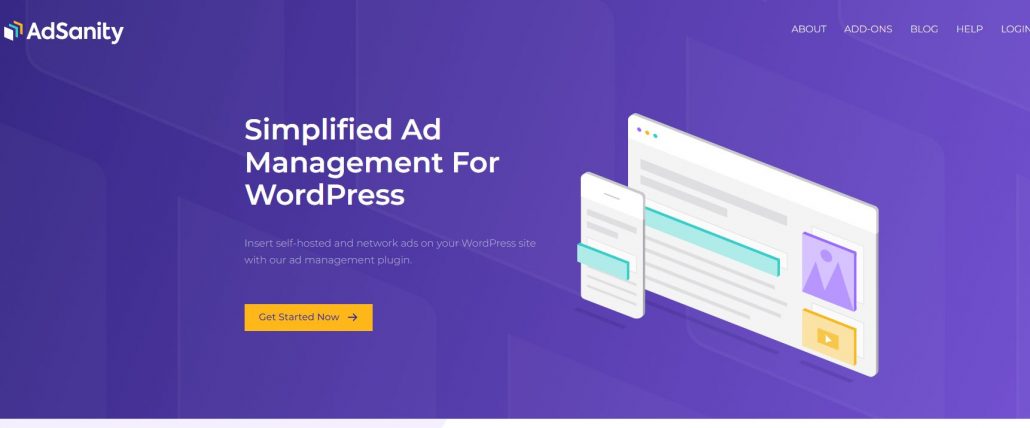 AdSanity is an extremely easy-to-use WordPress ads plugin that was designed to make ad management easier.
The ease of use of this plugin is reiterated by the fact that it makes posting ads as easy as posting a blog or article. Easily create a variety of ads, manage them, and track the clicks from a user-friendly dashboard
It also provides statistics on views and clicks. You can schedule the ads to display based on the date. Display ads within widgets, and template tags, or place them anywhere on your website.
This plugin keeps complete track of the ads, right from adding expiry dates to tracking the stats as well. It also generates reports according to your requirements.
Features
More expensive plans include advanced addons
It turns your WordPress website into an ad server without getting in the way of your content. It can take ads from most ad networks or host ads that are local to your site and present them to the users of your site seamlessly.
The pricing of AdSanity starts at $59/year.
8. Ad inserter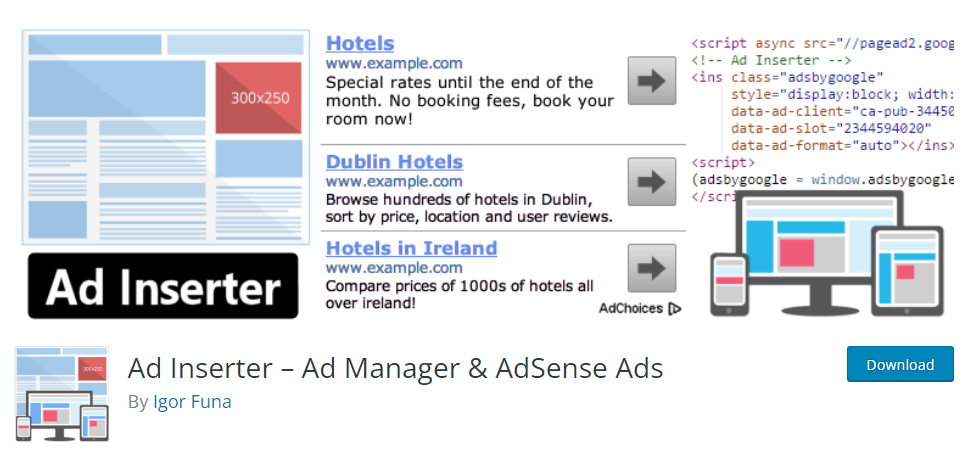 Ad Inserter is a versatile WordPress advertising plugin with excellent features to help you insert ads into your site. This plugin makes it easy to place ad codes into the most optimal locations on your website.
It supports lots of ad platforms including Google AdSense, Google Ad Manager, Infolinks, Amazon native Shopping, and more. You can also display fixed or rotating ads. It also allows you to insert opt-in forms, scripts, CSS, JavaScript, PHP, and tracking code.
Features:
Insert code into 17 locations
Integrates with multiple ad platforms
Disable specific pages or posts
Code generator for banners
Pro version adds click detection, geolocation, reports, click fraud protection, and impression and click limits.
The ad inserter plugin is available in both free and paid versions. The free version is good enough to be used as your primary ad management tool, but for advanced features, you would want to upgrade to their paid version.
Ad Inserter has a free version at WordPress.org that should work for most sites.
The premium version is also quite affordable. It ranges from €20 to €100 depending on the features you need and how many sites you have.
9. WordPress ad widget: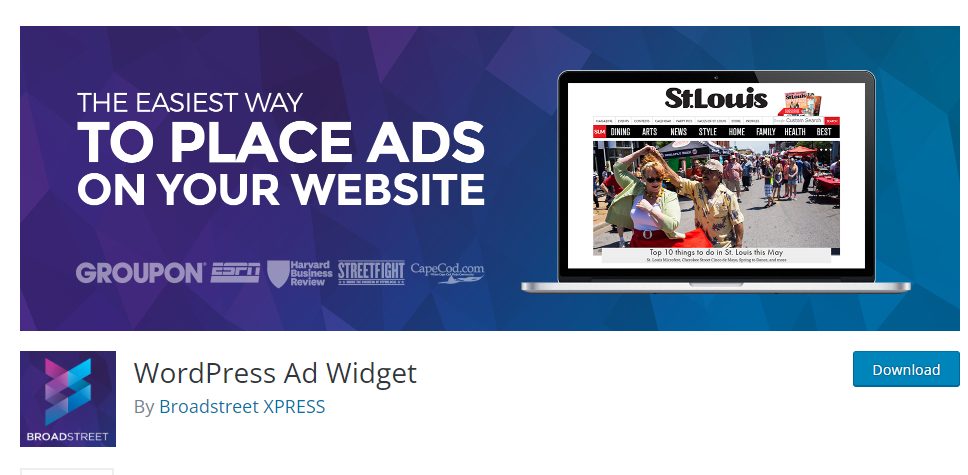 WordPress ad Widget, Ad management plugin gives you a widget that you can place anywhere in your sidebar on your WordPress site. In that widget, you can easily place your own custom banner ads as well as Google AdSense ads.
This plugin is intuitive for beginners and has a simple ad interface for you to manage. And, all you need to do is navigate to the widget page and choose the type of ad you want to create. After that, just drag the module to where you want it to appear on your site and add all the details you want to include in your advertisement.
Features:
Extremely intuitive for a beginner
No clunky ad management interface
Easily place image banner ads
Easily place Google ad tags & another ad code.
The downside of this plugin is that if you have an ad blocker installed, it will not work. You will need to uninstall your adblocker if you want to use this plugin. And it's Free.
10. Ads plugin by WP Quads
WP Quads Ad management plugin Insert Google AdSense ads specifically or randomly anywhere within a post, this has a "quick import" so you can easily migrate over.
The integration of WP Quads is AMP (Accelerated mobile pages), responsive Ads, catching power, simple setup, High performance, Ad blocker detection, more layout options, extensive help, play by rules, and lastly Unlimited Ads support.
Features:
AMP support! Add AMP ads automatically to your site (WP QUADS PRO needed)
Use mobile optimized and responsive AdSense ads
Disable AdSense ads on phones, tablets, or desktop devices
Define AdSense sizes for different devices
10 post specific Ads control
11. Advanced ads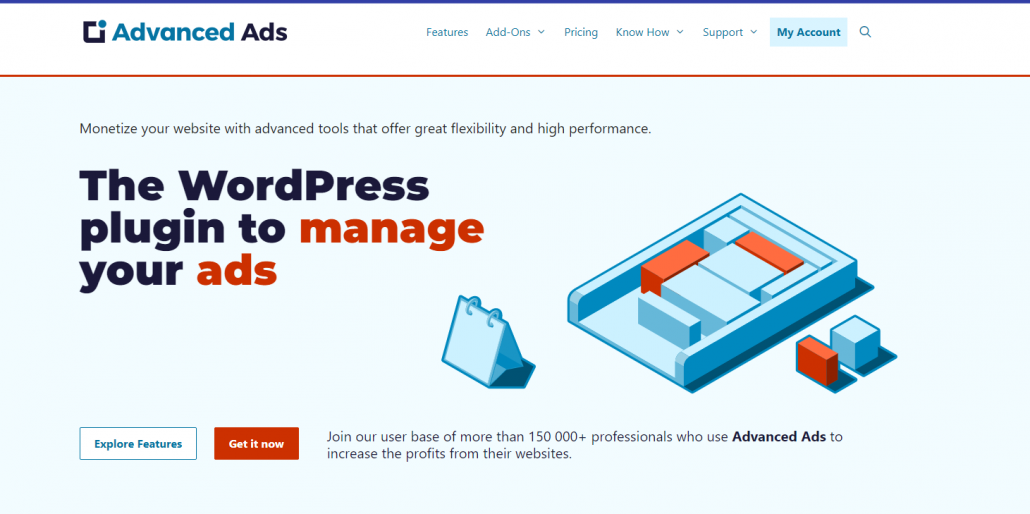 Ad management plugin Advanced Ads is a Google AdSense Partner that works will all ad types and networks including Google AdSense, Google Ad Manager, media.net, Amazon ads, and more. It is an easy-to-use advertisement manager that will help you insert, test, and optimize ads.
Features
Adsense & GAM integration
The Pro version adds new placements, conditions, lazy loading, fraud protection, grids, refresh without reloading, and more.
You can go for a free version too if your budget is tight if not then go for the pro version starting at $49.
Conclusion
There are a lot of ad management plugins available with a range of prices and features to choose from. Whether you want something free or premium, simple or complex, there's sure to be a plugin on this list to suit your needs.
With the appropriate WordPress advertisement plugin, you can check the statistics, optimize your ads, and make the most out of online advertising. You can always start off with a free version to understand the features. Once you understand and are satisfied, you can proceed with the premium version.
Businesses both large and small will benefit from any of these helpful plugins. No matter which plugin is best for you, they are all affordable, user friendly and top choices for ad management.
https://inguide.in/wp-content/uploads/2021/02/inguide_logo_red_340_156-300x138.png
0
0
Rakhi
https://inguide.in/wp-content/uploads/2021/02/inguide_logo_red_340_156-300x138.png
Rakhi
2023-07-11 06:13:07
2023-07-11 06:13:12
Best WordPress ad management plugin