Best NFT Marketplace For Beginners
NFT (Non-Fungible Token):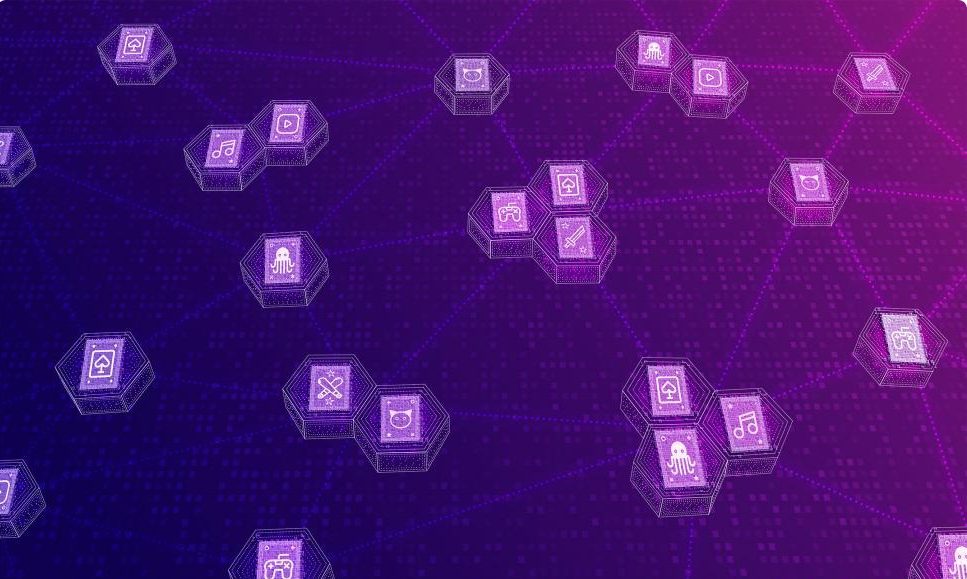 You all must be confused even after knowing what NFT stands for, so let's keep it simple here Fungible means "exchangeable" or "switchable". Therefore here the Non-fungible means Non-Exchangeable, which is unique and can't be replaced; now what stuff is related to this Non-Exchangeable term?

To better understand this concept, let's consider an example of your house and your neighbor's house. Would you suggest exchanging houses with your neighbor just because they are both houses? It's not possible because each house is unique and holds its own value. This is where the term "non-fungible" comes in.
Now, let's talk about tokens. When you buy a car, you receive ownership papers that prove your authority over that specific item. Similarly, in the case of non-fungible items, we receive tokens that represent our ownership or authority over those unique items.
You must have read the news about how the term "NFT" is being used digitally and gaining profit. Jack Dorsey's first tweet was listed for $48 million, and a unique NFT for the popular "Nyan Cat" GIF just sold for a whopping $560,000.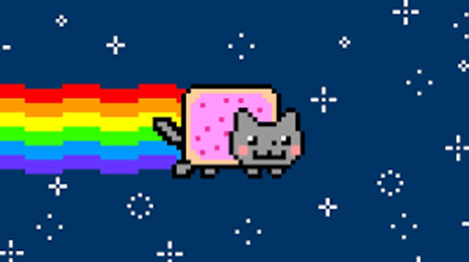 What is NFT?
Non-fungible tokens are widely used these days. These digital assets, some of which trade for millions of dollars, range from works of art and music to tacos and toilet paper.
Of course, selling digital files isn't new. But one of the more innovative uses for NFTs is the ability to guarantee that you get credit for the original creation. Because NFTs are recorded on a blockchain, the creator of the NFT is recorded in the public ledger.
The record in the ledger gives you the ability to set a fee (known in the business world as a royalty) for whenever the digital asset is sold in the future and earn passive income over time if your work is sold on the secondary market.
Before getting inside NFT we should first know about Blockchain since it is very essential to know if you are going for NFT.
Blockchain: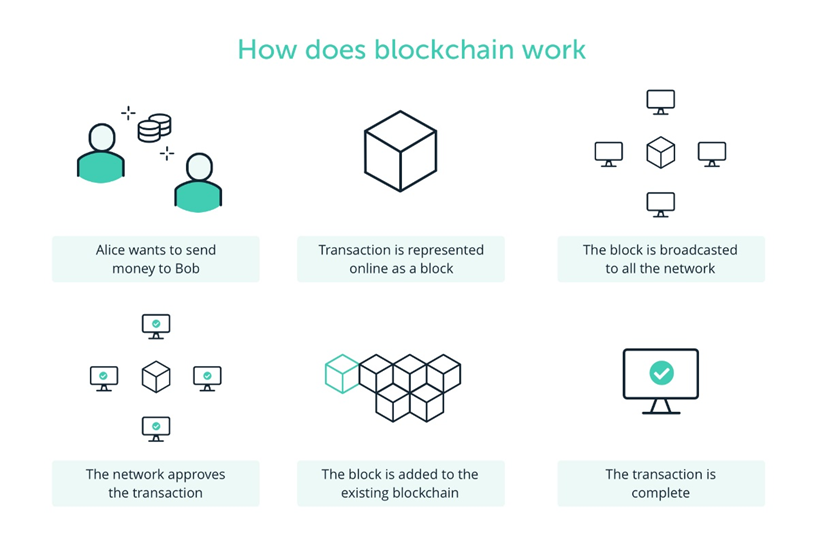 It is a system of recording information in a way that makes it difficult or impossible to hack, change or cheat the system. Simply understand that it is a chain of blocks that contain information, which cannot be changed easily after they are created. This is done by using several concepts from cryptography, including digital signatures and hash functions.
Blockchain is the technology that enables the existence of cryptocurrency, Bitcoin is the name of the best-known cryptocurrency, the one for which blockchain technology was invented.
A blockchain is a chain of blocks. A block is a "package" of information wrapped up primarily with 3 types of data: Ledger, Hash, and pHash. Each block can store up to 1MB of data, about 4,000 transactions (the actual number of transactions varies depending on the size of transactions).
How to Create and Sell NFT Art?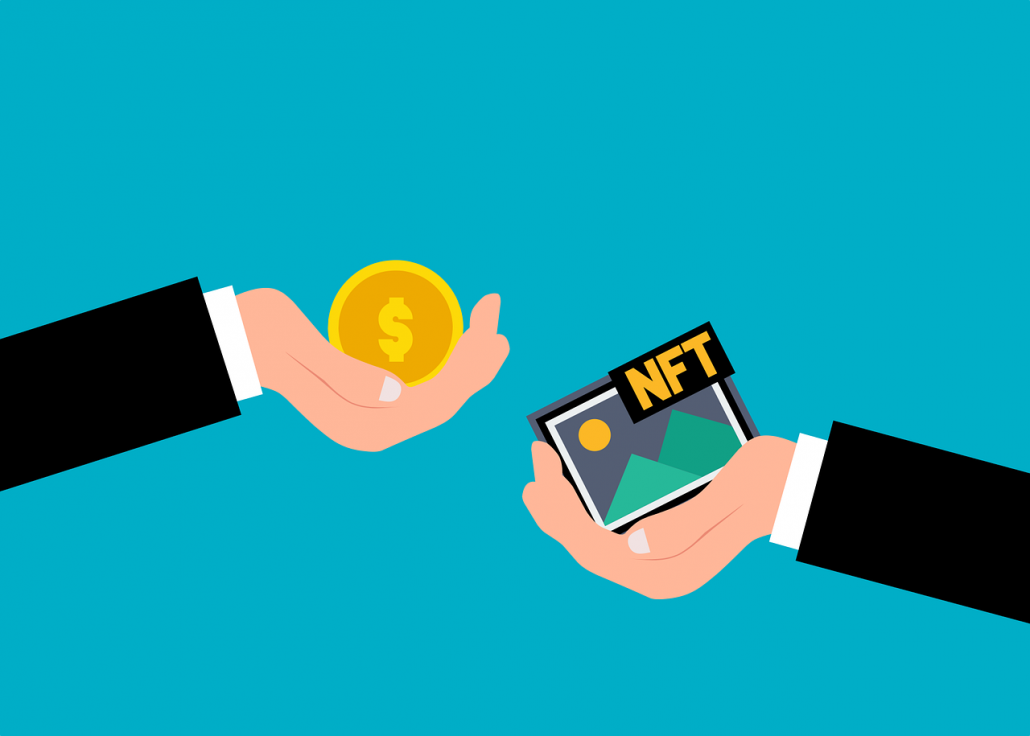 Step 1: Pick or Create the Art That Will Serve as Your NFT.

Step 2: Set Up Your Ethereum Wallet.

Step 3: Find an NFT Marketplace You Like.

Step 4:Connect Your Wallet to the Marketplace.

Step 5: Upload and Mint Your Digital File.
Looks simple, huh? I'm sure you will run into a lot of difficulties if you are unfamiliar with this topic. Don't worry; we will help you discover the ideal location to start or clarify your concerns. Just stick around; you will undoubtedly receive all of your answers, from the simplest to the most important.
Create your first item
From the home page of the marketplace, click the "Create" button in the upper right corner. From there you'll be prompted to upload a digital file and give your NFT a name. Optional fields include a description of your work, an external link to more info (like your website), and which blockchain to base the NFT on (like Ethereum or the Ethereum-based protocol Polygon)
You may also specify here how much royalties you'll receive if your NFT is later sold again. A typical royalty payment ranges from 5% to 10% of the secondary sales price.
Click "Complete," and your first NFT has now been minted!
Once you've minted your NFT, you're ready to sell it on the open market. Click on the "Sell" button in the upper right corner of your NFT's description page.
Next, click "Complete listing." The marketplace will calculate the gas fee based on the cryptocurrency network's activity level at the time of listing and request payment from your crypto wallet.
Once the gas fee is paid and you approve the final terms, your NFT will be listed and available for purchase on the marketplace.
NFTs created on one marketplace can also be transferred and sold on a different one, although fees might be involved.
Monitor activity on your creations, look for feedback, and keep creating more.
However, producing and selling NFTs will require some upfront costs to sell your digital assets in this fashion, and there's no guarantee anyone will be willing to purchase your work.
Finally, the process of producing and minting the NFT is complete.
How to Buy NFTs?
In order to buy NFT you will need Ethereum. Therefore, you need to setup a wallet (with Metamask, TrustWallet) or you can buy ETH from popular crypto trading platforms like Binance, Coinbase, Paxful, etc.
Most of the crypto trading platforms are also involved in trading NFTs. Therefore, it would be wise to buy ETH from the same platform as this would save the gas fee. Some of the popular marketplaces to buy and sell NFTs are listed below.
Top 10 best NFT Marketplaces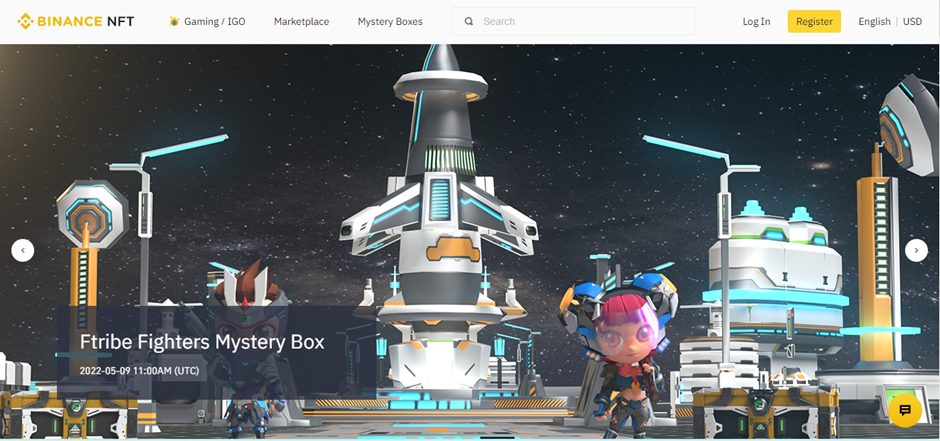 It supports the Ethereum blockchain, you have to pay the 1% fee for transacting on the Binance NFT marketplace, Binance token is supported. Art, Sports, Gaming, Collectibles, Entertainment, etc. you can explore to buy or sell on this marketplace. What's really amazing is that it's the newest site founded in 2021 after the hype of NFT with various features and easy to use, with low fee NFT trading platform
You can now buy NFTs on Binance NFT Marketplace using a fixed price, by making an offer to the seller or bidding in an NFT auction.
Powered by the Binance blockchain infrastructure and community, the Binance NFT marketplace provides the highest liquidity platform for users to launch and trade NFTs.
Features of Binance:
The main platform features: Low fees, comprehensive charting options, and hundreds of cryptocurrencies.
Fees: 0.10% spot-trading fees, 4.5% for debit card purchases.
The number of cryptocurrencies supported: More than 500 for global traders on Binance and 80 for U.S. investors on Binance.us.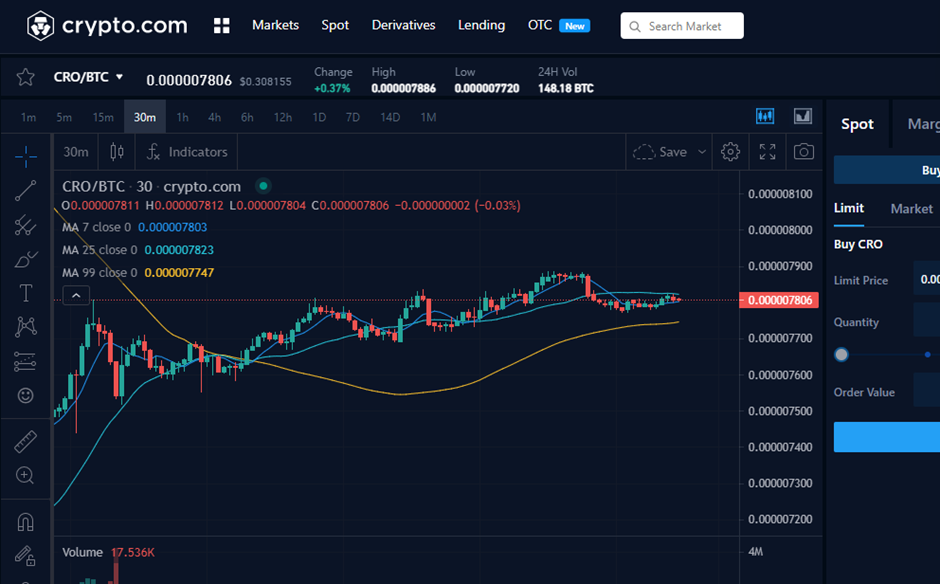 Crypto.com supports the Crypto.org Chain, a 15% Primary Listing Fee and supports major payment methods, Art, Sports, Gaming, Entertainment, etc. you can explore to buy or sell on this marketplace.
Features of Crypto.com
Two-step verification, FDIC-insured USD balances up to $250,000, platform insurance against theft, cold storage, and uses a bug bounty program.
Multi-factor authentication, biometrics, and locally encrypted private keys.
Buy, sell, send, receive, withdraw, and exchange
Crypto.com lets users buy, sell, and trade more than 250 different cryptocurrencies. It offers cryptocurrency rewards credit cards, staking, and its own blockchain ecosystem, Crypto.org Chain
It supports Ethereum and Solon blockchains for exchange, 5% fee to the buyer and the seller. Supports major payment methods, Art, Celebrities, Gaming, Music, Sports, etc. are types of sales which you buy or sell.
Nope! US residents can't create accounts on FTX. However, you are welcome to check out NFTs at FTX US.
It also allows NFT to be redeemed for a good or service. All type of token is supported.
What can I do with FTX'S NFTs?
You can bid on them or purchase them.
You can attempt to auction off an NFT that you own.
You can hold them on your FTX NFT gallery, or you can also display your personal gallery of NFTs.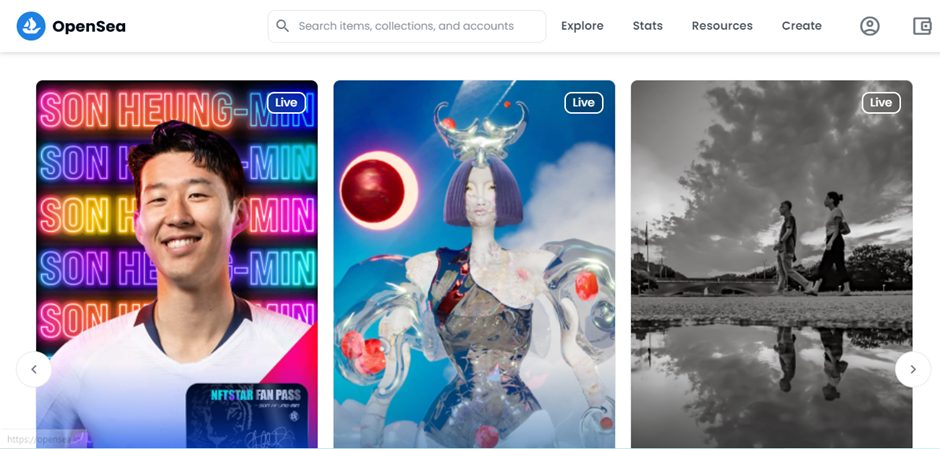 Those who know NFT must be familiar with Opensea as it is one of the famous marketplaces for NFT art and collectibles. In this NFT platform, you will find rare forms of art like virtual land or pets. Opensea also allows you to buy NFTs using several virtual currencies, like ETH and DAI.
Opensea supports Polygon and Ethereum blockchain, tokens supported are ERC-721, ERC-1155, Lazy minting + 2.5% marketplace fee for each sale.
The places to explore are Art, Music, Photography, Dutch auctions, Fixed price auctions, and open offers.
One of the main advantages for creators is that they can mint NFTs for free using Opensea's Polygon-based Gas-free marketplace.
Features of Opensea:
NFT gifting – it allows its users to send NFTs as a gift to other Opensea users
NFT minting -Opensea allows the minting of NFTs
It's entirely free to setup a marketplace on Opensea, but Opensea does charge a 2.5% service fee for each sale.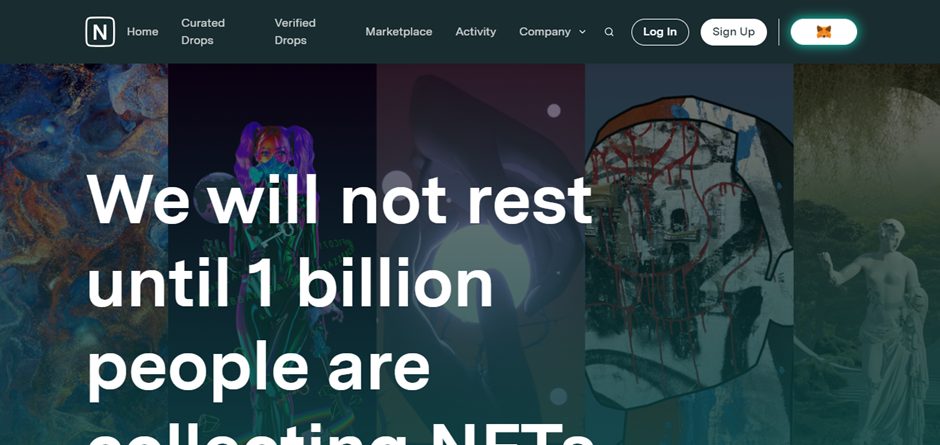 On this NFT website, you can view the timer showing when the next drop will take place. Nifty Gateway is an NFT marketplace that releases collections from top artists using drops. These collections are accessible only for a limited period.
This website supports the Ethereum blockchain, and it only supports proprietary tokens and fiat wallets on Nifty Gateway. The fee it cost is 20% of the marketplace fee.
Places to explore are Crypto art, Music, Photography, Fixed price auctions, etc.
It partners with world-renowned artists making it perfect for those looking for NFTs with investment potential. So overall if you are a digital art fan, Nifty Gateway is one of the best marketplaces for NFT trading.
Features of Nifty Gateway:
Limited editions, high-quality NFTs, exclusively available on their platform
One of the most fundamental differences is that they are custodial platforms.
It is zero gas fee, and also has the feature to use a debit card or credit card with different cryptocurrency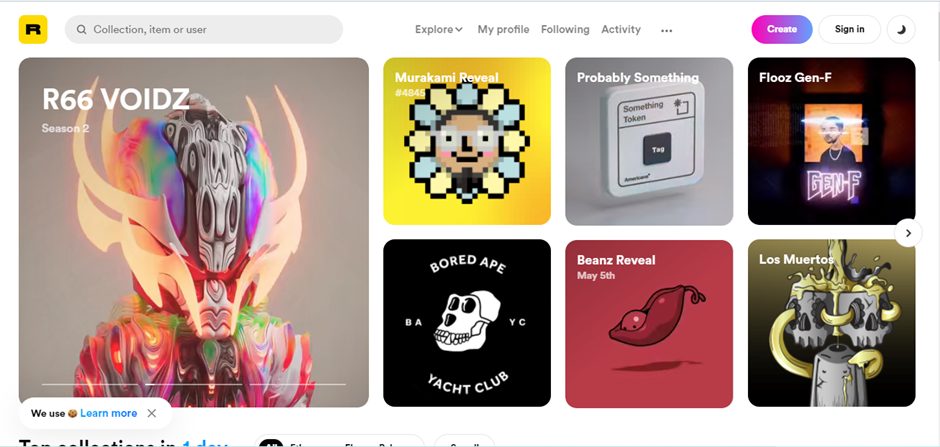 Rarible has an awesome payment method using credit card payment, with an amazing royalty fee of up to 50%. Having more payment options like ETH, FLOW & XTZ. Also costing the trading fee is 2.5% per sale.
With one of the top-rated platforms for NFT, users can create and mint their own NFTs without any coding skills while traders can buy innovative digital tokens.
This platform is also the first to launch a governance crypto token in the NFT space,
Of note, Rarible is both a marketplace for those assets, as well as a distributed network built on Ethereum that enables their trade without a middleman. Marketplace built on Ethereum with ramps between multiple chains, it is part of the Rarible protocol, a set of tools used to query, mint, list, buy or sell NFTs.
It's also one of the first marketplaces to add liquidity mining with its native governance token, $RARI. You can create & trade collectibles and earn RARI in return.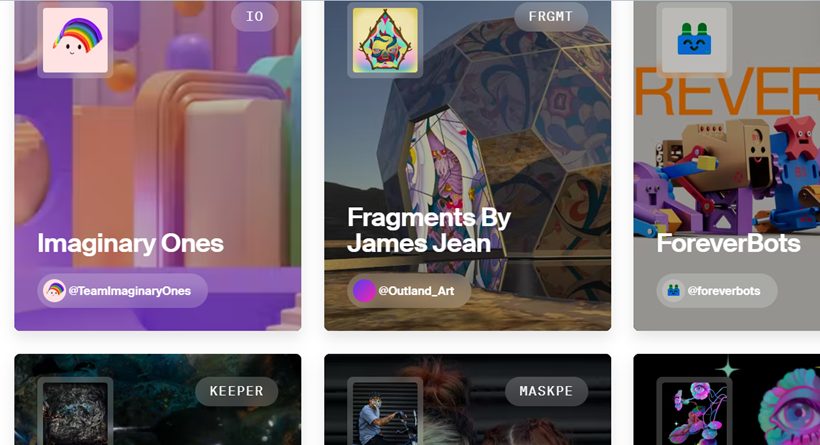 All the auctions on this NFT online platform have an automatic timer attached to them. Moreover, artists can check out popular creators. They will receive details about their joining period, number of creations, followers, social media profile links, website URL, etc.
You can only make payments using Ethereum on this platform, the ETH blockchain supports the Foundation.
Proprietary and ERC-721s are the token supported on this site, and MetaMask and Torus are supported for the wallet.
You can explore the areas are Art, Music, Photography, Auctions, etc.
What is unique about this site is that it provides collaborations or split payment support. The inspiration's decentralized nature is one of its most compelling selling advantages.
Foundation is best for NFT creators and collectors looking for access to an easily navigable marketplace for NFT exchanges.
The unbeatable features of Foundation DApp include:
Copyright protection is in place
Immutable, completely digital, secure, and rapid.
Compatible with smart contracts
Artists have total control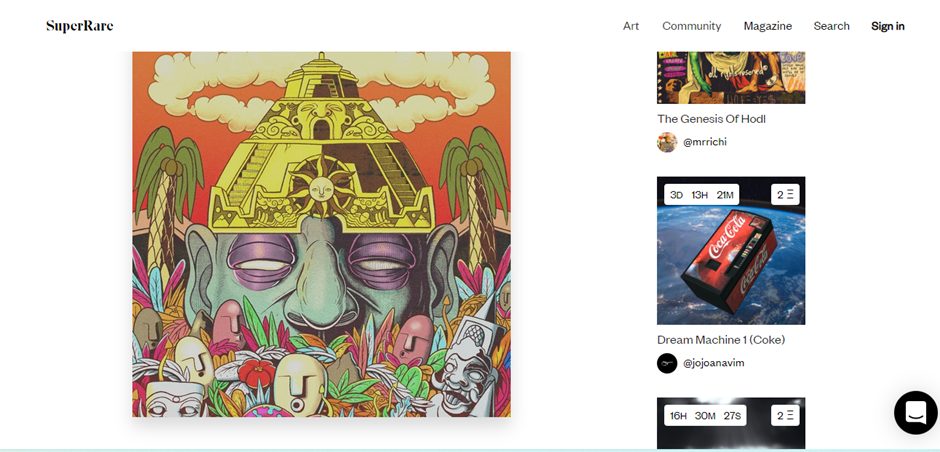 SuperRare is an NFT site that mainly focuses on being a marketplace for people to buy and sell unique and single-edition digital artworks. An artist authentically creates each artwork in the network, which is tokenized as a crypto-collectible digital item.
One-of-a-kind artwork from a selection of carefully picked artists.
Buyers pay a 3% fee on all purchases.
Ethereum gas fees apply for each transaction.
Gallery receives a 15% commission on the first sale.
Artists receive a 10% royalty payment for every subsequent sale
The token holders—7,500 in all as of now, including those active on SuperRare before July 21, 2021, and the developers and original investors. The SuperRare DAO will govern the four-year-old platform, effectively turning SuperRare into a network of galleries governed by the community
SuperRare is safe because it is secured with the power of blockchain. Your NFTs remain in your wallet until sold, locked in a smart contract, along with auction bid funds.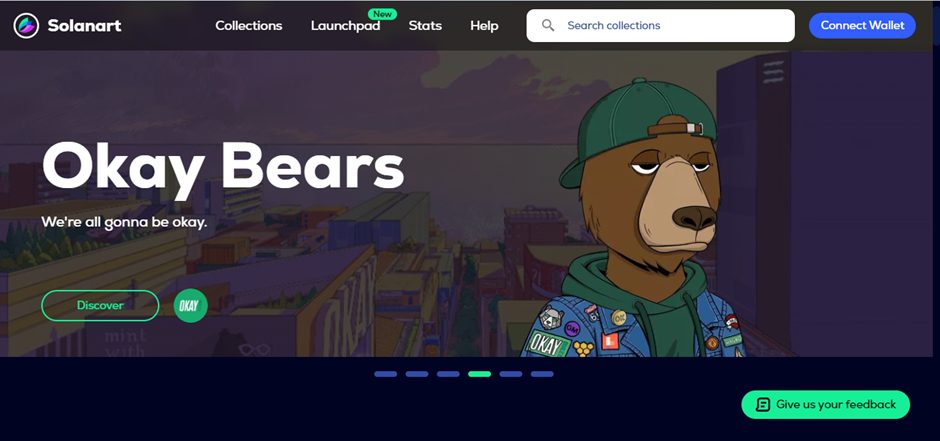 This NFT platform charges a 3% marketplace fee on the selling price of every transaction.
Solanart aims to help promote artists and creators by providing them with a trustless marketplace to share their art.
Magic Eden is the most well-known Solana NFT marketplace, where you may produce, sell, and buy NFTs. They do not impose a listing fee; however, they do charge a 2 percent transaction fee. Magic Eden accepts a limited number of projects at this time, and it supports nearly all Solana wallets.
Magic Eden is a strong runner-up behind Solanart.
Get quick and easy access to digital collectibles and explore, buy, and sell NFTs from different collections and artists.
A creator can choose their fee on this Solana NFT Marketplace. Typically charging about 3% in transaction fees, Solanart is home to many popular NFTs, including Degenerate Ape Academy, Solpunks, and many more.
Upcoming NFT Drops – The Orcs, The Pristine (Metaverse's luxury watches collection) & the latest drop of Armadillos (The Doomed Armadillos), after the first collection, Angry Armadillos, was sold out in 7 minutes.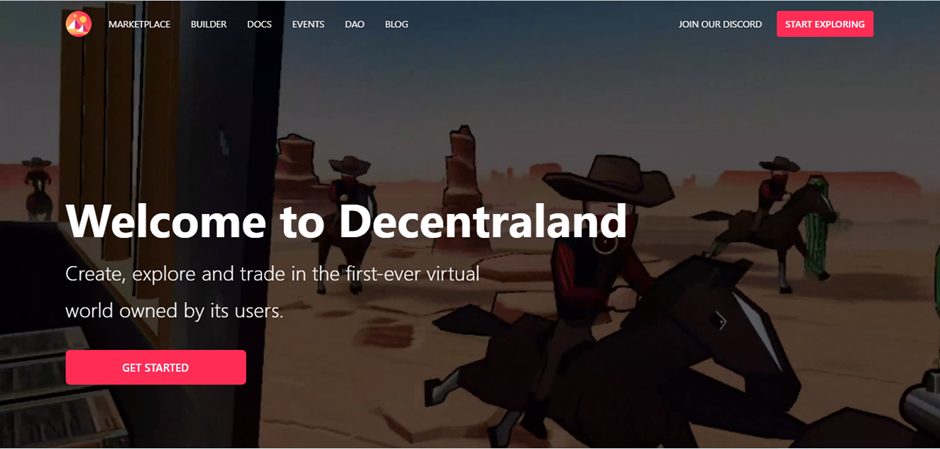 This NFT marketplace offers a range of digital assets, like wearables, estates, names, etc. You can buy and sell virtual lands in Decentraland, personalize your properties, and store them in a smart contract based on Ethereum.
The first fully decentralized world, Decentraland is controlled via the DAO, which owns the most important smart contracts and assets of Decentraland. Via the DAO, you decide and vote on how the world works.
Buy and sell LAND, Estates, Avatar wearables, and names in the Decentraland Marketplace: stocking the very best digital goods and paraphernalia backed by the Ethereum blockchain.
Imagine a virtual world where people are living an alternate version of themselves. They are buying digital clothes and acquiring digital art in the form of non-fungible tokens (NFTs), using cryptocurrencies as a legitimate form of money. That's what Decentraland, a virtual real estate platform, is all about.
How do you profit from NFT?
You can invest in NFTs by buying them and selling them at a profit, Pablo Rodriguez-Fraile, a Miami-based art collector, flipped a Beeple digital art piece almost 1,000 times its initial price in less than 6 months! Crazy right? Some are worth millions, while some are basically worthless.
What happens if your NFT doesn't sell?
You created and minted your art, but what if your art doesn't sell then what happens to that art of yours since it's listed online in one of your marketplaces?
If the item doesn't sell, it can be deleted and re-minted, but that costs more gas fees. If people can't make money by buying and selling your NFTs you will never survive in this space.
I am not saying go and spend all your money buying random NFTs. But you need to get involved in projects and communities, see how things work, and understand how and why people make money and why you end up having only 4 views of your profile.
Facts you need to know about NFTs
Each NFT is unique.
Forgeries do not exist in the realm of NFTs.
NFTs enable artists to reach new audiences.
Listing NFTs entails minting.
OpenSea allows free NFT minting.
Ethereum supports the majority of NFTs.
Smart contracts allow for anything digital to be converted into an NFT
Why do NFTs have value?
NFTs are valuable because they verify the authenticity of a non-fungible asset. This makes these assets unique and one of a kind. Picasso's paintings are non-fungible. While anyone can make copies of his paintings, the original painting remains irreplaceable and unique.
Who invented NFTs?
The first known "NFT", Quantum, was created by Kevin McCoy and Anil Dash in May 2014. It consists of a video clip made by McCoy's wife, Jennifer.
Here are the more common and sensible NFTs categories on marketplaces.
Art: It is the most popular form of NFT out there.
Music: It's high on the NFT spectrum.
Video Game Items: Another frontier in the NFT space is video games.
Trading Cards/Collectible Items.
Conclusion
In conclusion, choosing the best NFT marketplace for beginners is an important step in entering the exciting world of non-fungible tokens. With the growing popularity and potential of NFTs, having a user-friendly and reliable platform is crucial for a smooth and successful experience.
Throughout this guide, we have explored various NFT marketplaces that cater to beginners. Each platform offers unique features, a wide range of digital assets, and a supportive community that can help newcomers navigate the space.
https://inguide.in/wp-content/uploads/2021/02/inguide_logo_red_340_156-300x138.png
0
0
Rakhi
https://inguide.in/wp-content/uploads/2021/02/inguide_logo_red_340_156-300x138.png
Rakhi
2023-07-12 09:17:52
2023-07-12 09:17:56
Best NFT Marketplace For Beginners