Best Self Hosted Email Marketing Software in 2022
Email marketing is an important part of your internet marketing tactics. Whether you are selling products or promoting your business, email can be powerful if used properly. One of the best ways to have a successful email marketing campaign is to use self-hosted email software which makes it easy to send emails to your customers.
Most users prefer self-host email marketing software for business for its easy management, accurate statistics, and effective delivery. The ultimate goal of a bulk marketing system is delivering emails to the inbox with high open rates and minimizing spam complaints and bounces.
There are a lot of things to consider when it comes to running an email marketing campaign.
Which service provider should you use?
How much does it cost?
What about open rates?
What about deliverability issues? Or
Is my automation widget broken?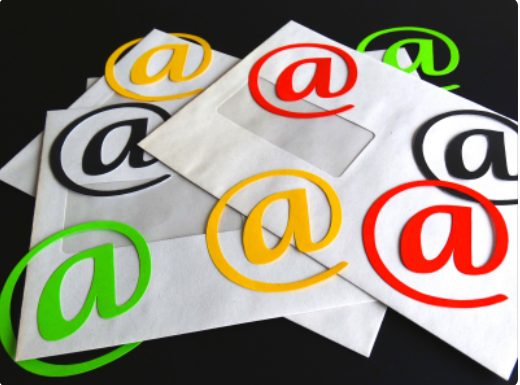 Are you still wasting your time sending simple emails to your customers? If the answer is yes, then it's time to start changing the way you email your audience. More and more people are using self-hosted newsletter software for sending newsletters to their subscribers.
What is self-host email marketing?
Self-hosted email marketing is an online service that automates your email marketing campaigns right from start to end. It allows users to set up email campaigns depending on various triggers like subscriptions and email clicks.
It also allows users to track email campaign parameters like open rate, bounce rate, clicks, invalid emails, etc.
Self-hosted email marketing software is a great way to keep your email list safe and free from the data mining big companies like Google, Microsoft, and Yahoo tend to do with their free clients.
When you use self-hosted software, you have greater control over your email lists and who sees your information.
But which one should be the best for your requirement? You need to choose the best self-hosted email marketing software that can meet all your business requirements.
We have reviewed some of the best self-hosted options so you can get started on building your own email marketing business today.
What to Look for in a Good Email Marketing Tool?
Here are the important points to Look for in a Good Email Marketing Tool:
You have to look for the number of lists/contacts you can add.
Check template system.
Ensure whether you can perform A/B testing or not
Must be able to preview the inbox.
Personalization.
Benefits of Using Self-Host Email Server Platforms
When you have a self-hosted mail server, all email communications will get perfect privacy. It is no longer possible to be a victim of third-party snooping and sharing your personal information with advertisers.
These e-mail clients are accessible over the Internet or the local network when integrated with third-party e-mail services.
If you choose to use an open-source email server, you can create as many aliases as you want, even without paying money. In addition, you can send unlimited emails from these servers.
In addition, you can have 100% control over your mailboxes and their settings. It gives you the ability to set policies and customize settings that fit your organizational needs.
Best self-host Email Marketing Applications
Vs table for better understanding
1. Mautic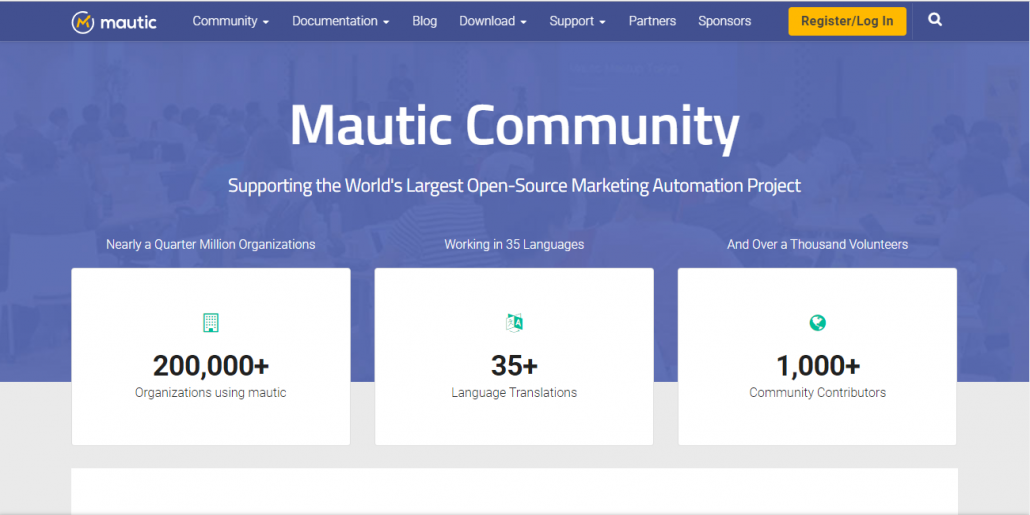 Mautic is an open-source platform for self-host email marketing and is also considered to be among the best ones to use in this field, they have powerful marketing automation software no doubt. Open source means more than open code. Open source provides equality for all and a chance for everyone to improve.
Mautic is available in two flavors – self-hosted and cloud-based.
You can download the self-hosted version from Mautic.org and then follow the essential setup guide for its configuration. It has an active community.
2. Interspire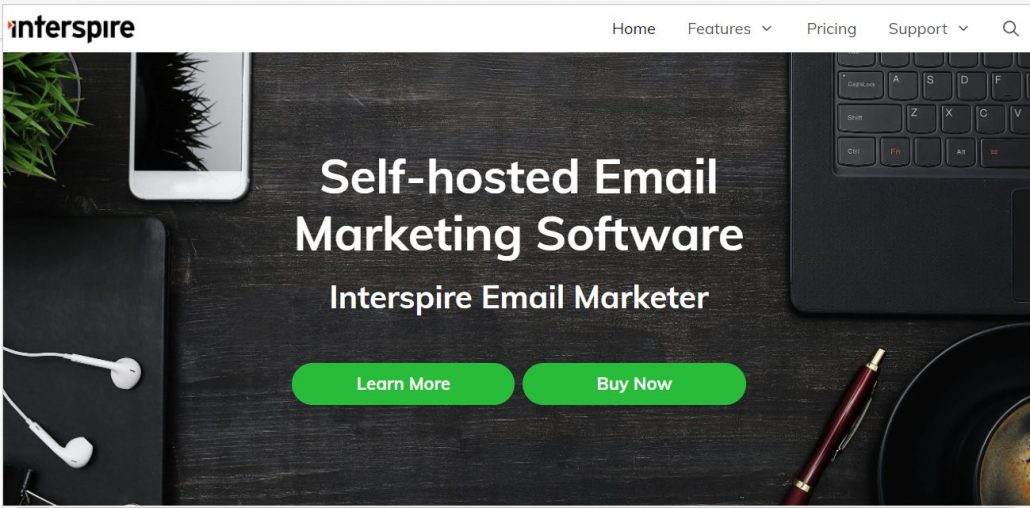 Interspire's email marketing software is fully featured and was built specifically to help automate your email marketing, giving your sales team more motivated leads in the process.
Interspire Email Marketers are not limited to sending either type of emails. PHP, MySQL and the MTA (the mail transfer agent) are more commonly used when a high volume of email is required.
Also available in the app is an e-mail marketing automation tool for monitoring marketing and feedback from customers.
3. MailWizz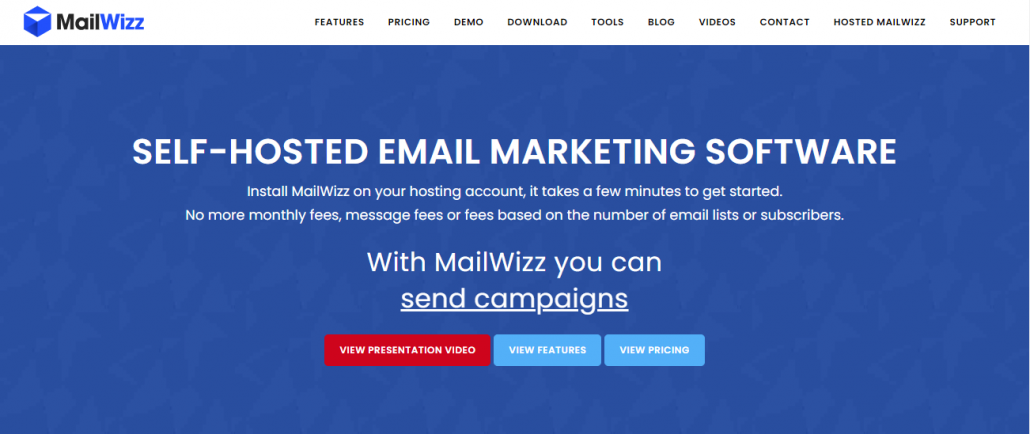 MailWizz makes email marketing accessible to everyone, as simple as possible. It is suitable for both experts and beginners.
Mailwizz has been around since 2013, and thousands of companies use it as their main method of storing lists and sending email via SMTP's.
Once you have it set up, you can start sending emails to different lists with campaigns or autoresponders and have all of the same luxuries as other subscription-based mass mail platforms.
It's a self-hosted software that only has a one-time fee unlike other traditional subscription-based models.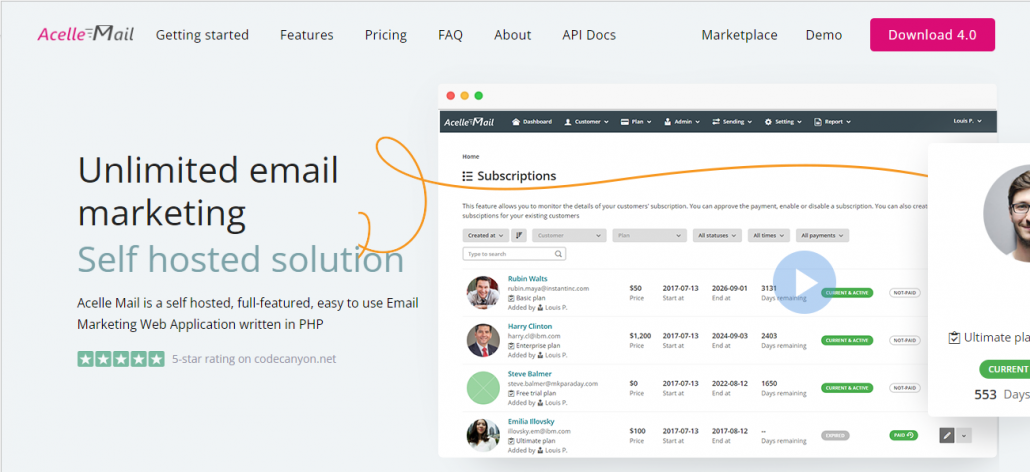 Acelle Mail is completely open source. Once purchased, you have access to the product full source code written in PHP on Laravel 5x.
Install Acelle on your own web server and you can send marketing emails without any limitation.
Acelle is also designed as a SaaS platform, allowing you to manage and sell your email services to the others. You can always find out whether or not your emails reach subscribers' inbox. Opens / clicks / bounces / complaints are automatically recorded and are visualized using interactive charts & data table.
5. Sendy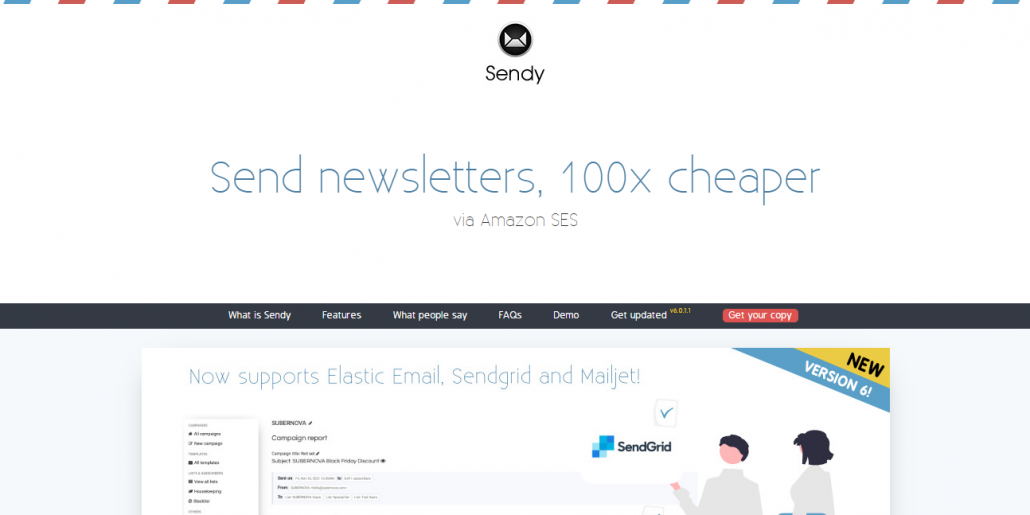 Sendy helps you to clean inactive or unconfirmed subscriber mails.
This open-source email marketing software offers reports to see the result of every campaign. They automates your marketing by sending bulk emails. Sendy allows you to block emails belonging to certain domains from signing up on your list.
one of the best self-hosted email marketing solutions built in PHP. It enables you to send newsletters via Amazon SES (Simple Email Service). Provides campaign builder, automatic bounce handling, reporting, and more.
6. Octeth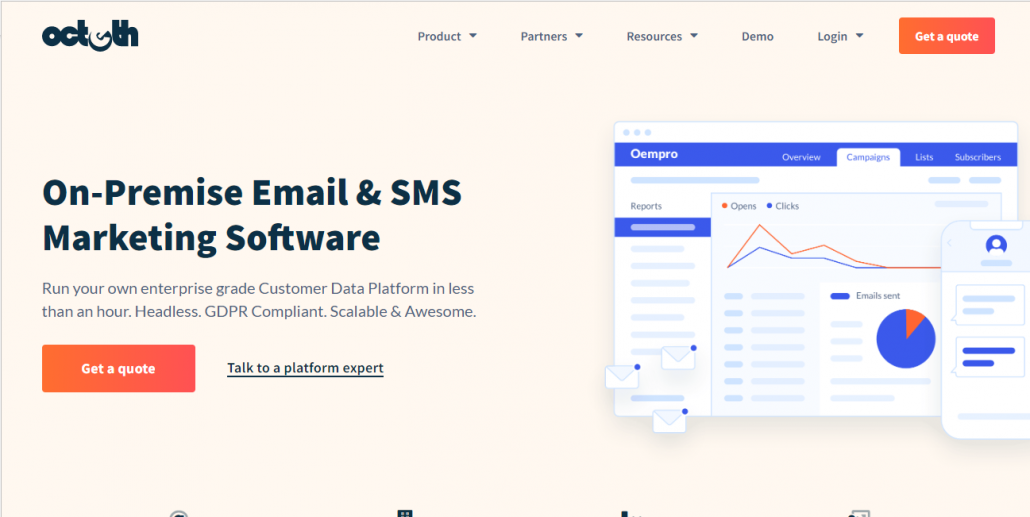 This application allows you to create and manage more than one user account with ease. It can identify a bounced email address that you can easily filter from your user list.
You will get email notification whenever subscription or unsubscription occurs. This email marketing platform enables you to know the log of every activity of subscribers.
It provides reports for email opens, clicks, links, invalid emails, and more. You can schedule your emails with ease using Octeth.
7. Modoboa

Modoboa is a mail hosting and management platform including a modern and simplified Web User Interface. It provides useful components such as an administration panel or a webmail.
Modoboa brings together the best open source tools to install, configure and secure your own email server.
The email server generated by Modoboa offers your the same functionalities than typical hosting services:
It supports multiple domains per single setup, calendar management, address book manager, long list of administration tools that includes monitoring, real-time statistics, security configuration, users, and permission manager.
8. OpenEMM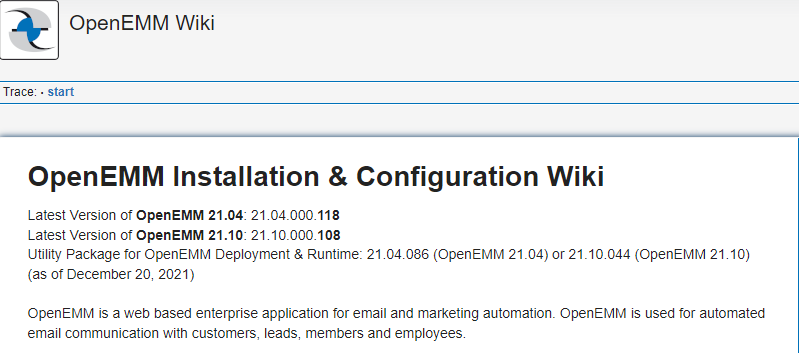 The OpenEMM includes all of the features you would expect from a state-of-the-art email marketing software. The software is available for Linux as well as for Windows and macOS via VirtualBox. The tool is based on a highly proven open source software stack. The OpenEMM can be run on an inexpensive Linux server.

You can download the source code of OpenEMM at GitHub:
If you do not want to compile and deploy the source code of OpenEMM manually, we recommend to download the package for OpenEMM deployment & runtime at https://www.agnitas.de/en/download/openemm-binaries/ . This package contains the OpenEMM Maintenance Tool (OMT) which lets you download, install and manage OpenEMM.
Alternatively, you may download the source code of OpenEMM from GitHub and compile and deploy the software manually yourself.
9. MailTrain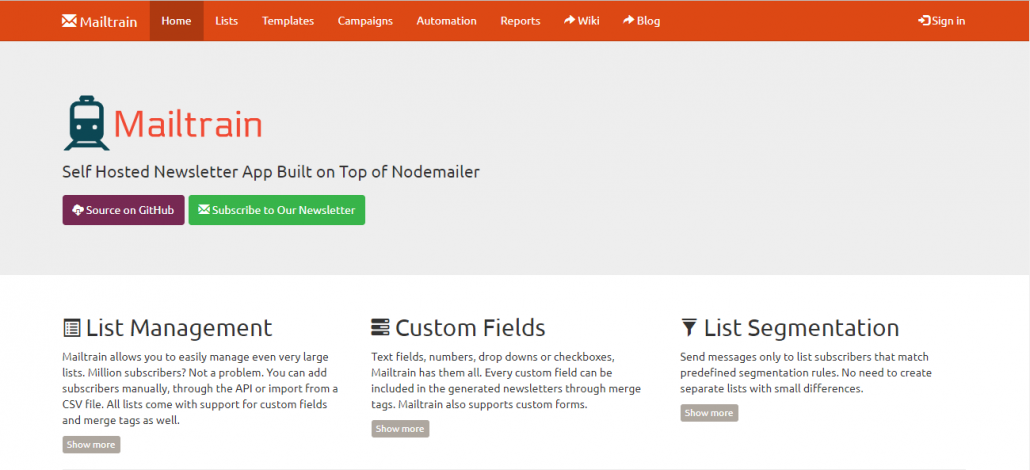 It is an open-source, self-hosted newsletter application that allows you to easily manage your subscriber lists, even with a very large number of subscribers.
Mailtrain comes with an excellent set of features, including a wide range of custom fields, list segmentation, template editors, automation and more. It also allows you to check click statistics of every link included in your campaign.
Various custom fields that can be included in the generated newsletters via merge tags.
10. MoonMail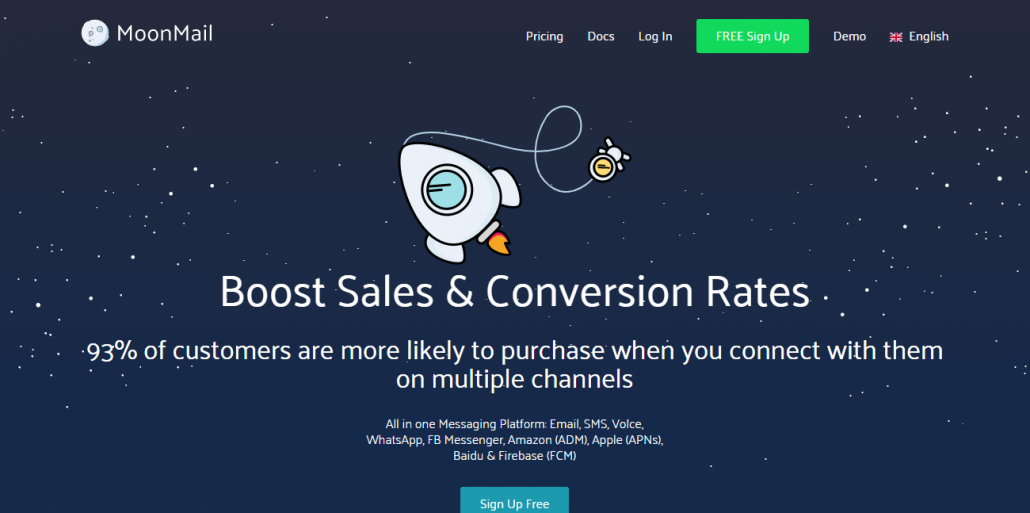 MoonMail is an open-source newsletter tool and mailing list software that supports bulk emailing via Amazon SES. Users can create & edit lists of email addresses, send email marketing campaigns and view analytics. MoonMail allows you to track open emails and links clicked with an email.
It has two main components: API and Events. The events component is based on Serverless Framework. It consists of microservices that trigger in response to events. It also provides REST API to allow integration with your other business applications.
This open-source newsletter tool provides all the modern features with the latest technologies for your sales and support teams to deliver an excellent customer experience. Its Real-time dashboard helps your teams to get insights about the entire customer experience.

11. phpList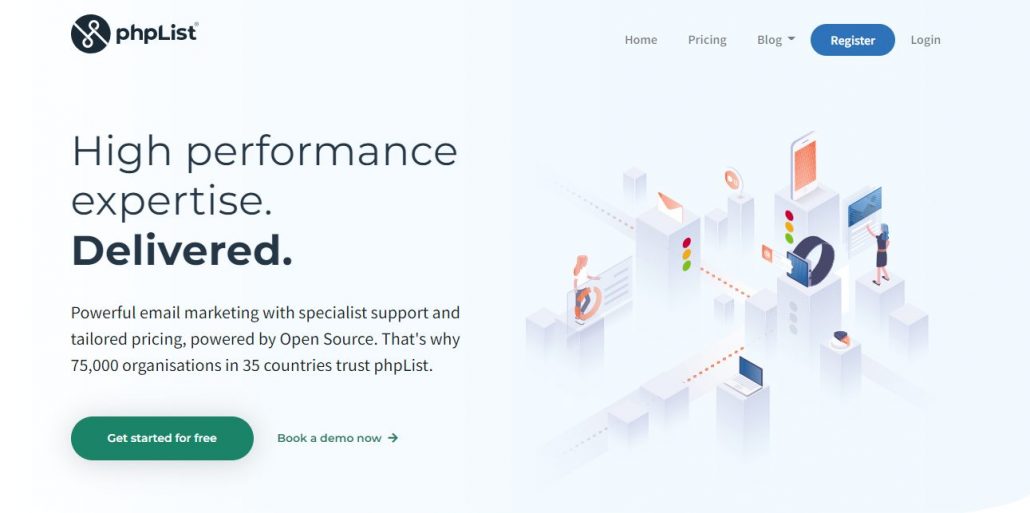 phpList is also a self host email marketing applications that allows you to easily manage and subscribe your client, a large community contributes to the development, security and reliability of phpList. It gives you privacy, freedom and flexibility: there is no vendor lock-in and advanced technical services are available from phpList developers.
The email server generated by phpList offers your the same functionalities than typical hosting services. It provides reports for email opens, clicks, links, invalid emails, and more, you can schedule your emails with ease.
Concluding Remarks
Self-hosted email marketing software is a great option for those who want to take full control of their email marketing strategy. By hosting your own emails, you will have more flexibility and control over your campaigns, as well as the ability to add custom code.
However, self-hosted email marketing software requires technical expertise to set up and manage the system. You'll need a web server with PHP support installed on it to run these programs (most servers come pre-installed with PHP). If you don't have access to one already or are not comfortable handling this kind of setup works yourself, you may want to consider using hosted services such as MailChimp or Drip instead.
let's move forward faster
https://inguide.in/wp-content/uploads/2021/02/inguide_logo_red_340_156-300x138.png
0
0
Rakhi
https://inguide.in/wp-content/uploads/2021/02/inguide_logo_red_340_156-300x138.png
Rakhi
2022-05-31 08:32:22
2022-09-28 09:21:37
Best Self Hosted Email Marketing Software in 2022