Avada WordPress theme Guide: For Beginner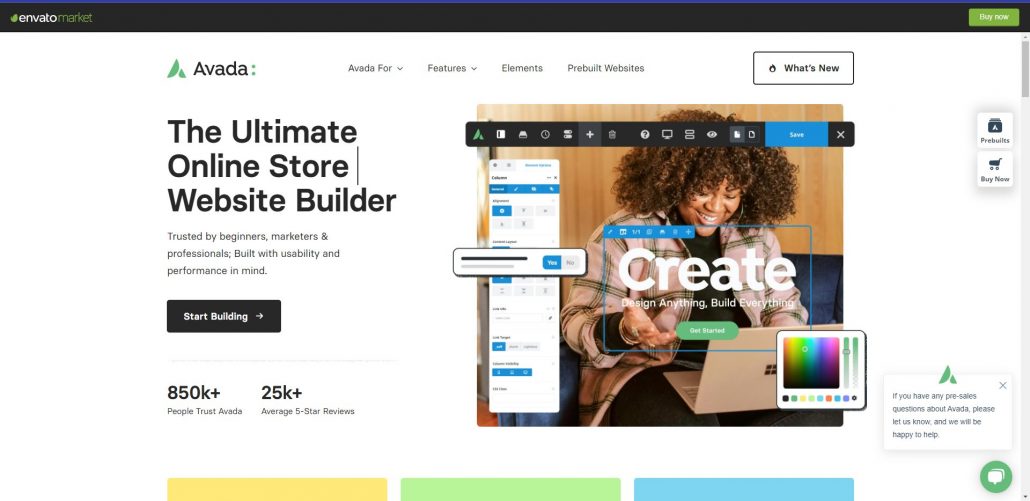 Finding the ideal WordPress theme might be challenging with so many options available. You should choose a theme that complements the look and feel of your company. And it should also be straightforward to use and navigate for your users.
But choosing the ideal WordPress theme makes everything much simpler and easier for everyone. Thankfully, there are countless premium and free WordPress themes available to help you. But none of them is as potent as Avada theme. The most well-liked and best-selling WordPress theme ever at ThemeForest, the largest theme store.
What Kind of WordPress Theme is Avada?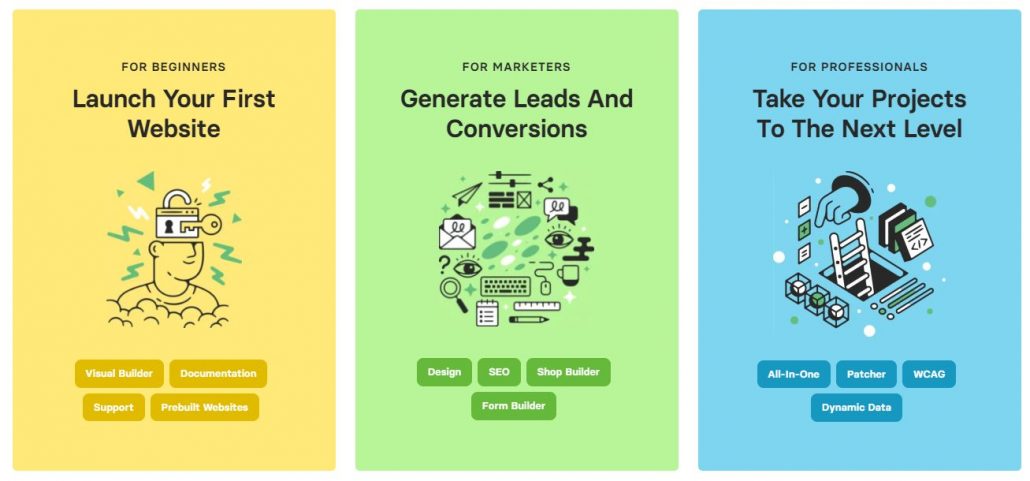 It's important to note that there are two schools of thought when it comes to designing WordPress themes before we begin.

The first is that themes should be created for a particular kind of website. With the fewest possible customization possibilities and the least amount of additional functionality.

The second need is that themes be multifunctional, with as many features, page layouts, customization settings, and options as possible, allowing you to design any form of website with a single package.
Avada Theme is the number 1 selling WordPress theme on Themeforest which is quite impressive. Avada has been around for over 5 years and is more of a swiss army knife type of theme.
WordPress themes fall into one of two categories: 👉
Single-purpose: Created to meet a particular website with a particular goal. These themes offer little opportunities for modification and few features. Examples include wedding themes, themes for classified ads, and themes for photography.
A multi-purpose theme: as the name implies, provides a wide range of special features, capabilities, and customization possibilities. It that may be incorporated into any type of website you wish to create.
✏️ Starting Up With the Avada WordPress Theme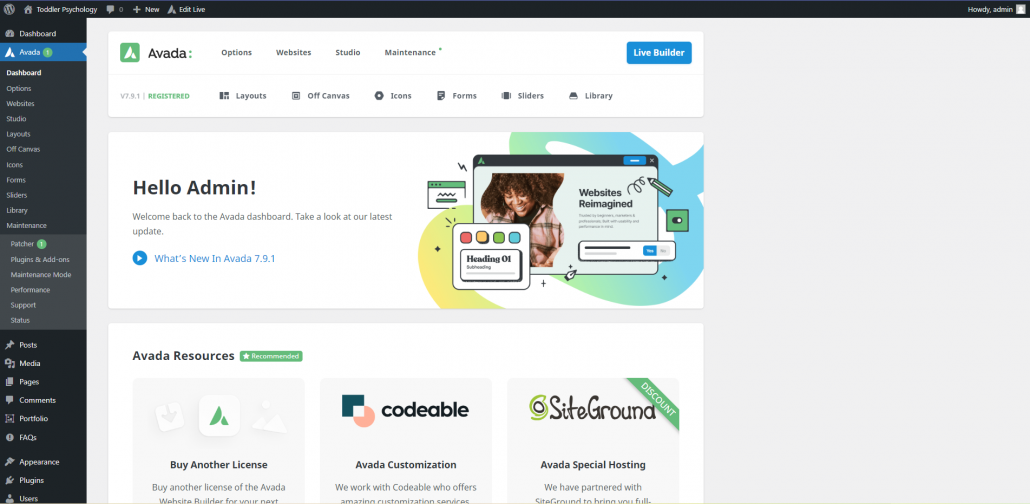 After setting up and activating the theme, a prompt to set up the necessary Fusion Core and Fusion Builder plugins will appear. Along with the paid LayerSlider WP and Slider Revolution plugins, other theme-bundled plugins are also available for activation.
Using the provided plugins is quite simple because to the user-friendly Avada admin area.
You may either use the Fusion Builder to create your own unique content or import one of the Avada sample websites when constructing a new website.
The demos are one of the nicest features of this theme and are a great way to see the variety of websites you can easily create using Avada.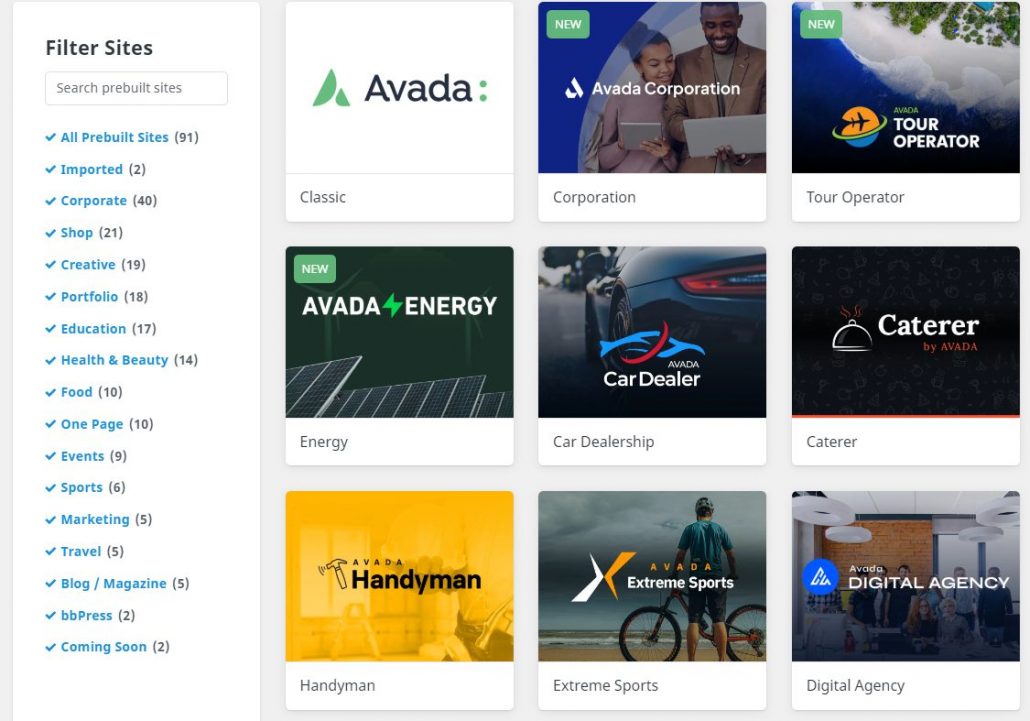 There were 49 demonstrations available at the time of writing, including ones for portfolio, agency, and business websites, to mention a few. Avada is also completely ecommerce ready, and the package includes a few online store samples.

New demos are frequently introduced to the theme as Avada is frequently updated.
It's quite easy to import a demo into your WordPress website once you've made your choice.
Unlike some other WordPress themes, you have a lot of control over what gets imported into your website with this one. You may choose to import the complete demo or only specific parts of it, like the content, the settings, or the sliders. As a result, you ought to be able to combine some of the various components.
The Avada Fusion Page Builder 🎨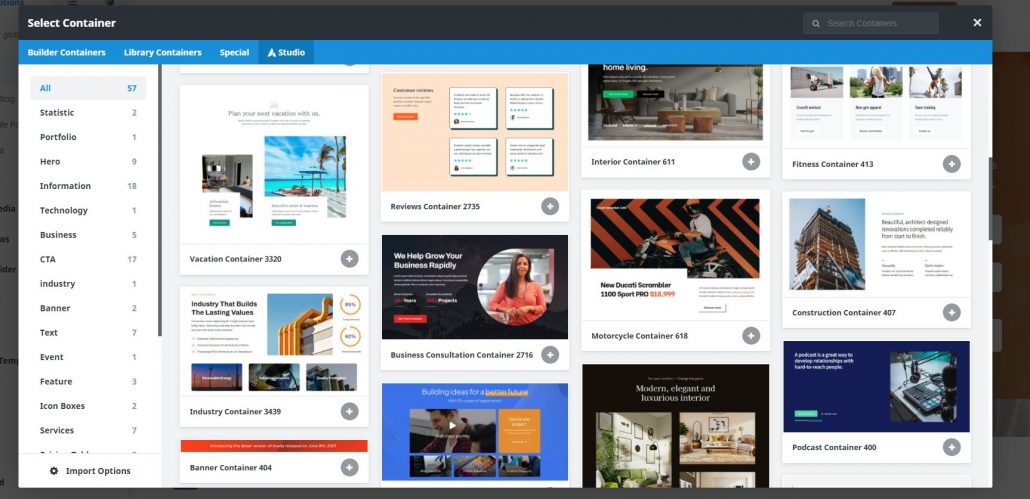 You may generate your articles and pages using the built-in content generating tool (often known as a "website builder") that comes with Avada.
The user interface of this programme is pretty simple. Selecting a column arrangement is the first step. After doing that, you may begin adding various sorts of material to your page. You may add a variety of builder elements to your website layout and then customize them to suit your requirements.
When it comes to your website layouts, the Fusion Builder tool will provide you a lot of flexibility. The Fusion Builder tool lets you add items to each column and line, in contrast to the normal WordPress editor's many limitations, enabling you to create rich pages.
You can import a prebuilt template from any of the Avada demos when beginning work on a new page.
In contrast, if you choose to begin with a blank page, the first step is to select a column arrangement for the portion you're working on.
After you've added a container to your page, you can then insert any of the Fusion Builder elements into it. You can alter each of these components, giving you complete control over how your page will appear.
Although using the builder does not give you a live front-end preview of your work. You can still easily preview the post or page, just like you would with any other piece of content in WordPress. Then you can return to the previous tab you were working in if you need to make any additional changes to the design.
Another helpful feature is the ability to save any page layouts you create using Fusion Builder to the template library. And reuse them elsewhere on your website.
Control Panel⚙️
It goes without saying that you won't want to utilize the demo for your own website precisely as it is. To start customizing its look and functionality, you must enter the theme option control panel.
As you can see, there are a tonne of options available on the theme options control panel. It may seem overwhelming at first, but keep in mind that as you become used to it, you'll grasp exactly what each of these options achieves.
The Avada WordPress theme is perfect for whom?🙋
Avada is the perfect WordPress theme for everyone due to its abundance of features, limitless customization options, and general ease of use, including:
WordPress beginners: who have never coded before and are creating their first blog or website.
Experienced WordPress experts: who wish to quickly and easily create a modern, distinctive website with cutting-edge features and functionality.
And Everyone in the Middle
What makes the Avada WordPress theme so unique and well-liked?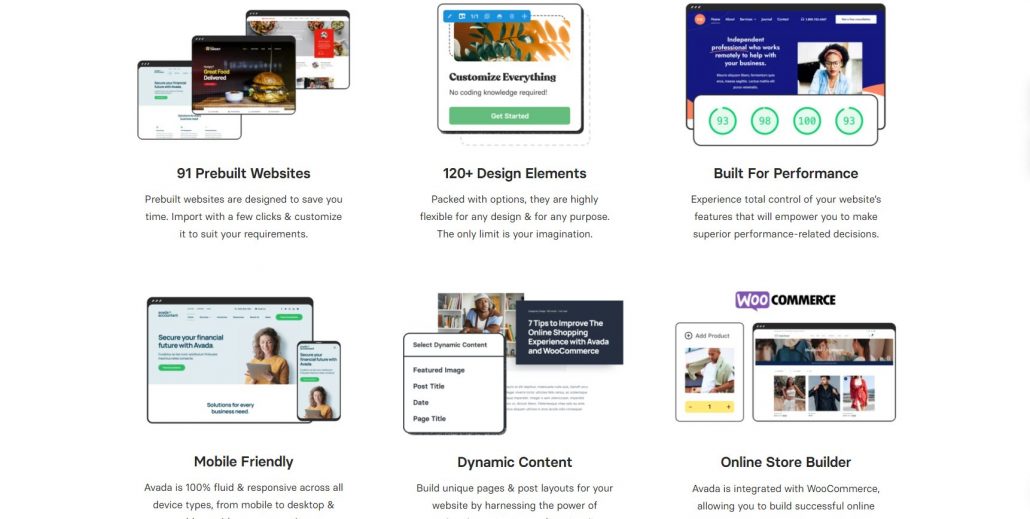 Dealing with the seemingly limitless intricacy involved in theme customization is one of the main problems most users encounter. When it comes to creating a very successful WordPress site that draws millions of visitors every day.
Both modifying an already-existing functionality and introducing a brand-new feature require sufficient user/developer time and coding effort. 👉
1. Unlimited Designs And Layouts:
With Avada, you can select from three portfolio layout options, seven very adjustable header styles, and seven sophisticated blog layout options. These layouts can also be further adjusted using a simple layout control panel. In essence, while utilizing the Avada WordPress theme, your creativity is the only constraint.
2. Professionally Designed Demos 49 and Up:
The plethora of professionally designed demos that can be imported with just one click utilising the best one-click demo importer in the market is one of this theme's most important features.
3. The Most Advanced Theme Options Network: The Most Intuitive Visual Editor
The Avada WordPress theme includes Fusion Builder, a very effective and quick drag and drop page builder, because this is unquestionably the drag and drop page building era. The entire page construction process is made simple for everyone.
Whether they are developers or end users, with the visual editor's abundance of design components and over 50 parent and child panels of neatly arranged theme settings. Options can also be modified individually for each page or post.
4. Unique Third-Party Integration🔌: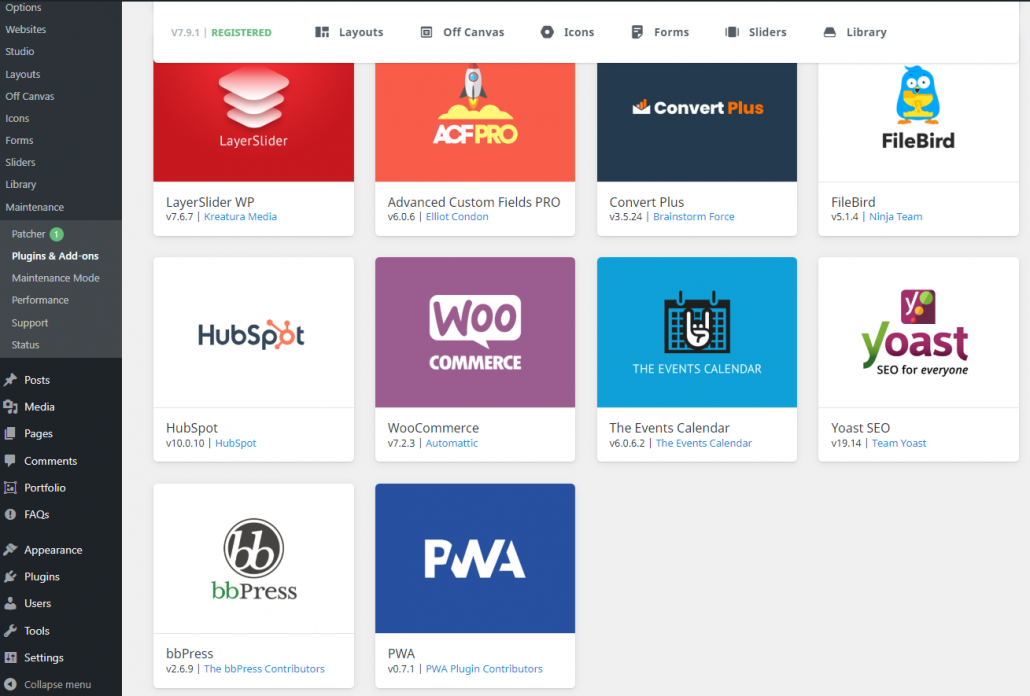 The WooCommerce, bbPress, The Events Calendar, Convert Plus, and other top-tier third-party plugins available on the WordPress market are all completely integrated and supported by the Avada WordPress theme.
5. Included are 6+ Premium Plugins:
The fact that multiple paid plugins are included in the price of this incredibly adaptable theme makes it the greatest buy overall. Every copy of the Avada WordPress theme comes with several plugins.
6. Many Premium Slider Choices:
The Layer Slider 6, Slider Revolution, Fusion Slider, and Elastic Slider premium touch-friendly sliders have been incorporated into the theme by ThemeFusion, who have a thorough understanding of it and have made it incredibly simple to create stunning sliders.
7. Integrating progressive web apps:
Like other Avada features, the PWA integration has a strong mobile emphasis and a tone of customization possibilities so you can create the perfect progressive web app.
You have the choice of turning the PWA plugin on or off at any moment for your WordPress site since Avada smoothly integrates with the PWA plugin.
8. GDPR Toolkit for Privacy:
This robust theme provides you with all the privacy options you need to provide you complete control over the third-party embeds and aid in obtaining users' consent, ensuring that your WordPress site completely complies with GDPR (The General Data Protection Regulation).
👉 These tools include
Third Party Embeds Control
Google Font Management
GDPR Privacy Banner Customization
Tracking Code Consent
Contact Form Consent
Custom Registration Messages
9. Detailed Documentation:
No matter your level of WordPress experience, working with such a potent tool may be difficult, especially when utilising it for the first time. To help you with this, ThemeFusion provides thorough documentation that will answer all of your questions and address any problems you may have while using the theme.
The manual is quite accurate, easy to understand, and includes everything you need to easily set up and construct a website.
10. World-class, professional support: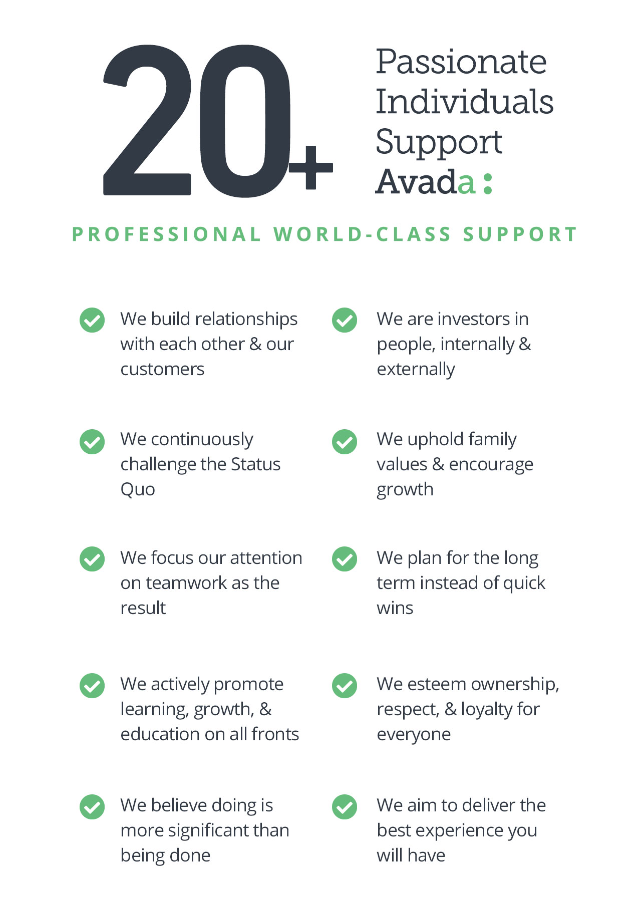 You can access theme support for the Avada WordPress theme through a variety of channels, including their Facebook group, community forum, and support tickets. Six months of hands-on assistance are included with any theme you buy from the Envato marketplace. And you can extend that period to a total of 12 months by paying an additional monthly cost.
11. Endless Color and Styling Choices:
Avada provides you with limitless colour and stylistic possibilities with a Backend Color Picker to assist you in creating the WordPress site of your dreams. With just one mouse click, you may immediately switch between bright and dark modes in addition to selecting from 8 pre-defined colour skins.
12. Complete typographic control:
Avada provides you with sophisticated typography options so you have complete control over the Font Styles and Typography of your WordPress site. For instance, you may pick from hundreds of Google Fonts, utilize Standard Fonts like Arial and Helvetica, or even upload an infinite number of Custom Fonts. In the theme settings tab, you can also get a preview of your typefaces.
13. Contact form built-in: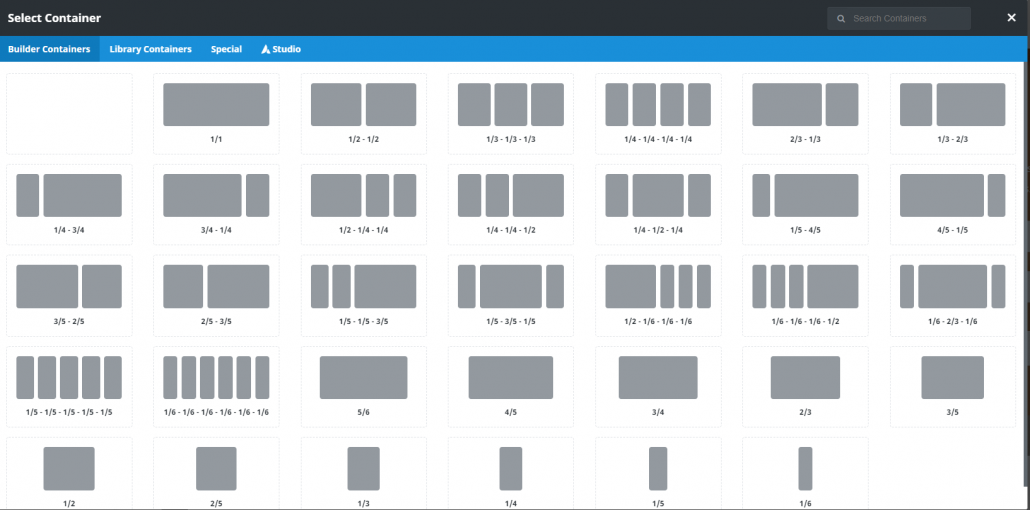 You can put very versatile and adjustable contact forms anywhere on your WordPress site with the help of Avada's design integration of Contact Form 7 and Gravity Forms.
14. Columns:
You have access to a broad range of settings with the Column element built into the Avada WordPress theme to flawlessly structure and arrange the layouts of your pages and articles. You may use the power of nested columns for an even greater degree of layout customization.
15. Containers with High Flexibility:
The Container element is one of the most powerful features of the Fusion Builder. Providing you the complete control over Style, Layout, and Visibility, Containers ensure your designs stay organized and intact.
16. Complete Compatibility With Well-Known WordPress SEO Plugins:
The top WordPress SEO plugins on the market, such as Yoast SEO, All In One SEO pack, etc., are completely compatible with Avada. These plugins obviously assist you in monitoring the SEO friendliness of your specific pages and posts.
17. On whatever device, it is perfectly responsive:
Avada is completely responsive right out of the box and hence seamlessly adjusts to any screen size, whether it be on a mobile device, tablet, or desktop. Responsive may be turned on or off at any moment, and you don't need to check the theme on every device you possess.
Because the theme's developers have already meticulously tested it to make sure your content appears great on any device.
18. Optimized For Performance And Speed:
The Avada WordPress theme has been carefully optimized for both speed and performance, as page speed is increasingly a significant ranking factor for mobile searches. It provides you with a wealth of basic and sophisticated options to further optimize the speed of your WordPress site.
👉 such as:
Lazy Loading for your website's images
Fast Rendering of Font Faces
Option to remove WordPress' Emoji Script
Option to load Media-queries files asynchronously
Option to enable JS compiler
Option to replace CSS-variables in Compiled CSS
Pricing 💵
$60. This is the cost of purchasing an Avada copy. It's great to have a straightforward pricing system, especially when you find that other themes (and plugins) limit their feature sets according to how much you spend. Because it doesn't use a subscription-based revenue strategy, this one-time cost stands out in sharp contrast to many other WordPress businesses.
👉 What you receive for your money is as follows:
Avada use on a single website.
updates for the site forever.
Support for six months (which may be extended to a full year for $18).
Several premium plugins available without memberships or additional fees.
access to instructional videos, support, and documentation.
Even though this is only a small portion of the whole package, we think it offers excellent value. You have a premium theme that other website owners can attest to, excellent customer service, and a long-term solution that won't go away like many other themes in the past. However, choosing Avada needs considerably more thinking.
Avada theme in 2023: to use or not to use?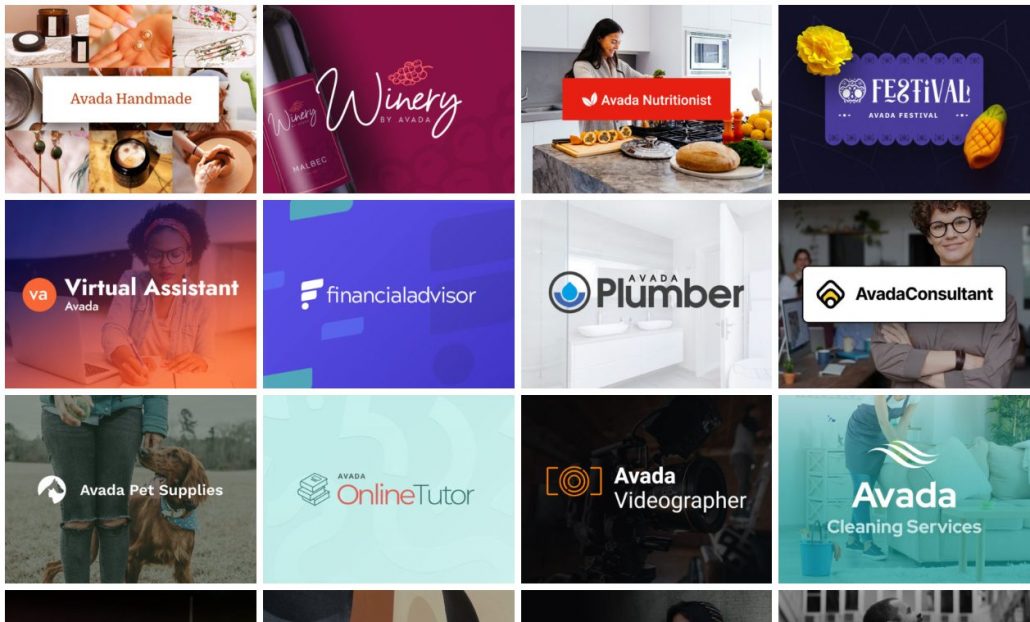 You could wonder whether you should choose any theme, let alone Avada, given the abundance of WordPress themes available on the market. Our Avada theme review may be summed up by saying that it can be a great approach to develop and publish your WordPress website.
The question to ask is not if Avada is "better" than other themes available, but rather whether it is. 🥸 This is less obvious for the following reasons:
Although the entire Avada package is large, you might not require all of the premium plugins or instructional material.
In contrast to more well-known builders like Elementor and even SiteOrigin PageBuilder, you'll have a lot of difficulties using another theme for your site because the builder employs shortcodes.
Given that Avada's code base (at its theoretical core) is older than other themes, it's a personal observation that it could be slower than other themes. Although it's not a guarantee, this may have an effect on some applications.
Avada really provides great value for the money and a builder with a supposedly superior experience to rivals. The design "lock-in," which is currently outdated technology and a significant drawback, might not be to your taste.
Conclusion🖱️
To be clear: You will need some time to become used to the Avada theme. Because the Multipurpose theme has so many potential applications, you will only learn many things by trial and error.
And if you want to know more about other WordPress Theme then read our article "BEST & POPULAR WORDPRESS THEME"
https://inguide.in/wp-content/uploads/2021/02/inguide_logo_red_340_156-300x138.png
0
0
Rakhi
https://inguide.in/wp-content/uploads/2021/02/inguide_logo_red_340_156-300x138.png
Rakhi
2023-01-19 13:06:07
2023-05-26 13:29:01
Avada WordPress theme Guide: For Beginner