Best LMS plugin for WordPress 2022
If you are familiar with WordPress you must know that it is a Content Management System (CMS), in which you do blog, business, post articles, etc. Similarly, the Learning Management System (LMS) deals with online learning where institutions use LMS Plugin to provide online learning for their student.
After the COVID-19 pandemic scenario, almost 80% of the student must have tried learning online. Which as result increased the demand for eLearning platforms. Whether it is academic courses, technical topics, or children's learning, people look for interactive and engaging LMS solutions online.
Then there comes the WordPress LMS plugin, which helps you to create online courses, track the student's progress, and grade the coursework on a single dashboard. And you can provide such learning services directly on your websites.
Businesses are using it, governments are using it, and even schools are pushing some courses online. That's why the WordPress LMS plugin industry has blown up, especially with the pandemic!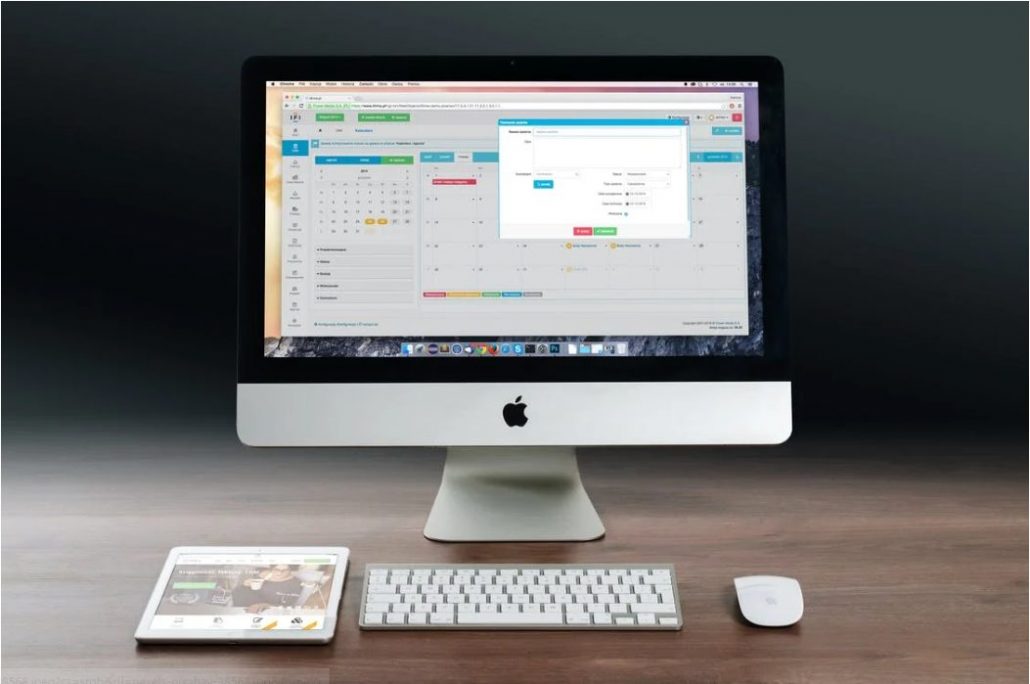 Introduction to LMS
A learning management system is a software application that provides the framework that handles all aspects of the learning process, from Courses to quizzes, tests, and many more.
The LMS helps schools maintain the integrity of their educational programs by enabling educators to effectively and efficiently develop courses, deliver instruction, facilitate communication, foster collaboration between students, assess student success, and provide other learning resources for support.
In short, an LMS helps create consistent learning environments through centralized content. It offers ease of reporting and tracking, as well as the ability to drive engagement.
Why use an LMS?
Let us understand some important points
E-learning saves up to 45% of your organization's time in comparison to classroom learning.
A 40-minute round-trip, is costlier than simply opening a laptop or on the phone at a time and place that suits each learner.
An LMS allows your learners to prioritize their workload rather than dropping everything to be in a certain place at a certain time.
Best of all it is consistent and flexible
It provides unlimited access to eLearning material
You can see at a glance who finished the course, who is halfway, and who didn't even start studying.
You can easily combine text, images, and video in a learning management system. Which you cannot on paper
I think the points are clearly stated that it's best to use LMS, If you're interested in putting your knowledge online, in the form of online courses, your best bet is to choose from one of the popular WordPress LMS plugins.
How can you use an LMS?
The list for you to know where else this LMS will be helpful and how will it be helpful in your daily lifestyle of online learning.
Resources in a variety of formats
Product Knowledge training
cut down the time for training/onboarding
You can easily educate your channel partners on how best to market, sell, and support your products.
Parental access to class schedule, outlines, and assessment
Digitalization of teaching and learning, etc,
List of Features of WordPress LMS Plugins
There's no universal agreement on the full feature set of a standard LMS. Whatever your necessities may be, here are some of the most essential features to look for in your LMS plugin
Course Creation
Enrollment
Payment integration
Quizzes and test
LMS integration
Financial marketing tool
Gamification & Certificate
Automated Email
Module & Course structure
User management
Content creation
Mobile learning
Community forum
Now let's jump to our hand pick the best LMS plugins for your WordPress site which will give you an overview of the particular plugin.
Best WordPress LMS Plugins
1. LearnDash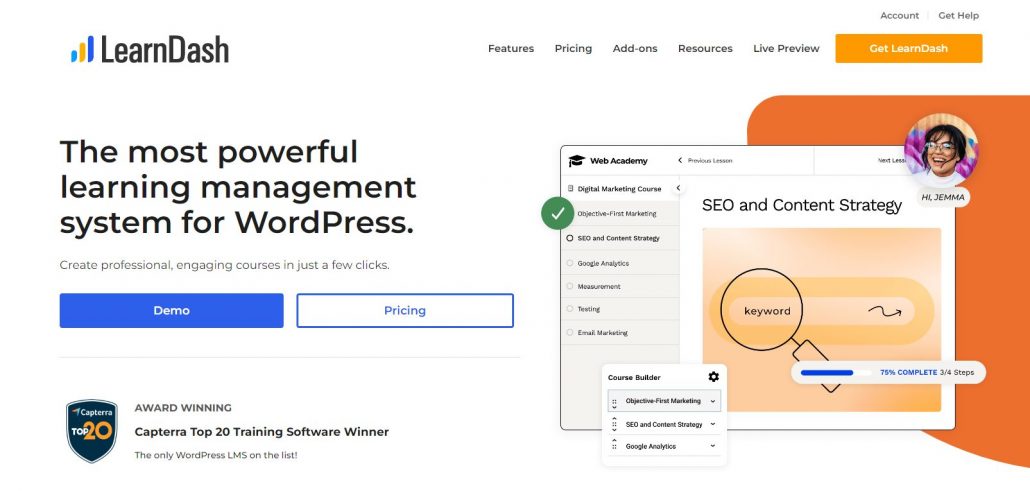 LearnDash is the most popular Learning Management System (LMS) WordPress plugin on the web. It comes with a drag-and-drop course builder that allows you to easily create multi-level courses and add lessons, assignments, and quizzes to them.
LearnDash has the best feature packed and even integrated well with WordPress, to make it easier for you to publish content and monetize the website.
It has a content drip feature, which drips content according to schedule and disables access after a specific time. Use any media element like audio, video, images, Google Docs, Articulate, or Adobe Captivate files. Design quizzes in a simple questionnaire format or pick from the 8 pre-designed quiz types offered by the plugin.
Using LearnDash, you can give your users assignments and then approve or comment on them. You can easily set prerequisites for students, such as finishing a lesson first before going to the next lesson.
LearnDash has integration with many third-party plugins and tools, which means you have even more options for how you run your courses.
It is the perfect plugin for entrepreneurs, training organizations, and schools to provide online learning courses to students.
Features:
Allow your students to track their course progress, print certificates, and more using their frontend profiles.
Add a timer to your lessons to prevent users from skipping them.
There's no need to integrate with a forum plugin, since dynamic forums are already built into LearnDash.
Gamification elements like certification and badges
Automated email notifications
Supports content dripping and scheduling
Require students to complete prerequisite courses before they can take a course
It is a premium plugin and the price starts from $199/year for a single site, $399/year for 10 site and for unlimited $799/year all with 15-day money back guarantee.

MemberPress is the most popular All-In-One plugin consisting of both memberships as well as LMS plugins.
It's built on the WordPress block editor so you can drag and drop lessons, topics, images, videos, and more to build your course curriculum. With MemberPress, you can lock exclusive content like online courses, premium blog posts, forums, and more, behind a members-only area.
Special Classroom Mode comes in handy with MemberPress so that you don't need to spend a lot of time designing your online classroom. It has also drag and drop interface to build your course curriculum.
You can also create multiple courses, with different subscription options, and manage them all from one central dashboard. It has a content dripping feature that allows you to show restricted content to members after a certain time.
Their Courses addon makes it easy for creating an LMS in WordPress. You can set up courses in just a few moments, and your courses will always look great with no coding required. MemberPress's powerful Membership rules give you lots of flexibility.
Features:
Easily Build & Sell courses
Multiple courses with membership levels
Accepts both one-time and recurring payments
Content dripping and access control rules
Built-in course progress tracker
Email marketing integration with Mailchimp, Drip, and more
Interactive classroom designs
Generate discount coupons
Compatible with any WordPress theme
Forum integration with bbPress
It is a premium plugin so the plan starts at $179/year to $399/year.
3. Lifter LMS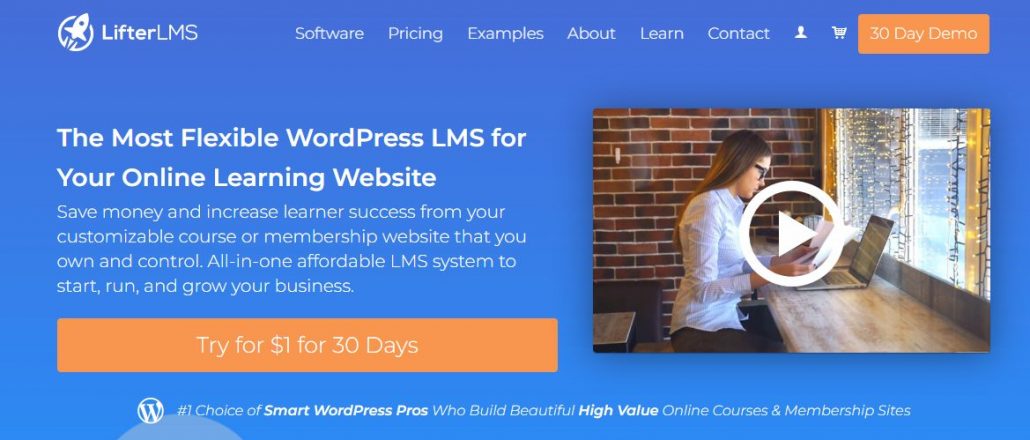 LifterLMS offers a drag-and-drop course builder and thus, helps you to build multi-tier courses with audio, video, images, and text-based lessons.
To boost user engagement, it comes with powerful features like automated emails, gamification with badges, and even certificates upon completion of a course. It has content dripping, course prerequisites, and group memberships to offer even greater control over how your courses work.
There are multiple options to accept credit card payments, one-time or recurring payments, sell course bundles, offer coupons, etc. Among payment options, you can integrate it with PayPal, Stripe, or receive payments manually via check.
If you are on a budget then the main plugin is free, so you can technically build a simple online course website without paying a dime. The only add-on you would have to pay for is one of the payment gateways.
Features:
Create unlimited courses with a drag-and-drop course builder
Include multimedia content like video and audio
The customer support includes technical support, live office hours, and plenty of free training courses.
The Lifter learning management system (LMS) course builder offers options for all types of multimedia, a beautiful course builder, drip content, and quizzes.
Extensive reporting feature
Include assignments and quizzes as part of your courses
Require users to complete prerequisite courses and/or create course tracks to offer certifications
Drip-feed course content on a set schedule
Assign instructors to courses
Include course discussion areas like lesson comments, forums, and more
Sell courses on either a one-time or subscription basis, including flexible bundles
This is a free LMS WordPress plugin because the core itself is free to use but you'll need to pay for more advanced features. Plans start at $149 per year for an online course bundle, but you can try out a demo for just $1.
4. LearnPress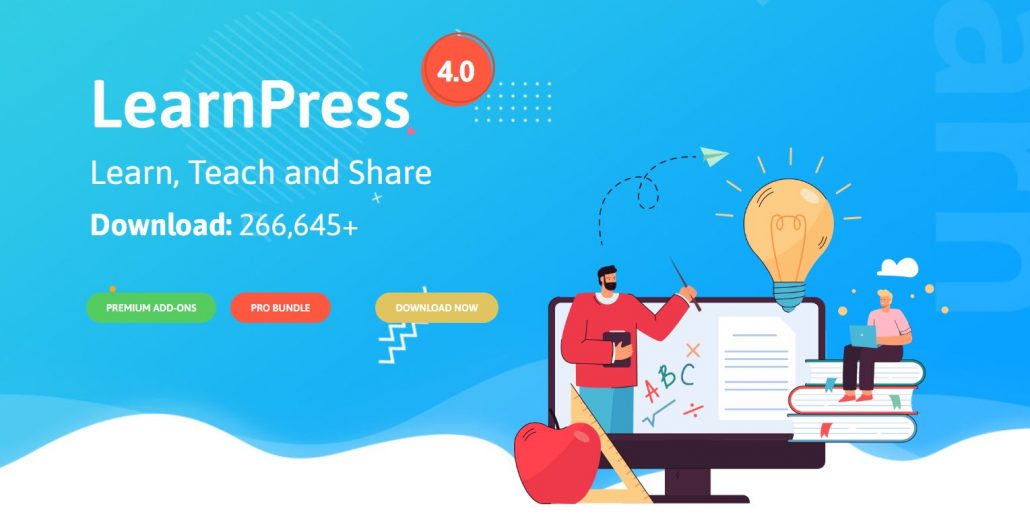 The beginner-friendly and most popular Free plugin for LMS is LearnPress. Little to no experience is needed to create an impactful LMS website with powerful and practical LearnPress.
LearnPress features quizzes, communication with students, enrollment, selling courses, and heaps more. As for the latter, LearnPress supports different payment methods and easily connects with Paid Membership plugin (premium add-on) to create a subscription-based model.
In the LearnPress plugin with BuddyPress support, students can form groups to discuss problems and share knowledge.
It has both free and paid add-ons available, which allow you to extend the features. It supports scheduled content (content drip), quizzes, assignments, grading, etc. They also supports integration with bbPress, WooCommerce, and WordPress membership plugins.
You might have to activate a few add-ons, depending on how advanced you need to make your online course website. For instance, there are add-ons for bbPress, BuddyPress, course reviews, Wishlist, importing/exporting, and prerequisites to courses.
Beyond selling paid add-ons, one of LearnPress' primary monetization methods is selling its own WordPress learning management system (LMS) themes on Themeforest with LearnPress bundled in, which helps explain why the LearnPress team can be so generous with the free plugin.
Features:
Certificates for completing courses
BuddyPress/bbPress integrations for course forums
Co-instructors to include multiple course instructors
Integrations with WooCommerce and membership plugins
LearnPress includes a landing page template for linking from ads and talking about course descriptions, curriculum, and more.
You can create a beautiful page that markets to people who might want to become instructors.
LearnPress supports a large collection of payment gateways including 2Checkout, Authorize.net, and Stripe.
It is a freemium plugin, so you can download the free version from the WordPress directory and the premium plan starts at $249.99.
5. Sensei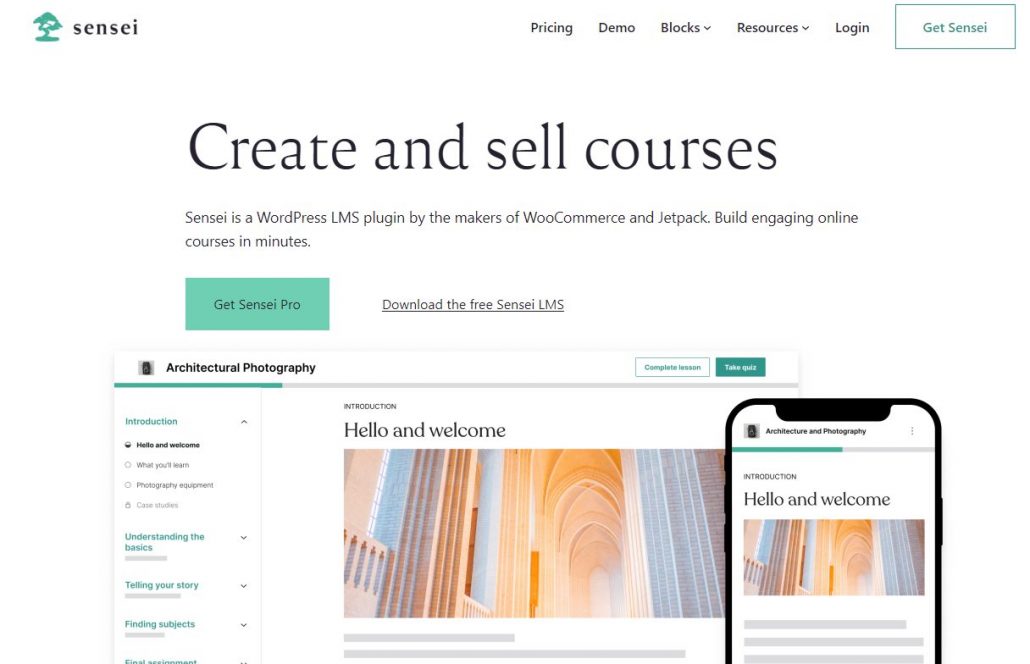 Developed by WooCommerce, Sensei Learning Management System integrates seamlessly with their eCommerce plugin. The basic premise is simple: you create courses, write lessons, and add quizzes.
Sensei is built around the intuitiveness of WordPress, so the beginner user shouldn't have any problems making a course like they would a regular WordPress post.
Creating courses with Sensei is easy. It provides simple reporting facilities that give you an overview of your content, grades, and students registered with the site.
Sensei LMS is easier to use than many of these other WordPress LMS plugin choices but is also less powerful in some ways. It doesn't include payment gateways or many other advanced features but these can be provided by WooCommerce plugins for a price.
Unfortunately, there's no drag-and-drop course builder. Instead, you'll need to rely on drop-downs to associate modules with courses and lessons with modules, which isn't ideal.
Features:
The user registration is done through WordPress, so, those familiar with WordPress should find Sensei easy to learn.
The WooCommerce integration allows you to instantly charge for a course, whether it be as a subscription or on an individual basis.
The simple course analytics provide information on grading, course completion, and students registered.
Certifications for completed courses
Quiz creation and grading feature
The extension merges well with WooCommerce and WordPress, and the user experience isn't much different from making a WordPress page or post.
The majority of WordPress themes on the market integrate fine with Sensei.
Integrates with WooCommerce and other plugins
Intuitive course creation and implementation
It is a freemium plugin, and the premium plan starts at $49/year to $349/year.
6. WP Courseware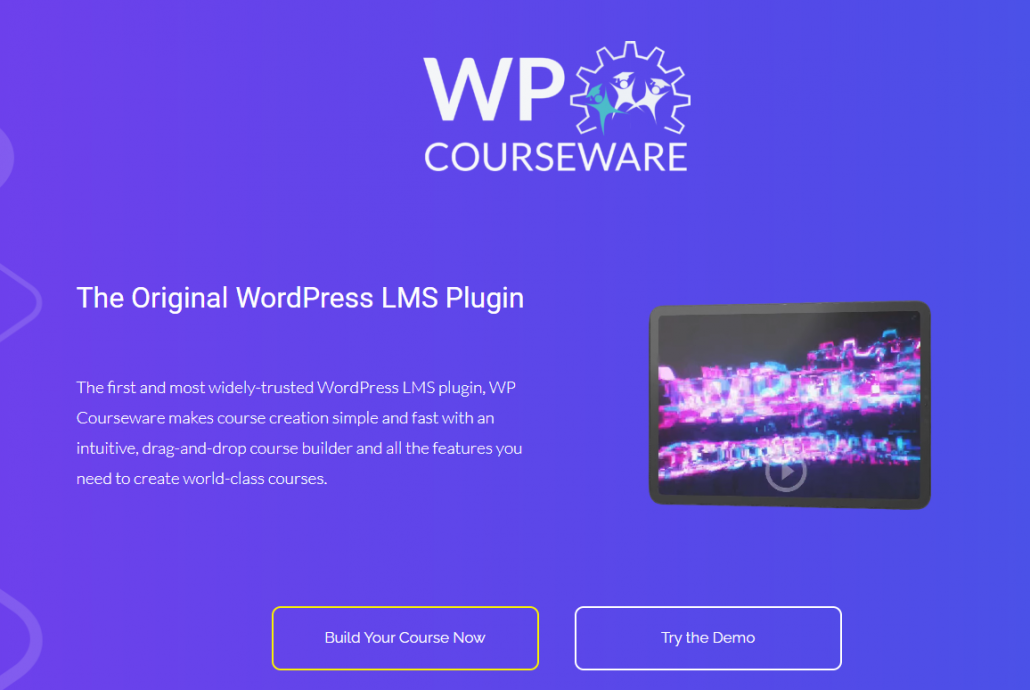 WP Courseware is a flexible and extendable WordPress plugin that fits any objective flawlessly. With the tool, you have complete freedom to do your thing from start to finish.
WP Courseware uses the drag-and-drop feature to help you build and arrange courses in a format that's familiar to students and instructors. It's also easy to create lessons or units – simply create posts or pages in WordPress in the way that you normally do and publish them.
Use customizable email templates to convey grades and results by email. In addition, you can create unique, downloadable, and personalized completion certificates for successful students. Student enrollment can be manual or automatic. Not only that, you can allow access to courses only on completion of prerequisite conditions.
However, it comes with 2 types of quizzes: blocking and non-blocking. While blocking quizzes needs a student to get a minimum grade before they can move to the next lesson, non-blocking ones don't have any such requirements.
You can also create free courses and provide users with a way to try out your classes. This could encourage them to buy a full course. You can sell paid courses as a one-time purchase or as recurring subscriptions.
Features:
Allow students to upload assignments in formats you designate then review them when you're ready.
Stripe and PayPal Integration
Built-in Shopping cart functionality
Customize your course navigation and progress indicators
includes a default translation file to easily display all course elements in any language.
Restrict access to users who paid for a course through WP Courseware's shopping cart or other e-commerce/membership plugins.
It can be used with any WordPress theme or page builder.
It is a premium plugin, and the premium plan starts at $129/year for 2-site, and for 25-site the price is $199/year.
7. Masteriyo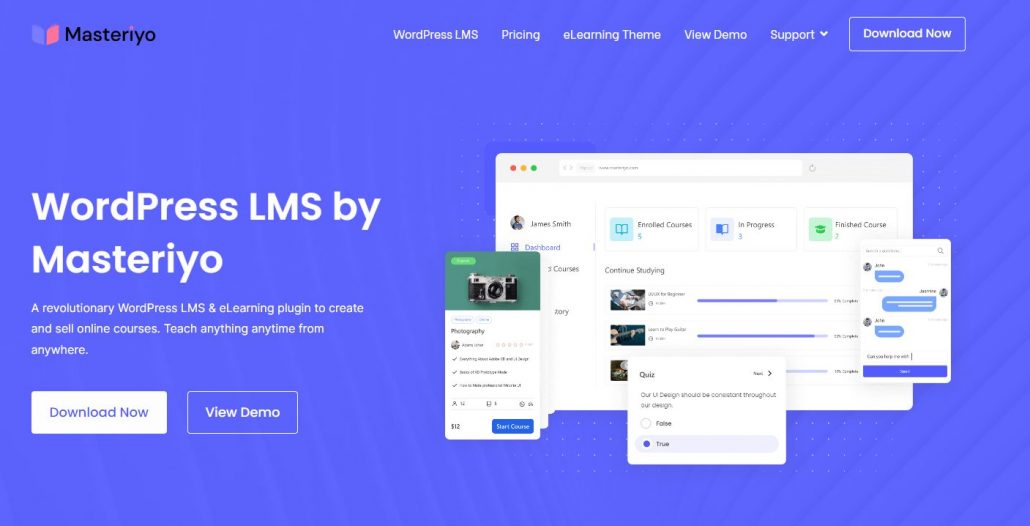 Masteriyo offers a drag-and-drop course builder interface that's powered by React. It is the most user-friendly and most powerful WordPress LMS solution to create and sell online courses.
It does not depend on any other plugin to create a complete Learning Management System. They got its ordering system and PayPal payment gateway to sell courses. The best part is the beautifully designed interactive learn page with easy course navigation, distraction-free mode, a Course Progress bar, and a dedicated place for Questions and Answers.
However, the plugin isn't limited to course building. It also has an in-built order system to let you sell online courses and accept payment via a trusted payment gateway like PayPal. Not to mention, it also supports offline payment. Besides, you get options to allow registered or non-registered users to access your courses freely
The plugin is powered by React; hence creating courses, lessons, and quizzes are super smooth and easy.
Also, you'll have an integrated eCommerce and payment option, so selling your online courses won't require you to install any extra plugins.
Features:
Easy Drag & Drop Course builder
Interactive Learning Page
Compatible with Any WordPress Theme.
Even though Masteriyo LMS is a free LMS plugin, you can remain assured to get great customer service. And the premium plan starts at $49.75/year to $124.75/year.
8. Namaste LMS

Namaste! LMS allows you to create unlimited courses, lessons, and assignments. You can also give feedback to your students and award certificates to them for successfully completing the course.
Namaste! LMS is a free Learning Management System plugin for WordPress. It allows you to create different rules for accessing courses after completing the prerequisite courses.
It's a well-designed plugin with a straightforward course-building process very similar to adding a blog post, tools for adding video and audio, payment gateways, quizzes and assessments, and some security features.
The integrations strengthen the overall functionality of your course website while also catering to niches. For instance, the Watu integration satisfies the need for quizzes and exams, while the MoolaMojo connection works wonders for giving out points and letting students buy more courses with the points earned.
Users can oversee each step in the learning process to provide valuable information and instruction to users, students, or clients,
Features:
Manage unlimited courses and enroll students or let them enroll themselves.
Manage an unlimited number of lessons in each course.
Optionally use modules to organize lessons in courses.
Create certificates that will be assigned to students for completing the course(s)
Create assignments and approve or reject student solutions.
Connect to exams created with plugins like Watu or WatuPRO.
Define which lessons should be completed to complete a course. Some lessons can be optional.
It is also a freemium plugin so the premium plans start at $67/year to $137/year.
9. Tutor LMS: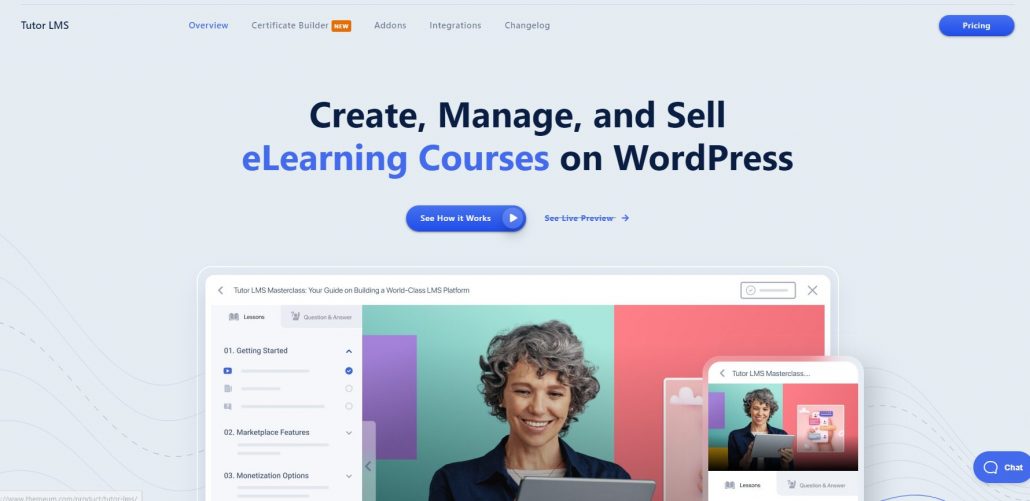 Like every other plugins of Learning Management System Tutor LMS, is also fully packed with features for your online classes.
It includes creating unlimited courses complete with an easy-to-use course builder. Use the drag and drop builder to add lessons, order course content, and materials, set a duration, add a difficulty level, etc.
While Tutor LMS delivers the high-quality learning tools you want, it also concentrates a lot of resources on security and protecting user data. That's a very useful feature and something many organizations are buying into.
Tutor LMS also boasts a secure platform with top security and coding practices. It has a growing list of integrations with e-commerce plugins, page builder plugins, as well as other popular ones like GamiPress, BuddyPress, and so on.
The plugin also offers Gutenberg blocks, an in-depth Elementor integration, video support (native, YouTube, and Vimeo), announcements, and an unlimited number of instructors. So, it's easy to offer courses from different experts. There's even a quiz creator to test the student's knowledge throughout the course.
Features:
Fully customizable site-building experience with support for page builders like oxygen & elementor.
Enable/disable fully customizable triggered emails to send to your students and instructors for events happening on your Tutor LMS site. You can edit the emails using the built-in email template editor too.
Settings for timers & retake limits
Simple drag-drop course builders for lesson content & content
Student profile management
Pay third-party instructors a commission based on their course and quizzes
The Tutor LMS plugin is free to use with premium plans costing from $149 up to $299 per year.
10. Good LMS: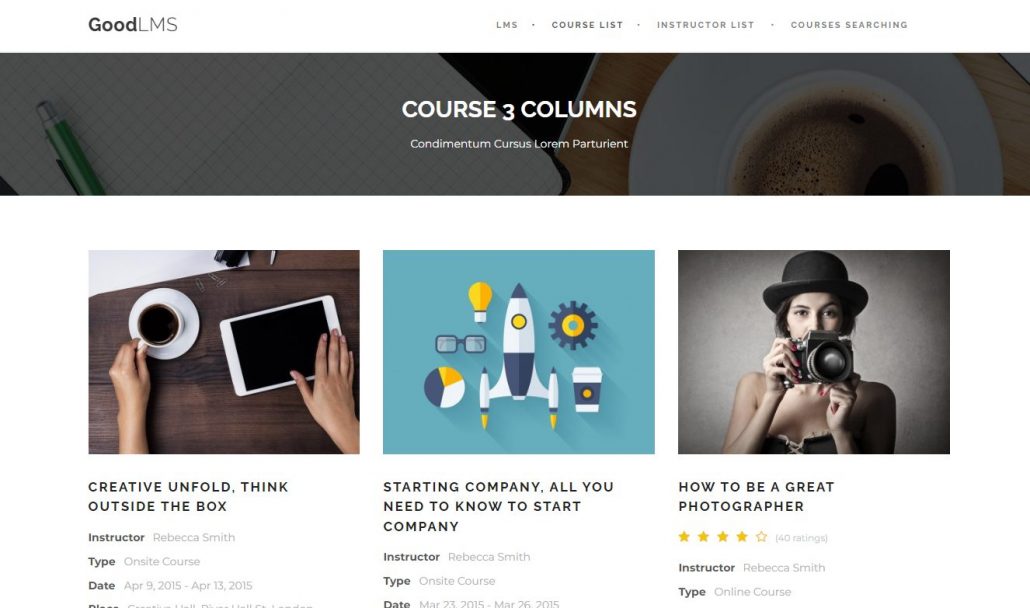 Good LMS is built to let you create unlimited online courses, with detailed contents, subsections, and timed chapter level and subsection level quizzes.
Apart from the content, you create for reading on the site, you can add downloadable material for offline learning too. Plus, you can create courses that have a major on-site component – learners can enroll on your website and then attend personal classes.
Good LMS gives students access to their own accounts where they can see their scores and progress, course badges, and more.
You can create badges for them, which adds an element of gamification and encourages greater engagement. On successful completion of the course, your custom-designed certificate is awarded to them, while they can leave a course rating to share their experience.
The plugin also has an efficient payment management system. You have complete flexibility in deciding the price for your courses.
The learner can pay via PayPal, Paymill, Stripe, or Authorized.net directly from the site, and you can enable the bank transfer option too. You can also offer discount coupons to sell your courses.
Features:
Affiliate Program support
Discount coupon code generation
Integrates seamlessly with WordPress and other plugins
Uses the WordPress blog publishing methodology
Very easy to use and to manage
Modify quiz settings so that all students have multiple opportunities to take the quizzes.
Good LMS leans heavily on the WordPress interface, so a regular WordPress user won't need to learn new design techniques.
It is a premium plugin and you can download it from code canyon. The one-time cost is $32 per year.
11. Master Study LMS: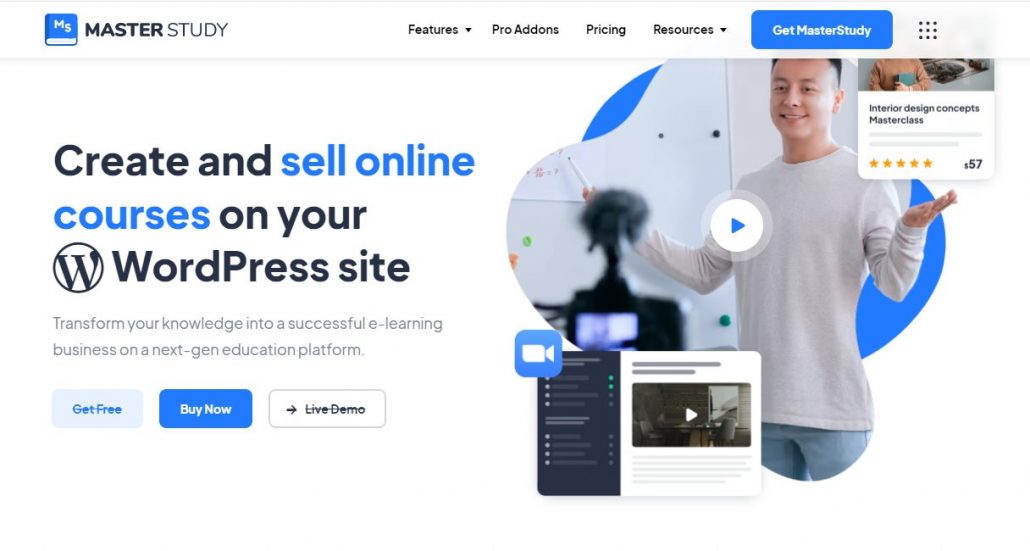 The MasterStudy WordPress LMS plugin is an excellent tool for anyone in need of an online education website. The plugin makes it hassle-free and straightforward to build, customize, and manage a learning website. It allows it to do it via the popular open-source content management system WordPress.
This Learning Management System WordPress plugin comes at no cost, still, your final creation will be exceptional. It also works with different topics, subjects, and industries, ensuring everyone gets the most out of it.
This easy-to-use plugin makes course management a breeze thanks to built-in support for videos, quizzes, paid memberships, ratings, wish lists, and more.
Advanced real-time Q&A and quiz features make it easy for students to raise a "digital" hand as well as for course instructors to add in timed tests. Plus, PayPal and Stripe's integration makes course monetization a breeze.
The plugin itself features quizzes and assessments, social areas for students, timers for assessments, course rating functions, certificates, free trials and trial courses, live streaming for lectures, and a ton of other features.
One unique thing with MasterStudy LMS is that all the key elements are built with Vue.js, which gives you fast page loads and smooth page transitions
Features:
Features a message board which creates a social network type environment for students to get answers and help from course creators.
Variety of lesson types (text, video, slideshow)
Grading, quizzes and assessments
Live stream for lectures
Messaging and announcement system
Live streaming is a very neat option
Content dripping and subscription options
Gamification and certification
Real-time quiz countdown timers
Certificate generation
Straightforward course builder
Assignment builder
Content dripping
You can download the plugin for free and it will work with any WordPress theme. However, if you want to save some time, they also have their MasterStudy premium WordPress theme which instantly takes this plugin to the next level! The theme starts out at just $25.
12. Thrive Apprentice: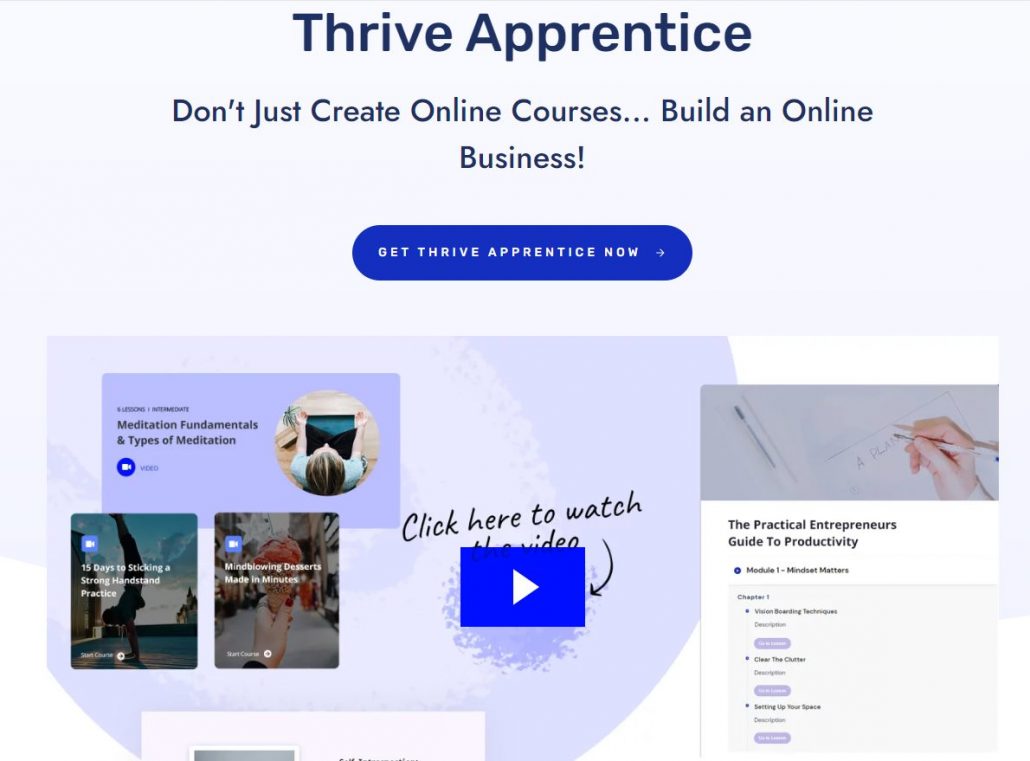 Thrive Apprentice can be a good option for content creators who are looking to create courses, monetize them with payments, and market them efficiently.
It includes a built-in drag-and-drop course builder. When you create a new course, you can set up high-level details such as the course overview and teacher biography.
It is only available as part of the full Thrive Suite, which gets you access to every single plugin and theme that Thrive Themes makes.
Thrive Apprentice is not a good option for more academic-focused courses with graded quizzes and assignments, such as a certification program or an actual academic course. It lacks the more serious academic features that you would need for those use cases.
Features:
Excellent user experience
Full visual customization
Drag and Drop course builder
Flexible monetization options
Assemble your lessons with ease
Even though it lacks advanced Learning Management System plugin features such as quizzes and drip-fed content, you can add quiz-building functionality with Thrive Quiz Builder which is also included in the Thrive Suite membership.
So, if you fit in the marketing/content creator space, you'll definitely want to consider Thrive Apprentice.
Since it is a premium plugin, so the premium pricing starts at $19/month Paid annually ($228).
Conclusion
There are many things you are required while making/creating an online course from scratch.
Domain Name
Web Hosting
WordPress Theme
LMS Plugins
We know it's not a one-day thing as you have to do research on a lot of things from layout to security and more. But this article can help you just one step ahead towards your online course by choosing your LMS plugin that suits you.
There is much more to an LMS than just this since it is a digital learning ecosystem in itself.
https://inguide.in/wp-content/uploads/2021/02/inguide_logo_red_340_156-300x138.png
0
0
Rakhi
https://inguide.in/wp-content/uploads/2021/02/inguide_logo_red_340_156-300x138.png
Rakhi
2022-11-12 06:29:49
2023-05-26 13:29:33
Best LMS plugin for WordPress 2022