Choosing the right CRM Management Software, 2023
Sales, marketing, and customer success/service teams use CRM Management software to help keep track of customer information and interactions.
A CRM can sort, analyze, and prioritize your sales leads so that your sales team can focus on the opportunities. That are likely to close and provide accurate answers to customers quickly and efficiently, and your customer service team has the information they need for upselling and cross-selling.
CRM stands for Customer Relationship Management, which refers to how a business manages its relationships with clients or prospects.
However, some have also used CRM to mean Customer Retention Management– which can refer to software or business practice. Since we are talking about business and software, then we would continue with Retention instead of Relationship.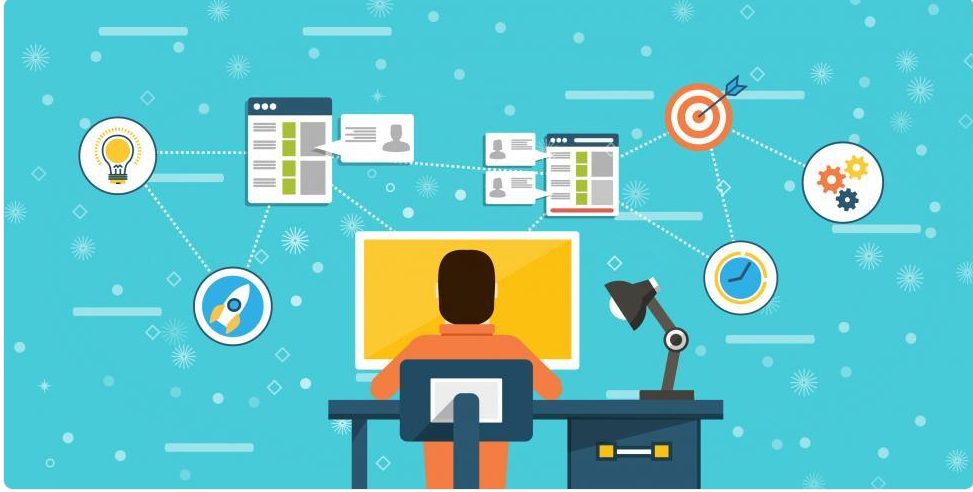 When information is shared across teams, productivity and efficiency skyrocket, data silos disappear, and your entire company appears as one cohesive unit to the customer. You have just built a data-driven organization.
Benefits of CRM Software
The benefits of CRM (Customer Relationship Management) software are numerous and can greatly impact businesses in various ways. Here are some key benefits:
1. A CRM Software can give you a clear overview of your customers
2. you can see everything in one place a simple, customizable dashboard that can tell you a customer's previous history with you, the status of their orders, any outstanding customer service issues, and more.
3. You'll have clear visibility of every opportunity or lead, showing you a clear path from inquiries to sales.
4. A CRM system can help you provide the high-quality service that customers are looking for. Your agents can quickly see what products customers have ordered, and they can get a record of every interaction so they can give customers the answers they need, fast.
5. It may also automatically pull in other information, such as recent news about the company's activity, and it can store personal details, such as a client's personal preferences on communications.
A CRM manages all of your contacts and gathers important customer information – like demographics, purchase records, and previous messages across all channels. And makes it easily accessible to anyone in your company who needs it.
There is a lot of confusion between free and open source CRM, CRM Software being free usually means that you can use it for free, and CRM Software being open source doesn't mean it is free. Open source means that it works on all operating systems. You may get many open source software's or tools called free but they are almost trial versions and many features are disabled in them.
In short, Open source software is code that is designed to be publicly accessible anyone can see, modify, and distribute the code as they see fit.
How does a CRM Improve the Work Process as a whole?
CRM software improves work processes in various ways. For example, imagine you have new leads, but it's challenging to prioritize them and keep track of their progress. With CRM, you can store all customer data in one place, making it easy to access and understand.
This boosts productivity and ensures smooth transitions if team members change. CRM also integrates with marketing tools, enabling targeted and engaging communication to convert prospects into customers. Overall, CRM enhances teamwork, customer service, and revenue growth.
Choosing the right CRM software for your Business
If you're ready to choose a CRM Software for your business, here are a few things to consider as you dive into the many CRM options out there. Choosing the right (CRM) system for your business can feel pretty overwhelming.
After reading, you'll feel prepared to start your CRM Software search and knowledgeable on how to identify which one fits your needs.
Know what features and functionality you need
Make sure the system integrates with other application
Request a demonstration and test drive a free trial
Choose an industry-specific vendor with a local partner
Check whether customization and training are available
Pay attention to user experience
Pipeline management capabilities
Seamless integrations with Microsoft Office
Now that we know most about CRM Software, so it's finally time to dive into the list.
List of Best CRM software 2022
1. Worksuite: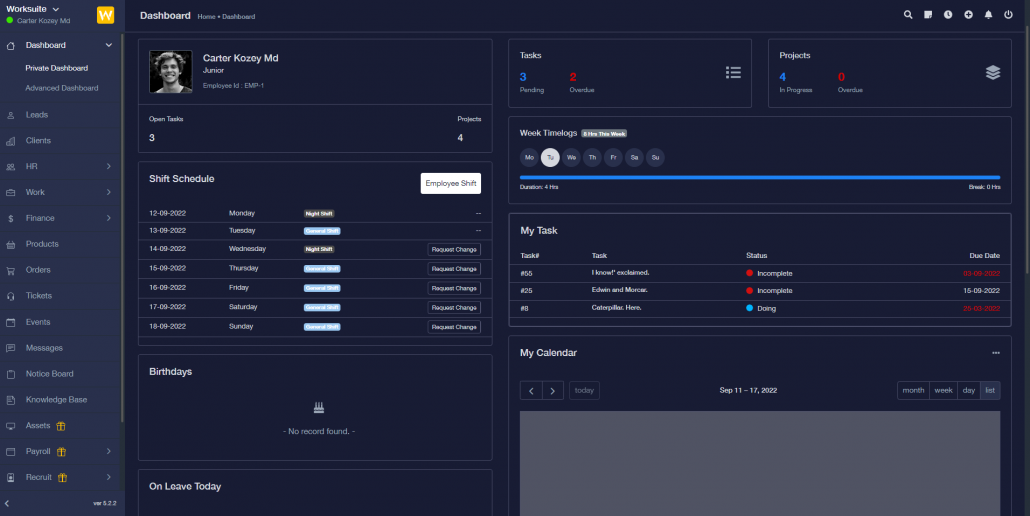 Worksuite creates a space for every team, department, or major project to share knowledge, and information and keep work organized. Keep a track of all your projects in the simplest way.
It makes it easy for small and large companies to onboard, and manage cross-border payments to all your contractor across the globe with just a few clicks. Take care of compliance, reporting, and project management in a fraction of the time.
It is best for small start-ups to the world's biggest enterprises, Worksuite is a complete solution providing powerful features and flexibility for every stage of business growth.
Key benefits of using Worksuite
Hire and onboard your contractors in minutes not days
Highly flexible onboarding workflow tailored to your hiring policies
Reduce your workforce compliance risk
Gain operational efficiencies by managing tasks and requests in one place
Payment processing and Tax forms management
The attendance module allows employees to clock in and clock outright from their dashboard. Reports section to analyze what's working and what's not for your business. Automate billing and revenue recognition to streamline the contract-to-cash cycle. Ticket system to raise issues, track and solve the issues. Real-time message sections help team members to discuss quickly with each other.
It is a premium tool, so you can download it from Codecanyon.net. and the pricing starts from a $55 one-time payment for a regular license and an extended license at $99 for a one-time payment.
2. Perfex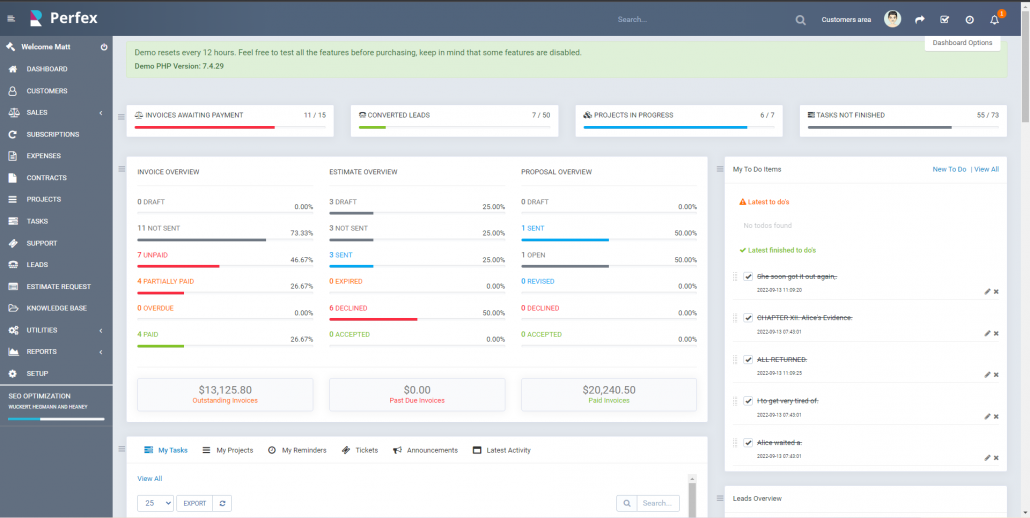 If you're looking for the best CRM Software for a smaller web design studio or individual, Perfex is the perfect solution on the market. That's because it comes with a ton of individual features oriented towards website creators, and is incredibly cheap when compared to competing solutions out there.
The Perfex CRM Software offers a ton of features created specifically for website creation professionals. It's perfect if you are an individual, freelancer, or small agency, primarily under five people.
On top of all this, features for managing expenses and payments with automatic reports after each PayPal payment, task management, contract management, surveys, goal tracking, and more are available.
Features:
Build professional, great-looking estimates and invoices.
Powerful support system with the ability to auto import tickets.
Track time spent on tasks and bill your customers. Ability to assign multiple staff members on task and track timer per assigned staff.
Keep track of leads in one place and easily follow their progress. Ability to auto import leads from email, add notes, and create proposals. Organize your leads in stages and change stages easily with drag and drop.
Create good-looking proposals for leads or customers and increase sales.
Records your company/project expenses and can bill your customers and auto convert to invoice.
Know more about your customers with powerful CRM.
Increase customer retention via built-in Surveys.
It is a premium tool so you can download it from Codecanyon.net at $59 for a regular license and for an extended license it is $295.
3. Zoho CRM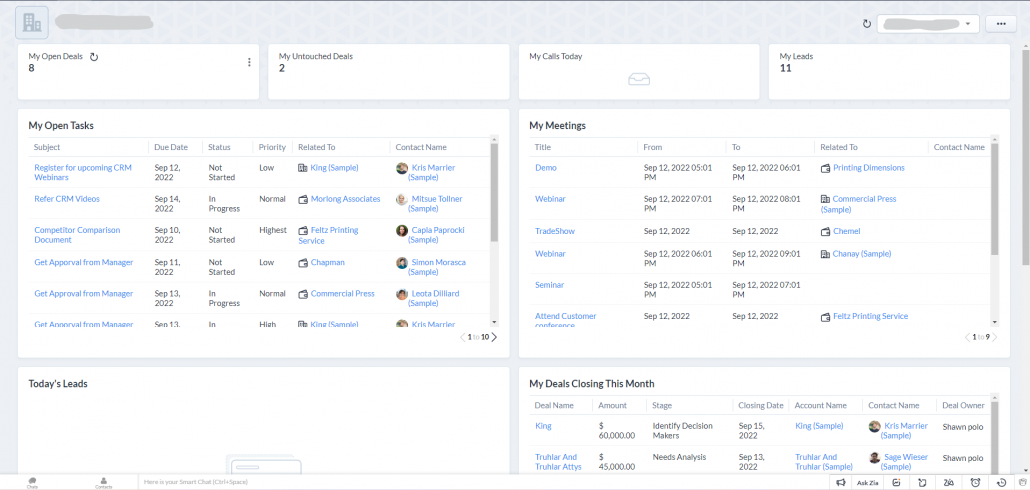 Zoho CRM is a cloud-based business management platform that caters to businesses of all sizes. It offers sales and marketing automation tools with helpdesk, analytics, and customer support functions.
Last year, Zoho introduced Zia, an AI-powered analytics engine you can use to get a better grip on sales anomalies and trends. The big news for 2022 is Canvas, Zoho's new drag-and-drop interface editor.
Zoho CRM offers a free version that works well for new businesses that only need to track leads and contacts. Once you upgrade to a paid plan, you'll unlock several features to help you automate marketing tasks and track customer and contact data.
Features;
Capture leads, automate lead scoring, identify leads that will convert, and follow up with detailed contact information.
Close more deals in less time. Track what stage your deals are currently in, and seize every opportunity at the optimal moment.
Get real-time insights about your customers, connect with them across channels, and build strong relationships.
Every time your team follows up with a lead or updates a field it requires significant manual work. Learn how to perform these tasks much faster, using workflows.
Zoho CRM arms your team with all the historical data of a customer. Which helps your team resolve customer inquiries quickly, ensuring they leave satisfied.
Zoho CRM mobile ensures that your team has access to important CRM data, no matter where they are.
It is a premium tool so you can download it directly from its official website starting at $14/month to $52/month.
4. Odoo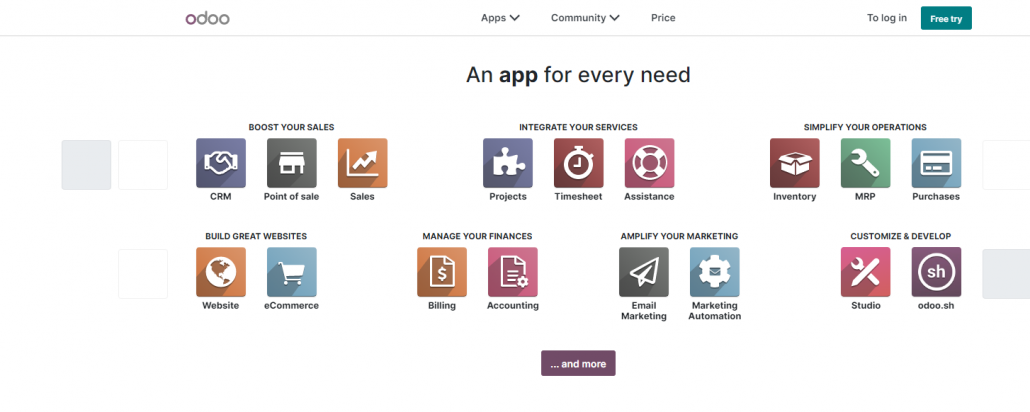 Odoo is the #1 open-source CRM software! With Odoo CRM, users can get more leads than ever before. It is fully integrated with other applications on the Odoo platform, such as sales and inventory, making every aspect of a sale interconnected with every other part of the business.
It is easy to use, simple to find out, and intuitive. New users get used to using it very quickly. Facilitates all the executive tasks of the corporate eliminating repetitive and obsolete processes. It is also extremely customizable in terms of templates, reports, exports, and processes.
With Odoo CRM, users can get more leads than ever before. They can also follow up on phone calls and meetings.
Features:
Track the sales stages easily and efficiently via the sales pipeline Kanban view.
Prioritize the follow-up activities in the pipeline and meet your targets with efficiency.
Schedule meetings directly from the opportunity of customers.
Get all the mandatory details of 'in progress and 'accomplished business activities in your Dashboard.
It maintains communication with customers via email, phone, chat, and social media within your Odoo CRM.
Score your leads supported by explicit and implicit criteria and judge which lead satisfies the benchmark to become an opportunity
Set custom alerts for opportunities supported by some activities
Your salespeople can update leads on the move using the Odoo CRM mobile user interface, even if they don't have access to the internet.
As mentioned above Odoo CRM is an Open source tool, so these tools are free as long as you don't need more apps or hosting options.
5. Vtiger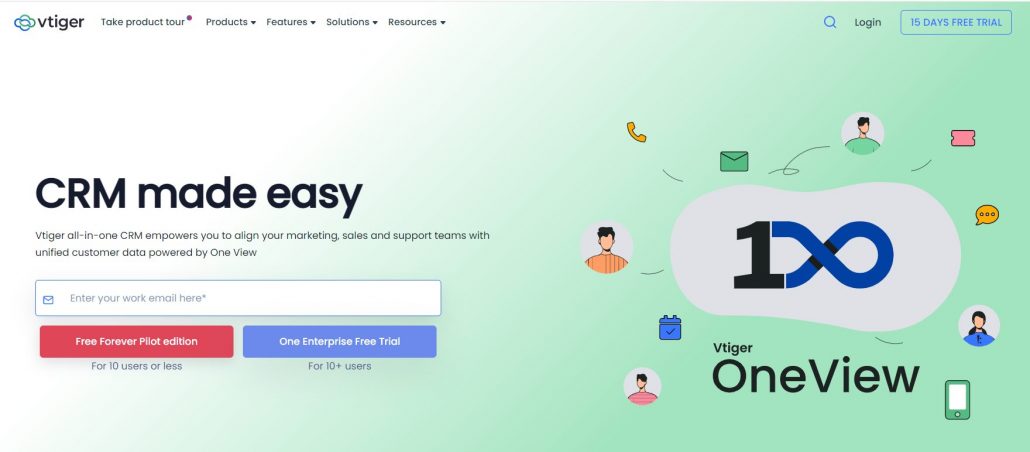 Vtiger CRM provides you a 360-degree view of all your customer information in one place and helps you optimize your sales, support, and marketing touch-points with real-time actions and conversational Insights
They adds value at all stages of the sales process from helping you capture & identify top leads, nurture deals via automated email & SMS campaigns, collaborate with teammates, analyze & forecast revenue, streamline meetings, spot deals at risk, manage proposals & quotes, and ultimately win more deals.
All customer data is stored in a single database that offers a unified view for marketing, sales, and support teams. The system can be customized to suit the needs and preferences of the business.
Features:
Increase sales win with efficient deal management features – Deal Journey, Deal Room, Dashboard, Deal Health, etc
Never miss deadlines with events, alerts, and notifications
Make support effective with self-service portals and a knowledge base
Apply custom SLAs for any case condition, and automate escalations when at risk of violating
Coach your teams to provide enriching customer experiences
Capture leads from emails, web forms, and other data sources
Segment leads using any data and enrolls them in bulk, drip, or autoresponder campaigns
It is also a premium tool, so you can download it from its official website. It provides a 15-day free trial, then the pricing starts from $20 to $42/month.
6. SuitCRM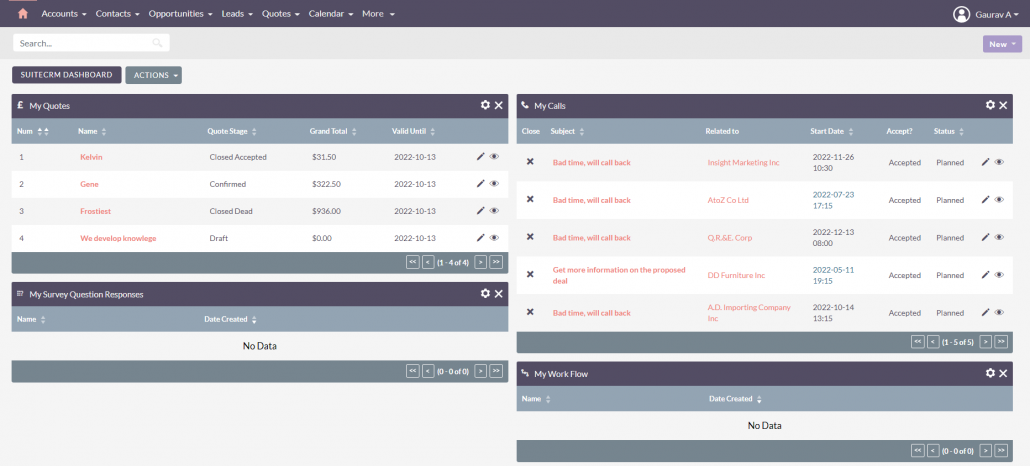 SuiteCRM is an open-source customer relationship management (CRM) platform that serves the needs of small to large businesses. It can either be installed locally or cloud-based.
The application is enterprise ready and completely scalable to suit any business size or business requirement. The application is fully customizable and can be tailor-made to fit your current or future business processes.
With SuiteCRM, users can create business process models and design flexible, automated actions that can be triggered to run at any time. Users can also model sales pipelines and create templated customer quotes, control pricing strategies, maintain contract renewals, and track lead progress.
Features:
Manage time using the calendar module which allows users to schedule meetings, calls, and tasks, and share their calendar with other team members so that everyone is on the same page.
Create, track, evaluate, and manage marketing campaigns using SuiteCRM.
The open source format and API allow users to add custom plugins with the tools they use.
Use templates to save time including email response templates for helpdesk staff to respond to common queries quicker, and web form templates to create forms for capturing leads by embedding them into the company website.
Evaluate and manage campaigns including the sending of email marketing campaigns and surveys.
Contracts module to manage Contracts and renewal dates.
The Documents module can be used as a repository for Customer issued or internal files.
Record emails sent to and from customers.
It is a free tool so you can download it directly from its official website and use its free and open-source plan.
7. Espo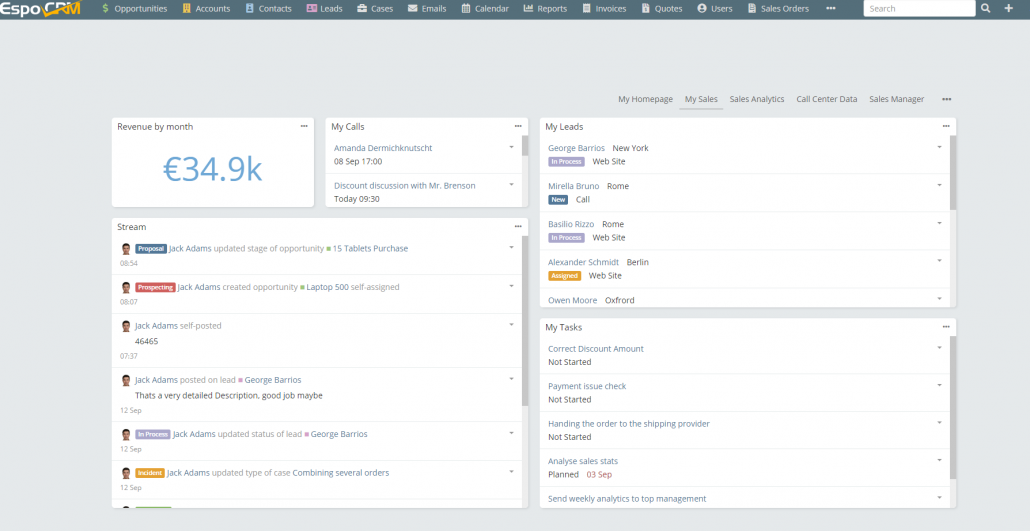 Espo CRM is a Open Source CRM application that allows you to see, enter and evaluate all your company relationships regardless of the type. People, companies, projects, or opportunities – all in an easy and intuitive interface.
The platform lets users efficiently analyze clients' actions and behavior to improve efficiency across services, products, and processes and meet criteria for specific projects, user requirements, and market demand.
It delivers the capabilities typically offered by CRM software and helps businesses not just improve their services or product but also keep a meaningful and fruitful relationship, boost revenues, and scale the business.
Features:
Manage leads, which are later converted into other steps
Improve Account Management
Simplify contact management
Calendar, organize meetings, point calls to make, tasks, etc. synchronization with Google Calendar and Outlook Calendar
Possibility of sending mass emails for marketing campaigns
It is a freemium tool that you can use for free as much as you want but it will have basic features and for advanced features, you can go for the premium plan which starts at $15/user/month to $150/user/month.
8. Bitrix-24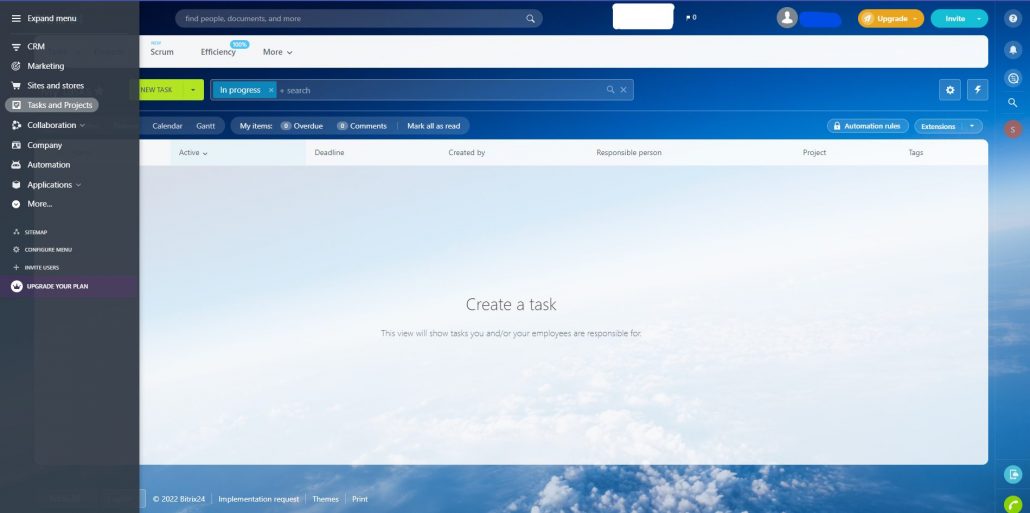 Bitrix24 is an all-in-one CRM platform that lets you generate leads, set up a helpdesk, manage projects, build websites, and much more. It includes tools for project management, customer support, internal communications, and even website building.
Bitrix24 serves as a hub for all of your company's internal communications. It supports chat and video conferencing, with options for recording videos to share within a team or across your whole business. The platform also has a social-media-like news feed where you can see updates about projects and leads.
The software allows users to log and manage client interactions, capture and store lead data, generate sales reports, and perform segmentation of target audiences.
Features:
Custom quotes and invoice
Unlimited CRM records free
Free mobile apps for iOS and Android
API and source code available
Free landing pages and websites connected to your CRM
All sales data is synced with your inventory in real-time to make sure you're never out of stock.
Bitrix24 CRM offers a free 30-day trial of its paid Professional plan ($99 per month for unlimited users), and you will need all 30 days to explore all the functionality this service offers.
There's also a free plan including support for 12 users, 5 GB of cloud storage, and access to core CRM, task management, and document management capabilities. Communications tools, on the other hand, are completely free for unlimited users.
9. Rise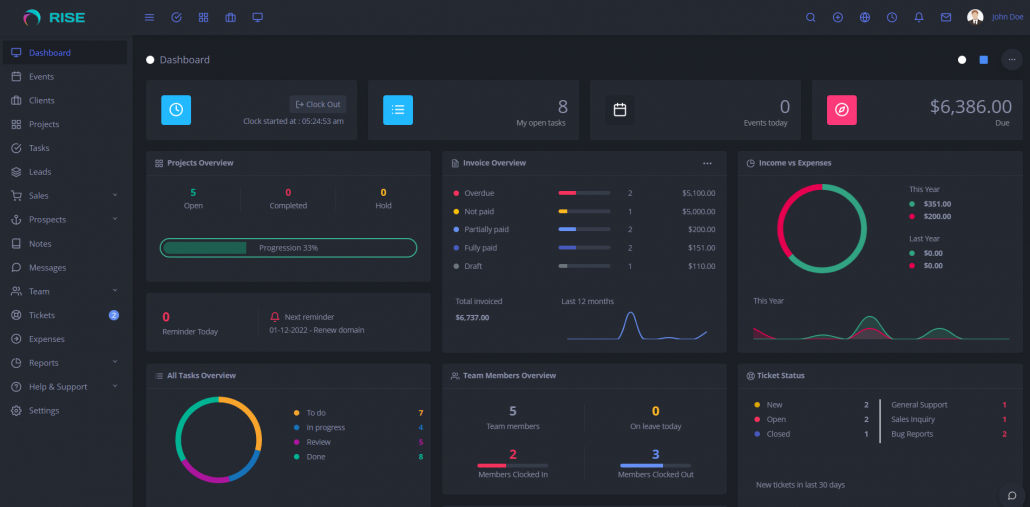 RISE is excellent project management and CRM software to enhance productivity and customer satisfaction. You can easily manage your projects, clients, teams, and many more in the same place. It includes everything to run your business effectively.
The Rise software gives you a platform that lets you manage various human resources operations including payroll, scheduling, time-off, and benefits. Rise offers integrations with a selection of systems and apps to assist you in building a world-class culture, all of which are connected via a central hub.
Rise also gives you the capability to make unlimited custom leave policies, evaluate your company's time-off trends, and make vacation request processing easier.
Features:
Send professional invoices to your clients in different currencies. Invoices could be linked with projects also.
Get payment online via Stripe, PayPal, and Paytm and automatically capture the status inside RISE. Notify your customers via email.
Send messages or chat with customers to make the process much faster. Set permissions for those who can communicate with customers.
Check the last login info of customers to know their activities.
Team members can submit leave applications for their absence. Approve or reject the applications.
Make a road map for your projects and see the visual report in the Gantt chart.
Define custom roles/permissions for different team members and define who can access which modules.
Add articles in the internal wiki to help your team members and share different information/instructions there.
Share ideas with your team members in the timeline.
It is a premium plugin so you can download it directly from Codecanyon.net and the pricing starts at $67 for a 6-month for a regular license and an extended license at $999 for 6-month
10. Zapier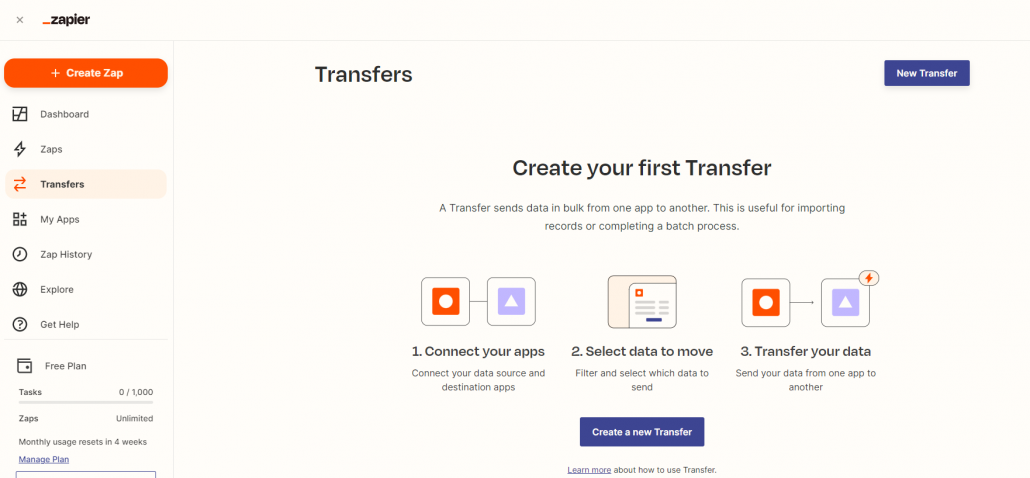 Zapier moves info between your web apps automatically, so you can focus on your most important work.
Build custom workflows fast for more than 4,000+ web apps, and let Zapier handle repetitive tasks automatically—freeing your team up to focus on more important work. With a 99.9% uptime as well as SOC 2 Type II and SOC 3 compliance, you can count on Zapier for your business-critical workflows.
Zapier automates the communication between apps by relying on "Triggers" within apps to catalyze pre-arranged actions, such as data formatting, and transfers of data between apps.
Features:
Supports event or transaction-based integrations that react to changes in real-time
Provides a web-based interface for designing, documenting, and testing APIs.
Allows for integration development through the visual development of integration logic flows with the help of a drag-and-drop user interface.
Facilitates API development and integrations with prebuilt connectors, templates, and examples.
Provides the ability to create connectors from existing services and APIs in the catalog
Provides pre-built, reusable connectors, and workflows for all user integration requirements.
Enable multiple tenants to securely share physical computing resources.
Supports and oversees the management of API products across their full lifecycle
Ability for users to offload authentication integration
It is a freemium tool that you can directly download from its official site and the pricing starts at $19.99/month to $599/month for different and premium features.
11. NetHunt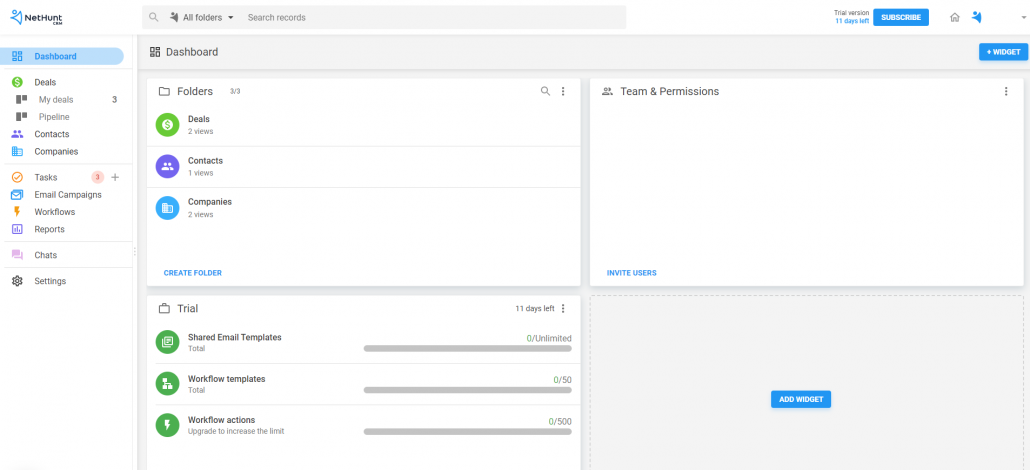 NetHunt CRM is a cloud-based CRM tool that integrates with Gmail and enables businesses to manage interactions and records directly from the inbox.
They integrates with Gmail, calendars, Google Drive, Google Hangouts, Zapier, LinkedIn, Facebook, Twitter, Instagram, and WhatsApp. It is available on iOS and Android devices.
NetHunt CRM serves all sizes of organizations from single users to large companies. It works for various domains such as real estate, recruiting, tech start-ups, consulting, and many other industries.
Features:
The platform captures leads, qualifies them, nurtures them, and makes them sales ready
Segmentation and follow-up reminders help users retain customers and opportunities.
Deal tracking allows users to track all deal-related information, analyze deals to find those with the highest conversion probability, and determine which ones need closer attention.
Users can structure sales cycles, define sales stages, generate reports, forecast sales, track conversion rates, and identify drop-offs.
They can reach out to their colleagues when they need help or want them to stay informed about deals.
 Users can manage their relationships and sales operations, as well as close deals from anywhere with a dedicated mobile app, which functions on Android and iOS devices.
Users can ensure they stick to deadlines with daily to-do lists
Reporting provides insights on team activity and performance.
It is a premium tool and you can download it directly from its official website, and the premium plan starts at $24/user/month to $96/user/month. And you can try it 14-day free trial to know what you will buy.
12. Salesforce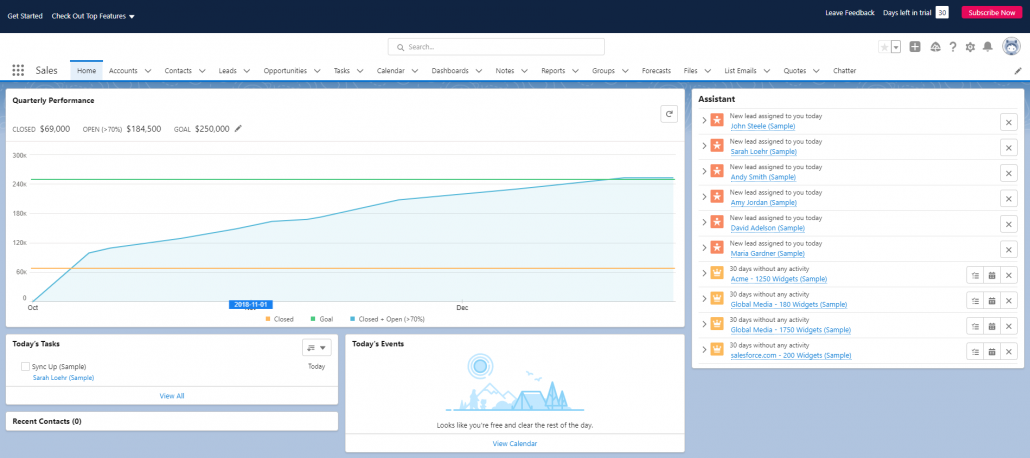 This Salesforce platform has CRM capabilities that include lead management, marketing automation, and contact management. These applications help organizations to manage customer accounts, track sales leads, conduct and monitor marketing campaigns, and provide service post-sale.
The Salesforce CRM solution is available only for Software-as-a-service (SaaS) deployment. In addition, this Salesforce app provides a technology stack that covers database and security as well as workflow and user interfaces
Salesforce is as easy to use as the websites you use every day. You can log in from anywhere, view and update customer data, and work with your colleagues-anytime you want.
Features:
The account and contact management feature of Salesforce provides the complete information of each customer.
Salesforce engage feature allows us to share the marketing content with sales to enhance the company's selling power.
It allows you to build mobile-ready salesforce apps for every employee.
Salesforce offers a boost on its core services with additional functionalities such as Application and Application intelligence.
The territory management of salesforce CRM helps to manage assignment rules, new hierarchies, and territory assignments. Users can assign one rule to many territories and their decedents from the territory hierarchy.
Salesforce user groups can create their own templates as per business needs, and it assures hassle-free emailing to the critical contacts
Salesforce dashboard components give us a visual representation of how your business is performing in the market.
It is a premium tool and you can directly download it from its official website. And the plan starts at $25/user/month to $300/user/month. And you can go for a 30-days free trial before purchasing with no credit card required.
13. Freshsales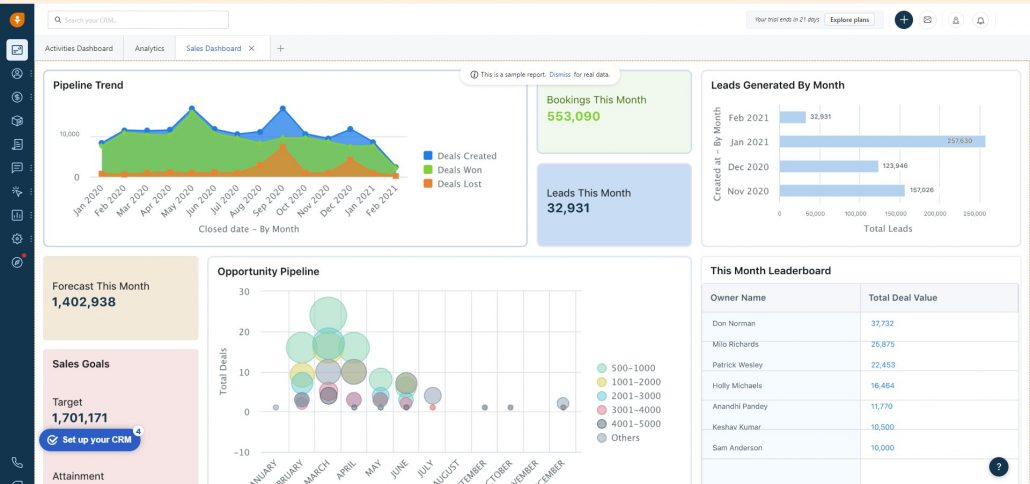 Freshsales is a full-fledged sales force automation solution for sales teams. It provides everything a salesperson needs to attract quality leads, engages in contextual conversations, drives deals with AI-powered insights, and nurtures customer relationships.
Freshsales allows teams to create a custom sales pipeline based on geographies, teams, processes, or other criteria and maintain a product catalog with pricing, discount, and tax information.
Freshsales facilities integration with numerous third-party applications such as Microsoft Outlook, PandaDoc, Xero, and more. It is available on monthly/annual subscriptions and supports is provided via phone, email, and other online measures.
Features:
Access detailed sales pipeline information by tracking multiple deals where different products are sold.
Create up to 10 custom pipelines, with the option to import pipelines from other CRMs.
Include 24×5 email, chat, and phone support, and access to deals, accounts, leads, mobile apps, and contacts.
Enhance capabilities and promote seamless data flow across multiple apps by integrating Freshsales with other Freshworks products.
Monitors website visitors' activities in real-time by using JavaScript, PHP, Ruby, Java, and python libraries.
You can establish a personal connection with customers with customized voicemail messages.
You can track the actual number of outgoing calls made by each sales rep across a specific period by generating shareable charts and tables.
It is a freemium tool, so you can directly download it from its official website, and the premium plan starts at $15/user/month to $69/user/month billed annually. you can also try the 21-day free trial for Freshsales.
14. Zendesk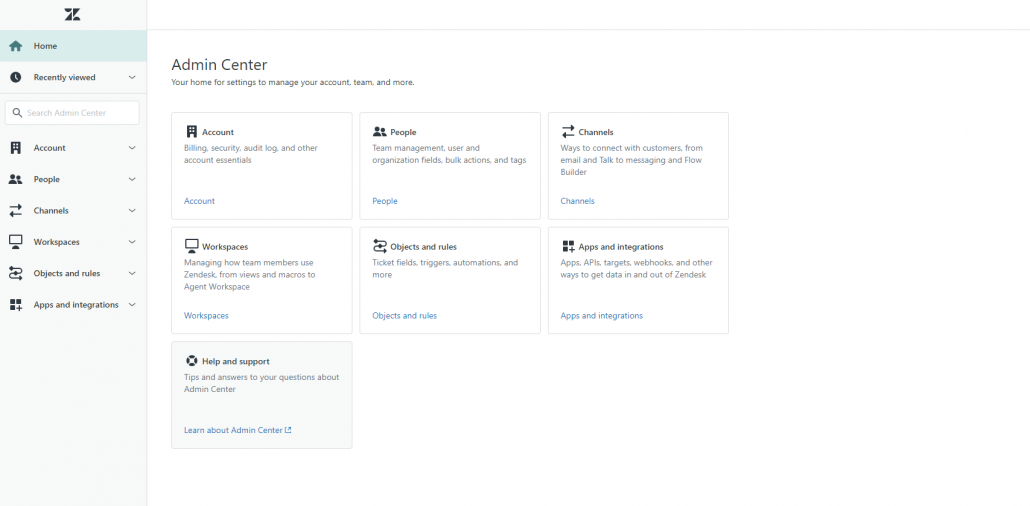 Zendesk is a web-based and mobile CRM tool that helps sales, marketing, and support teams collaborate and align on all lead and customer needs.
They enable sales teams to capture, organize and properly track leads. Sales personnel can funnel leads from multiple sources including websites, spreadsheets, or any marketing platform.
Zendesk provides a few powerful analytics that generates usable digital reports about customer experience after scrutinizing consumer data. It also displays forecasts based on previously collected data to help users provide a better service experience to their customers.
Features:
Automatic dialer with text capability
Prospect discovery and verification
Email tracking and automation
Chat, phone, email, and social media all in one place.
You can track customer history across different mediums or departments
Administrators can write rules to determine who and when a user needs to complete a step. Also includes notification of users when they need to act.
Content management for CRM systems includes presentations, documents, images, and other related electronic files.
Allows users to sync their email, calendar, and contact tools with their CRM system. Includes Microsoft Outlook and Google integration.
Built-in email templates, social media integration, Subscriber list management, sign-up forms, success rate reports, AB testing, and auto-responders.
Allows customer support professionals access to all information required to support the customer including customer information, case history, and related customer social activity.
Allows software to be easily used on multiple mobile devices including phone and tablet devices.
It has a 14-day free trial, no credit card is required. It is a premium tool so you can directly download it from its official website. And the premium plan starts at $45/user/month to $145/user/month and all plans are billed annually. Add-ons are also available for an additional cost.
Conclusion
Every business has different requirements when it comes to CRM programs. So, make a list of all the features you need for successful sales and find the best software according to your team's requirements.
Some elements I felt most universally represent those requirements are:
Contact and sales management
Automation and integrations
With dozens of options, from the very sales-focused to the do-it-all types that combine multiple business functions into one platform, finding the right CRM can be tricky. But hope this article helped you.
https://inguide.in/wp-content/uploads/2021/02/inguide_logo_red_340_156-300x138.png
0
0
Rakhi
https://inguide.in/wp-content/uploads/2021/02/inguide_logo_red_340_156-300x138.png
Rakhi
2023-06-26 13:26:52
2023-07-12 10:16:50
Choosing the right CRM Management Software, 2023