Which is the Best Popups Plugin for WordPress?
In the early days, popups forms were used by third-party advertisers. It would be something like you won some sort of content or prize, it looks cringe when you look at that time. But as time passed and consumers got better at hiding and ignoring these types of pop-ups, the advertisers eventually gave up.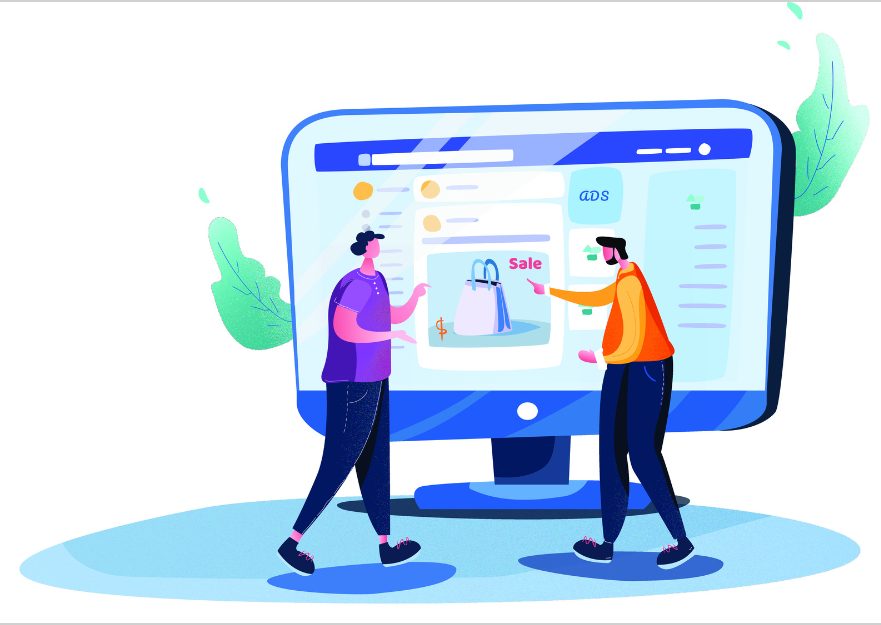 So, people hate the idea of pop-ups, as they believe most Pop-up out there are annoying. But here is a thing, not all pop-ups are bad. Pop-ups can be used for good and can be a healthy part of an inbound strategy.
Over the past few years, pop-up forms have re-emerged as a popular marketing tactic for promoting content, driving blog subscriptions, growing email lists, and fueling lead generation.
Now, here we got a few questions that we will deal with one by one.
How do we make sure that our Popups are helpful & not annoying?
To enhance engagement with your pop-up as well as uplift the experience that someone has on your site, offer something that is both valuable and relevant to them, given the page that they're on.
If you want to catch your visitors while they're most engaged, then you should customize your pop-up to appear when someone has scrolled halfway down the page. you could use a time-based pop-up that appears when a visitor has been on the page for a specific number of seconds.
Google announced that they were going to start penalizing websites that use pop-ups that mess with the user experience, and it will be heartbreaking if your google page rank goes down by using wrong Pop-up form.
Types of Pop-up
We are just stating the different types of pop-ups to choose the best of it, not gone explain and make it more complicated so just be with us.
1. Types of Pop-Ups by Format:
2. Types of Pop-Ups by Action:
3. Types of Pop-Ups by Placement
4. Types of Pop-Ups by Purpose
Pop-Up Triggers
Different types of Pop-up triggers appear on the site to give users definite offers or a sort of overview of the website. They are:
when the visitor first gets to the page.
when the visitor scrolls to a certain point on the page.
when the visitor clicks on or hovers over a specific element
when the visitor has been on the page for a specific amount of time.
when the visitor scrolls towards the top of the page to leave.
when the user has not acted on the website in a while.
Advantages of Popups
If it's the right message and gets the visitor hooked, it can prompt the desired action, captivating the audience before they convert a visitor.
Why do you need a Pop-Up?
The pop-up ads are usually set up in a way that it appears at the center of the page where the attention of the browser is focused. Thus, it plays a vital role in capturing the attention of the browser and the user would definitely have a glance over the content of the ad before closing the window.
Pop-ups are a multifunctional tool that can help you convert traffic on your website into marketing leads.
Pop-up ads are nothing new to the internet, but if you feel like you're seeing them for more than just ads, you're correct. Almost any site you go to these days has some form of a pop-up with a call to action on it. Whether it's to sign up for the newsletter or blog or get downloadable from the site, pop-ups are everywhere.
How to use Website Popups?
Popups can be an effective tool for lead generation, customer conversion, and more, but it's vital to do it right. You have a clear idea about what type of popup you can use on different occasions.
Give a first-time buyer discount
Combat shopping cart abandonment
Remind visitors of a limited-time offer
Offer a content upgrade, eBook, or exclusive content
Send them to an email-gated landing page
Hide the form on your landing page.
How to choose the best WordPress Pop-Up plugin?
Pop-up is a great tool for collecting a database since on the pop-up page, you can place a subscription form, an invitation to your page, etc. remember that even though pop-ups annoy every third reader, they continue to be actively clicked on.
Pick a WordPress popup plugin within your budget
Make sure the plugin has everything you need to launch different types of pop-up campaigns.
The pop-up plugin should also be lightweight enough to avoid slowing down your website without reducing its capabilities.
A good WordPress pop-up plugin should have a customer support team ready to solve any technical issues whenever needed. Make sure the support team is reachable through multiple channels as well.
You should be able to customize the triggers, campaign type, design, and placement of the pop-ups.
Verify whether the pop-up plugin supports integration with popular website platforms and email marketing services for a better workflow.
Now, we get more than enough knowledge of the Popups plugin, so we should now skip to the good part which is a list of Pop-Ups plugins.
12 best WordPress Pop-up plugins
1. OptinMonster Popups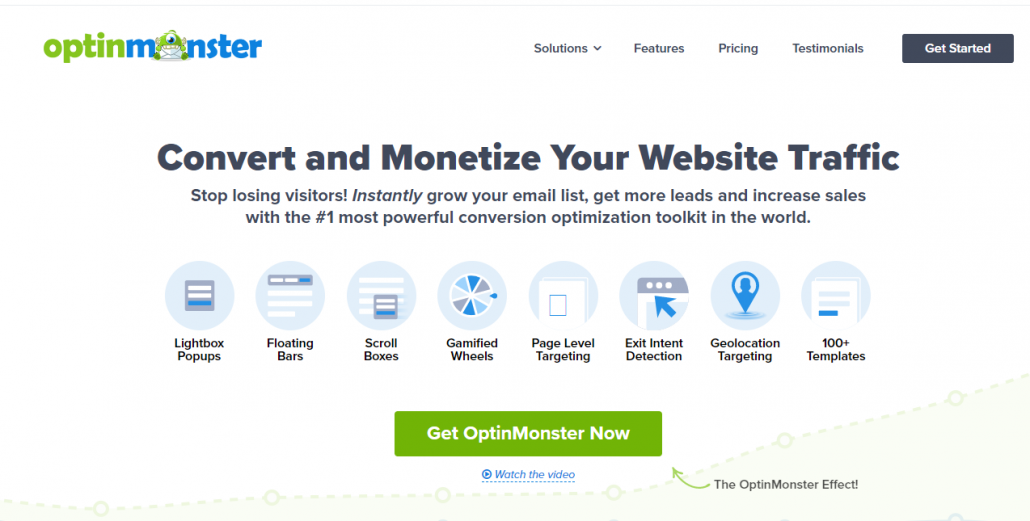 OptinMonster comes with an intuitive drag-and-drop popup builder. You can simply design your own popups by adding a background, choosing colors, images, and fonts, with your own text and sign-up form.
It is a SaaS (software as a service) platform that you can easily integrate with WordPress, WooCommerce, Shopify, or any website platform. They also offers integrations with all the most popular email marketing services.
It allows you to create many different types of campaigns, including lightbox popups, Fullscreen welcome mats, slide-in scroll boxes, floating bars, and more. You can also add countdown timers to any campaign to create a sense of urgency. OptinMonster is one of the most powerful popup plugins on this list, so it's got plenty of functionality to go around.
Use one of the dozens of professionally designed templates, or start from scratch and create your own design with their drag-and-drop builder.
Their targeting features allow you to target users by page they're visiting, activity on your site, geo-location, and dozens more.
Features;
OptinMonster's powerful drag & drop builder allows you to create visually stunning optin forms that are optimized for the highest conversion rates.
Choose the perfect campaign type to display the most attention-grabbing offers to your visitors for maximum engagement.
You can increase conversions with a footer or header bar that scrolls with you.
Helps you to create a Fullscreen interstitial with a call to action that can't be ignored.
Using the Exit-Intent feature you can recover abandoning visitors into subscribers and customers.
Create special offers and promotions for returning visitors.
It is a premium plugin so the premium plan starts at $9/month (billed annually), to $49/month with different types of premium features provided.
2. TrustPulse Popups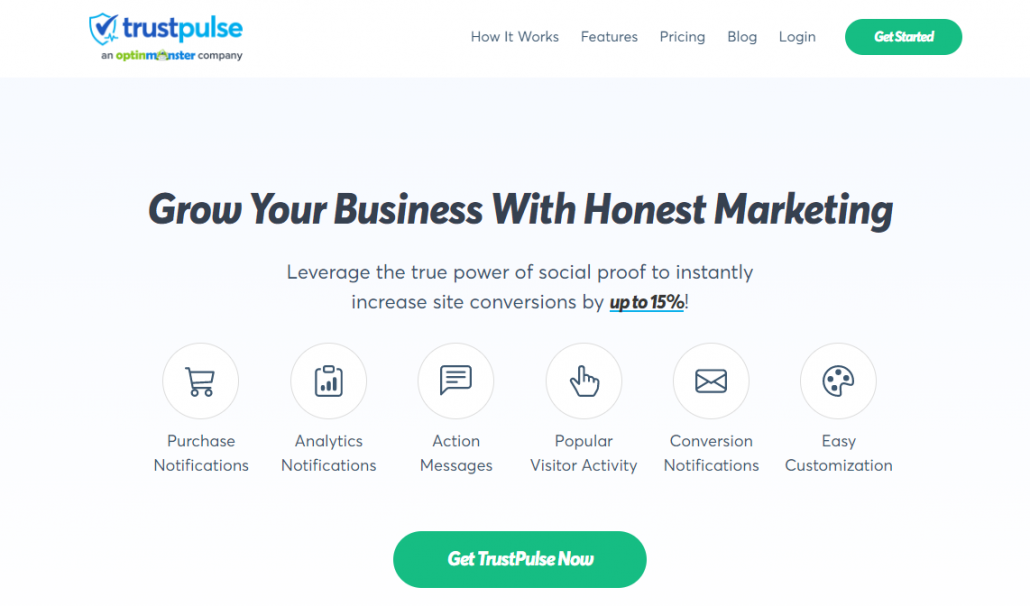 TrustPulse is a social proof app that lets you create stunning real-time messages for your site, and is trusted by over 1 million websites. It is beginner-friendly only takes a few minutes to set up and works straight out of the box.
TrustPulse works straight out of the box and can track all actions on your site. It has powerful configuration options, so you can set up social proof notifications exactly how you want. You can even use TrustPulse's "On Fire" notifications to show how many people are acting. This is a great way to leverage FOMO (fear of missing out).
Basically, TrustPulse uses Social Proof notification and FOMO in terms of normal popup forms which makes it unique. Social proof notifications are small popups in the corner of your browser screen. They display how other customers are interacting with your site. You've likely seen them before.
TrustPulse uses FOMO (Fear of Missing Out) to boost your sales and conversions with social proof notifications.
Features:
Leverage FOMO with real-time event tracking to show what live visitors are doing on your site.
Live stream of any action on your website including WooCommerce sales, membership site signups, email newsletter signups, and more.
"On Fire" social proof notifications to show how many people are acting in a given period.
Show social proof notifications to the right people at the right time with advanced targeting rules and timing controls.
Flexible design options to create attractive FOMO notifications that match your site.
FOMO analytics to measure views and conversions.
You can use TrustPulse to track and measure conversion goals. It lets you see at a glance which of your pages are getting the best conversion rate.
It is a premium plugin so the basic premium plan starts at $5/month to $39/month.
3. Bloom Popups

Bloom is an excellent WordPress plugin from the Elegant Themes team, designed to help you to grow your email list and generate leads from your website. The Bloom WordPress plugin offers you several different design options to choose from and you have complete control over the placement of the form.
Once you activate the plugin, you can start setting up your email opt-in form using the Bloom interface. The plugin comes with an intuitive dashboard where you can define how you want this plugin to work on your site.
Bloom lets you build your email list on your terms. You can go aggressive with popups, or keep things less "in your face" with unobtrusive in-content or fly-in forms. Beyond that, you get plenty of triggers, targeting rules, and ways to analyze and improve your opt-in forms.
Bloom gives you 100+ pre-made templates that you can customize to your needs. And in that great-looking Bloom dashboard, you can also set up A/B tests and view analytics to see how all of your popups are performing.
Features:
115 different templates to choose from gives you a huge range of options
Multiple optin types including the sidebar, slide-in, and below post signup forms.
Basic post or page level targeting
Six types of optin forms, that lets you grow your list in multiple ways
Beautifully intuitive interface is super easy to use
Extensive customization, A/B testing, and analytics
Integrates with popular email service providers
Basic time delay, scroll, form submission triggers
Pre-built popup templates with easy customization
It is also a premium plugin and the basic plan starts from $89 to $249-lifetime plan. It may be expensive if you just buy it for Bloom but if you need access to Divi, Extra, and Monarch it may be a wise choice as per your requirement.
4. Elementor Pro Popups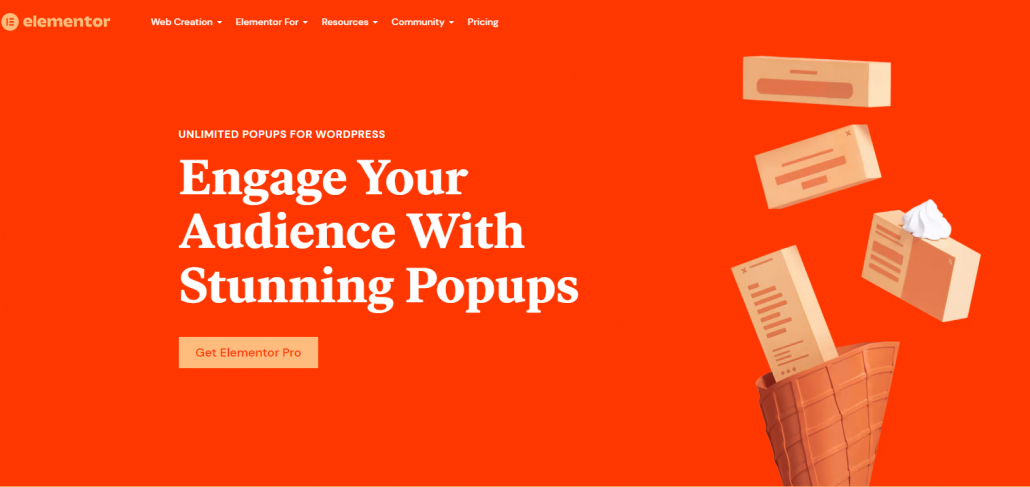 Although Elementor Pro was originally a page builder plugin, it's now evolved into a WordPress website builder. This means that you can customize all parts of your website — not just the posts and pages.
You can even create multiple templates, then use the conditions feature to assign those templates to specific posts, such as those from a certain category or by a particular user. You can also use conditions to specify which header is displayed with which pages on your site. It also has a pop-up capability.
Using Elementor Popup builder, you can create different types of popups including email subscriptions, login forms, promotions and sale banners, welcome mats, etc. you can use different styles like a fly-in, full screen, help bar, bottom bar, slide-in, and more.
You can also use 100+ Elementor content widgets and create unlimited popups for your website.
Popups are triggered based on actions such as scrolling, clicks, page loading, inactivity, and exit intent. You can show certain popups on posts with specific tags, authors, or categories. This plugin also offers WooCommerce integration.
Features:
A Wide Range of Trigger Types
Display Conditions allow you to display content including a popup on a certain area of your website.
Elementor comes with an intuitive visual editor to allow you to create a beautiful popup more effortlessly.
The ability to hide a Popup on a mobile device
Top or bottom notification bars
Since it is also a premium plugin the most basic plan starts at $49/year, to $999/year.
5. Sumo Popups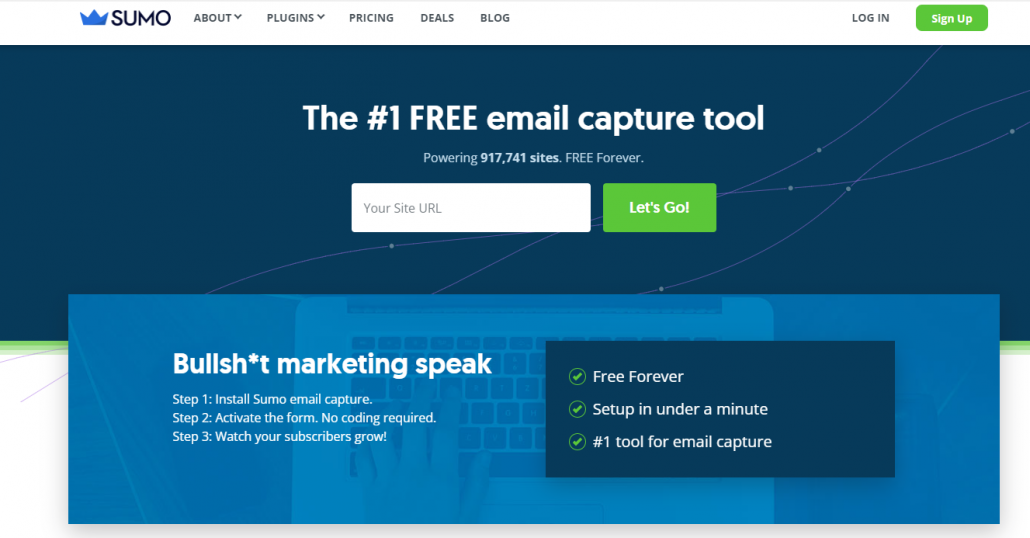 Sumo is more than just a popup form builder. On top of growing your email list, this plugin also helps with your social media, link building, and site analytics. It's a suite of services that you use to increase traffic, generate social engagement, and improve your conversion rate.
Sumo loads code asynchronously which reduces the impact on performance. Depending on your campaign design, the effect on performance may vary. While most of the tools available from Sumo are free (there are pro versions too), there is one slight catch. If you don't want to display the Sumo logo to your visitors then you have to pay a one-time fee of $10 to remove it.
Sumo comes with various tools in one plugin. So, it is better to install one plugin than one WordPress email subscription plugin, one popup plugin, one social share plugin, etc.
You can also design the form with a WYSIWYG (What You See Is What You Get) layout. Just drag and drop to move elements around until you get the layout that's best for your business. Sumo will also initiate an auto-response for every contact.
Features:
Has more than 60 social media platforms including popular ones like Twitter, Facebook, and Pinterest
Allows you to create free WordPress popup and opt-in form
You can use multiple optin forms
Comes with different styles and templates to use
It is a freemium plugin so you can download the free version from the WordPress directory, and the premium one starts at $39/month.
6. Thrive Leads Popups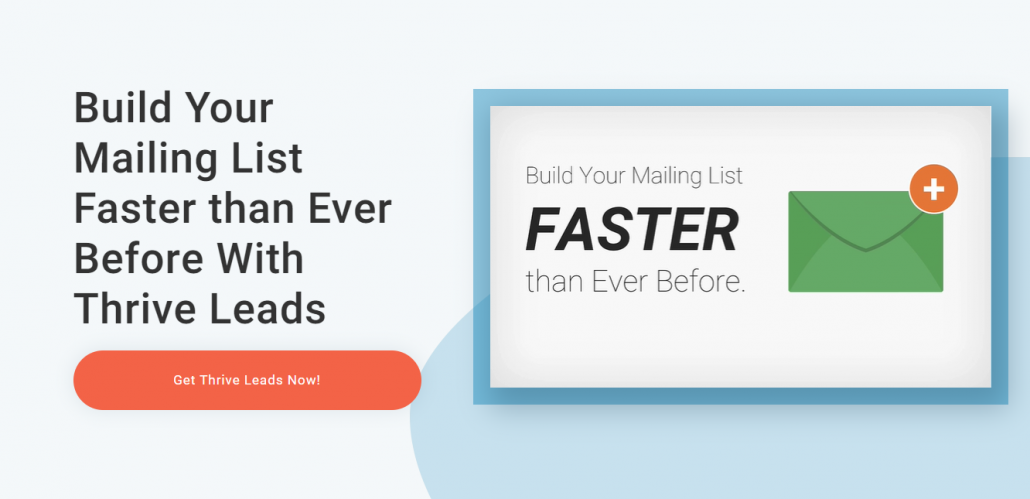 To help you to create effective opt-in forms, Thrive Leads comes in ten different types. For each form, you can either choose from a variety of pre-built templates or design your optin form from scratch.
To design your own form (or customize one of the pre-made templates), Thrive Leads offers an excellent visual drag-and-drop builder. You can connect your forms to all of the popular email marketing tools, as well as a few webinar tools.
For example, you'll get integrations for Mailchimp, Campaign Monitor, and more. There's also a catch-all Zapier integration that lets you connect to any one of the thousands of apps at Zapier.
Thrive Leads comes with ten different popup types. Some are aggressive, full-screen affairs that your visitors can't ignore, while others are much subtler, such as an unobtrusive notification bar.
The A/B testing feature is especially noteworthy, letting you go beyond just cosmetic changes and also test different triggers and form types against one another to find what works best.
Features:
A huge variety of opt-in forms give you full control over your list building.
You get to use thrive architect to build your opt-ins
Smart Links feature so that you don't annoy your existing subscribers
Easy asset delivery to help you create lead magnets
You can see which specific posts are getting low opt-in rates, using Content Marketing Report
Multiple optin types including lightbox popup, inline forms, 2-step optin, slide-in forms, and more
Thrive doesn't come alone, it comes as Thrive Suite in which you get all 9 thrive themes WordPress plugins such as; Thrive Architect, Thrive Quiz Builder, Thrive Lead, Thrive Apprentice, Thrive Ultimatum, Thrive Ovation, Thrive Optimize, Thrive Comments and Thrive Automator. And access to Thrive University, use of up to 5 websites, and a 30-day money-back guarantee in $299/year.
7. Ninja Popups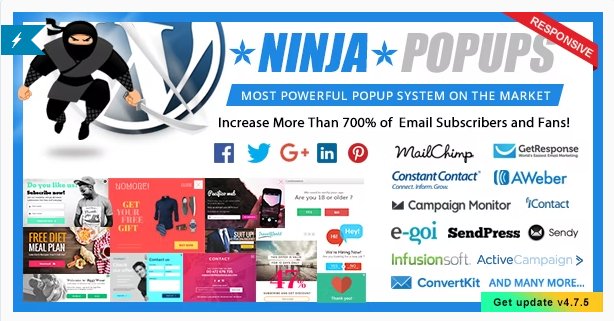 Ninja Popups helps you build simple popup forms in a visual drag-and-drop interface.
Its anti-adblocker technology lets you show your popups even to visitors who use ad blockers. This plugin also offers page-level targeting, and trigger options include scroll depth, time on page, exit intent, and user inactivity.
Ninja Popups for WordPress integrates all popular mailing systems like MailChimp, GetResponse, Infusionsoft, JetPack, Convertkit, and many more. You get full compatibility of popup plugins and mailing systems by API.
Ninja Popups combines professionally designed popups to convert visitors on your site/blog into taking an action whether it's subscribing to your newsletter, offering a discount/coupon for leaving customers, or locking content until they have to share, you will increase your subscriber count and social signal of your site/blog which is exactly what Google & other search engines want.
Membership sites can use this pop-up plugin to lock exclusive content and encourage subscriptions. It's also compatible with WooCommerce and WPML, perfect for accommodating online stores and expanding your site's reach.
Features;
Lock your content by optin popup
Support for mobile devices
Different popups for each post/page
Translate your popup for any language
Full API integration with mailing services
It is completely customizable and easy to use with great popup designs, many colors, layouts, etc.
It is a premium plugin so the premium basic plan starts at $24 for 6 months of support from the developer as well as an option to extend that to 12 months for an additional $7.13.
for the more premium feature, you can get that at $155 for 6 months of support from the developer and the option to extend that to 12 months for an additional $48.75.
8. Icegram Popups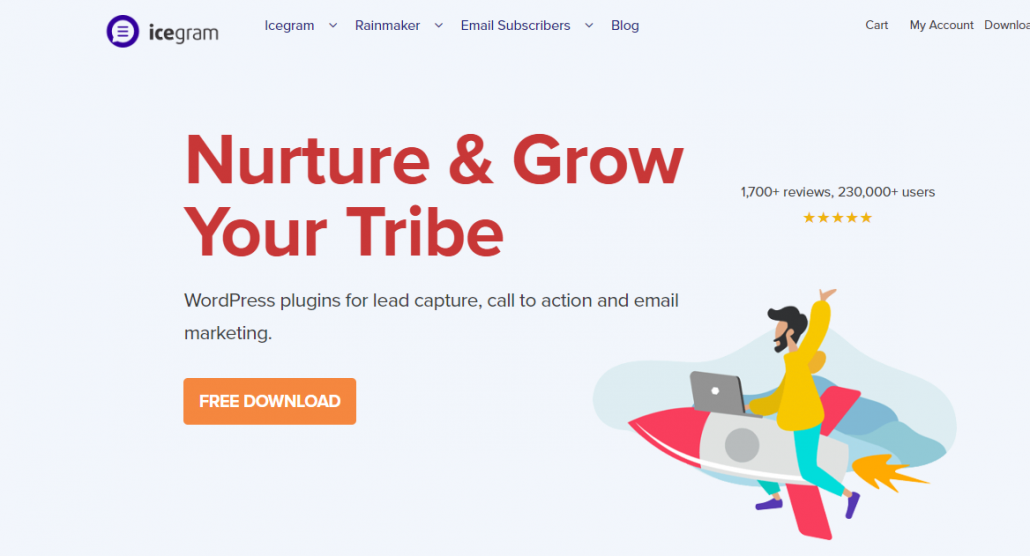 With the Icegram popup builder plugin, you can set up exit-intent popup campaigns, action bars, badges, stickies, inline optin, Fullscreen overlay, ribbons, sidebar panels, and more in no time.
At Icegram, they have 50+ free high-converting popup templates & action bar themes to automate your marketing campaigns quickly. Eliminate the concept of building your lead generation and newsletter subscription box from scratch.
This plugin does allow you to connect your popup forms with email newsletter tools like Constant Contact, AWeber, and GetResponse, to grow your email list.
You can create and launch different kinds of popups and opt-ins such as well-timed popups, lightbox subscription boxes, action bars, slide-in messengers, toast notifications, multi-step CTAs, floating buttons, and more for free.
Features:
Mobile Responsive image popup templates & themes
Multiple display rules and targeting options
50+ high converting popups and action bars
Eye-catchy popup animations
Integrates with a top email marketing platform
Different types of popups and opt-in that work
Non-intrusive lead capturing campaigns
User experience-focused triggers and transitions
Compatible with the latest WordPress version
It is a freemium plugin so you can download the free version from the WordPress directory and the premium version starts at $97/year to $147/year. But I think for the beginner the free version is more than enough for starting and getting used.
9. Popup Maker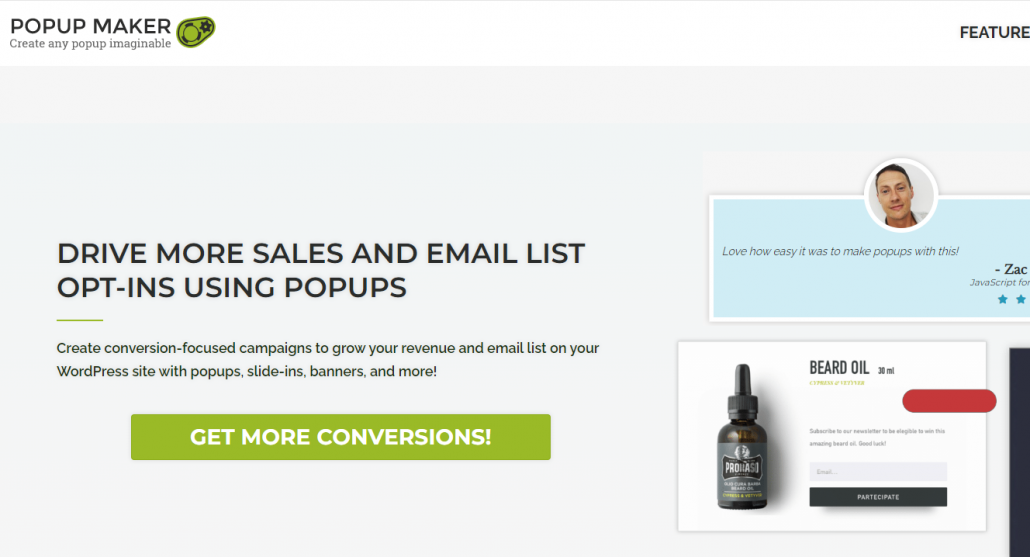 Popup maker is another popular free WordPress Popup plugin. It is incredibly versatile & flexible. Bend it to create any type of popup, modal, or content overlay for your WordPress website.
It integrates with all of the most popular form plugins to allow you to open a popup when a form is submitted or close the popup when a form inside the popup is submitted. It integrates with; Ninja Forms, Gravity Forms, Contact Form 7, Caldera Forms, WP Forms, Mailchimp for WordPress, Formidable Forms, and more.
With the smart tools of Popup Maker, you can add needed elements and create a popup that can contain elements like; Image popup, countdown popup, HTML popup, Video popup, Subscription popup, Contact popup, Social popup, Iframe popup, Age restriction popup, Optin forms, Spinner popup, Facebook page popup, Google map popup.
Popup Maker provides a fascinating level of effectiveness for all the settings for each popup. Thus, customers can fully, and fundamentally customize all the popup themes, colors, sizes, etc.
Features:
You can create a promotion popup with an image
Embed YouTube, Vimeo, and Daily Motion videos inside a popup
Create and manage as many popups as you want
you can just create a countdown popup and fully inform your customers
Get detailed and exact statistics about the effectiveness of your purpose
You can show a popup once a visitor
Disable popup closing – after activating this option, the user will not be able to close the popup in any possible way
It is a freemium plugin so the pricing ranges from free to $87/year- $247/year.
10. OptiMonk Popups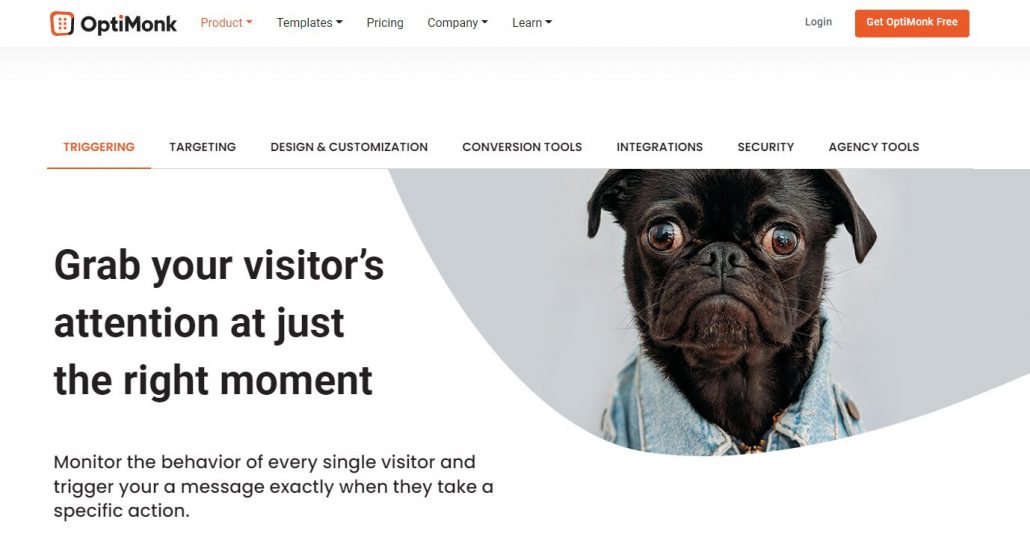 OptiMonk has a drag-and-drop builder that allows you to create a popup from scratch or hit the ground running with one of their 300+ pre-built popup templates. OptiMonk's comprehensive, powerful popup builder plugin offers lots of features while returning a very user-friendly experience & interface.
OptiMonk grants you access to cutting-edge WordPress popups, such as lucky wheel popups and conversational popups. These are responsive popups that draw users in by enticing them to interact.
You can find templates specifically designed for different popup use cases like shopping cart abandonment, collecting email addresses, and many more.
With targeting features such as returning visitor recognition or on-site visitor tracking, you're able to build a set of custom messages to target that visitor segment. On-site messages are automatically sent to the visitor based on behavioral triggers such as on-click, exit-intent, scroll-based, and time-based.
Features;
All kinds of targeting options so you can personalize your communication
50+ beautiful templates including popups, sidebars, and nano bars
Laser-targeted messages at just the right moment
Grow engagement and conversions by creating one-on-one personalized experiences for each individual customer
It is also a freemium plugin so the premium pricing starts at $29/month to $199/month.
11. Video Popup
Video popup plugins let you make video lightbox popups easily. YouTube, Vimeo, SoundCloud, and MP4 self-hosted video is supported, and you can display popup video on any page load.
This plugin can be the best help if you are looking to promote your video content.
A video pop-up is a website plugin that allows you to make a video "pop up" on your website. It serves as an in-site video player that plays at a certain prompt. It pops up when the user does a particular action or stays on the website for a particular amount of time.
You show the user a video player that behaves like any other pop-up window. It can overlay the main content, stick to any corner, float as the user scrolls, or appear at the given action or time.
Features:
Flex Design (a new design).
Autoplay Support for YouTube, Vimeo, and MP4 Video. Please read this note about the Autoplay feature.
Display an image as a link for a YouTube, Vimeo, and MP4 Video Popup (Premium Option).
It is a free plugin so you can directly download it from the WordPress directory.
12. ConvertPlus Popups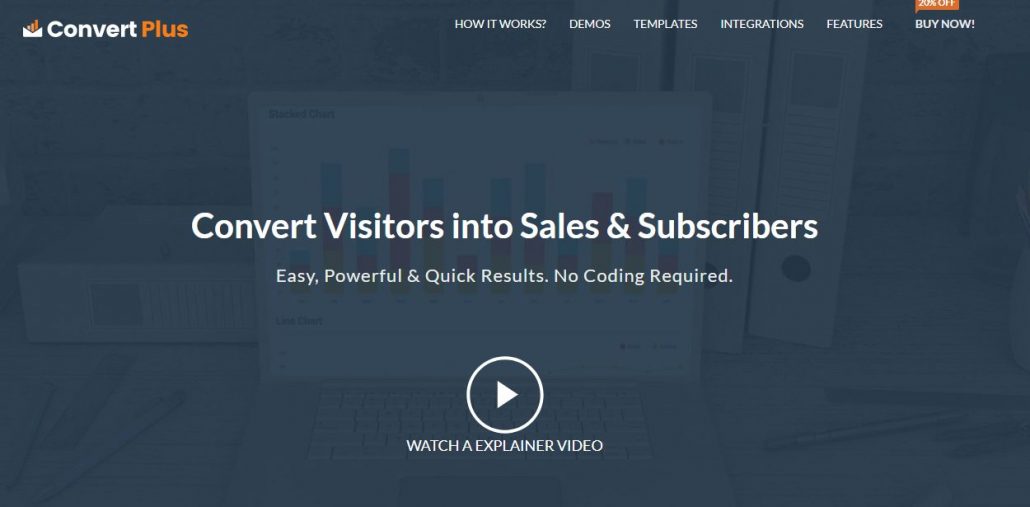 ConvertPlus comes with a real-time live editor, ready-made pop-up-form templates, and integration with popular email provider plugins. You can create beautiful pop-ups in minutes & start converting your website visitors into subscribers, social followers & customers.
With a variety of elements, like the modal popups, slide-in popups, info bars, scroll boxes, inline forms, sticky notification bars, and more. Convert Plus gives you the freedom to use the ready-made templates or layouts that are 100% customizable, or design one right from scratch.
Convert Plus gives you complete control over the behavior of the modules. With 100% customizable designs, you can decide the time when the users are most likely to act. With triggers like the exit intent, the after scroll, inactivity trigger, after post, well-timed trigger, and more.
Features:
Multiple Display positions
Ready-made Styles & Templates
It is a premium plugin so you can directly buy it from codecanyon.net the price for 6 months is $23 and you can extend the support for 12 months at $6.75.
Tips for Pop-Ups
Only show popups on pages that indicate a specific interest
Show a popup after the visitor has scrolled enough or read enough of the page
Limited popups to only a few times, not each time a visitor returns
Avoid showing a popup if a visitor completed an action, such as signing up for an email
Time the popups, so they're helpful, not annoying
Chatbots and live chats are helpful for visitors to ask questions and learn more about your business or site, but they shouldn't bombard the visitor immediately
Popups must be eye-catching but shouldn't detract from the site or prevent visitors from seeing the content they clicked on.
Conclusion
If you own an e-commerce website, pop-ups are a necessary and even crucial means of getting more sales. To get more customers and eventually more sales you need to set your pop-ups to appear at the right time, and this is done by choosing and using various pop-up triggers.
WordPress popup plugins can help you connect with website visitors and turn them into loyal subscribers. You can use these messages to increase signups to your email newsletter list, promote offers, and dissuade users from leaving your site.
https://inguide.in/wp-content/uploads/2021/02/inguide_logo_red_340_156-300x138.png
0
0
Rakhi
https://inguide.in/wp-content/uploads/2021/02/inguide_logo_red_340_156-300x138.png
Rakhi
2023-06-27 12:22:17
2023-07-03 13:48:33
Which is the Best Popups Plugin for WordPress?