Exclusive Guide of Buying Expired Domains with Traffic
There are so many reasons you should switch to expired domains and buying it
Yes, you heard it right, expired domains are worth buying than a new domain,
Are you building a private blog network but don't have much investing time, effort, and tons of money to do so… well let's start from the start with what all this chaos are about, and how you can implement it in your beneficial deal of switching.
What is an expired domain?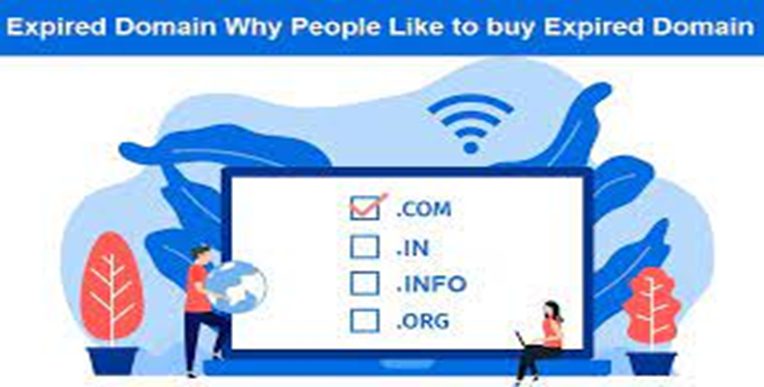 Domain names that have been registered but not renewed after the first registration term are known as expired domains.
That means they become available for re-registration and anyone can snap them up!
Domains can expire for a number of reasons such as a business closure or just forgetting to remember to renew the domain, which is more common than you might think:
But, Expired domains come with a number of hidden benefits such as established link profiles and authority that can be repurposed in a number of different ways.
Do expired domains still work?
Yes, they do work. All you need to take care of some important aspects before buying an expired domain name.
Why should you consider buying expired domains?
Established Audience to Target:
By buying an expired domains, you can capitalize on its existing audience pool. Old websites have an established audience that you can convert to your audience.
If you already have established traffic, it's easier for your business to recover the capital you invested in buying the expired domain.
You can also use this to target the right traffic for your website. By analyzing your market demographics, you can target the right niche for your traffic. This will get your business prospective customers knocking at your door. it's an added advantage if you buy a terminated domain name that sends you a good amount of traffic from Google.
Established Link Profile:
By using the established link profile of the expired domains, you won't need to start your link-building efforts from scratch. This will save a lot of valuable time and effort for your link building. You can use these existing links to simplify your link building strategies.
To achieve this, you have to create valuable content on your newfound website. From this high-quality content, you can link back to your original website. Make sure that your readers will still find value when they are redirected to your main website.
Additional Backlink to Main Website:
If you can grab a dropped domain that already has a lot of backlinks, you are in luck.
See, Google considers backlinks as votes. The more links a domain has the faster it improves its search rankings.
Expired domains can also link back to your main website if you have one. The more backlinks your main website has, the higher you can rank in SERPs. And owning a mini-website whose sole purpose is to link back to your main website can prove very useful.
Domain Age as a Ranking Factor:
Most people don't know it, but Google (and other search engines) consider the domain age as a ranking factor. The older the domain is, the more reputable it is. Thus, if you have an old expired domain, you have a bigger opportunity to rank high on Google. Older domains are more trustworthy in the eyes of search engines.
Adding useful content to these old domains can greatly impact your site's ranking. However, you should not discount other factors that can affect your ranking.
Things to Keep in Mind before Buying Expired Domain Names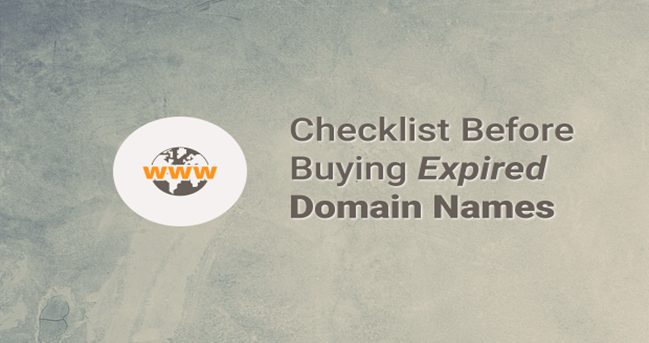 1. Make sure to find out the DA and trust flow of the domain you buy
If a domain has a DA (Domain Authority) of more than 15, it's a good one to buy. If it has a trust flow with more than 20, it's a great domain that you don't want to miss.
For your information, the trust flow of a domain is determined by the trustworthiness of the domain and is measured by Majestic SEO.
2. Verify whether the domain you want to buy isn't banned anywhere
You need to check if the terminated domain you want to buy is banned by Google AdSense or Google crawlers or not. If they are banned, then there's no reason for you to buy them because you will have a lot of trouble in the long run.
You can use tools like IsBanned.com, BannedCheck, etc. to verify whether a domain is banned by Google or not.
3. Check the number of backlinks of the domain you are interested in
You can check backlinks metrics like
Number of backlinks,
Number of anchor links,
Number of referring domains, etc
How to Find and Value Expired Domains?
Be Selective
Quality Backlinks
Traffic
Previous Content
Website History
Google Index Status
Warning: This is also why it's important to avoid domains with a negative or scammy history or reputation, as that can be attached to a used domain name, too!
Where to buy the expired Domain?
There are many expired domains out there, but not all of them are going to provide a great boost. Don't overpay for expired domains with questionable backlink profiles, a spotty history, or a lack of decent high-quality backlinks.
While it can take a lot of legwork to find the best-expired domains available, it's worth it to get a great expired domain versus one that is "just okay."
The auction typically runs for 10 – 15 days, after which the winner becomes the new domain owner or nobody bids, and the domain "drops".
6 Best Places to Find Expired Domains for Sale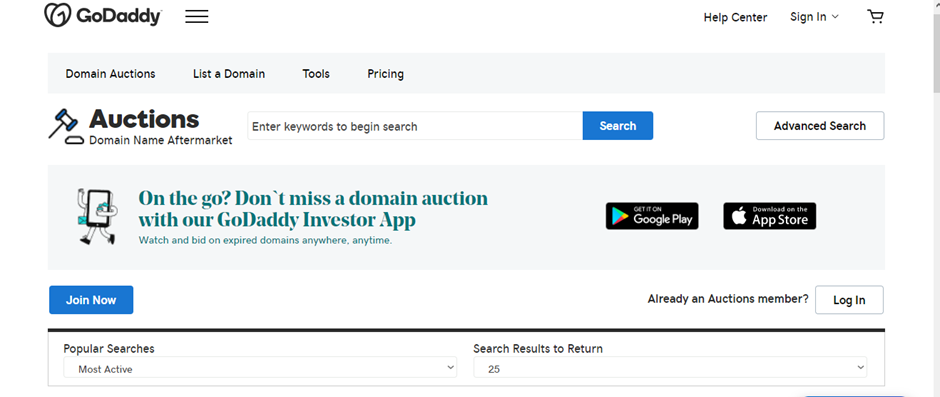 GoDaddy auctions are one of the major websites for buying expired domains. Not only you will get a lot of better deals but because of its largest customer base, you can quickly find decent domains at an affordable price range using GoDaddy auctions. as well as a place where premium expired domains are often listed.
Annual membership costs $4.99 per year but is worth it for access to their active auction place.
By using the GoDaddy auctions section, you can also use keywords to search the domain names that you are interested in. For instance, if you type the keyword something like "fitness", it will list you out all the domain names that match with the keyword "Fitness" so you can easily make a list of all the domain names with your desired keyword selection.
In exchange for allowing sellers to list their domains, GoDaddy Auctions charges a percentage of the sale price once the domain is sold. At any time, the seller may add one of the optional features to increase the exposure of a listed domain. Apart from the cost of a one-year renewal that is added to certain domain purchases, there are currently no fees for buyers at GoDaddy Auctions.

DomCop is one of the top websites for buying expired domains. It won't take you much time, you can easily find great domains within minutes using DomCop. It also has advanced search functions like Moz rank, Majestic metrics, Estibot etc. to find and analyze the expired domains you might want to buy. Once you click "Show Me Expired Domains" button on DomCop, it will show you all the domain names with the domain age, page rank, Moz DA etc. also along with the domain price. They currently have more than 20 million expired domains list on their databases which include over 31 domain extensions such as .mobi, .net, .info etc.
Here are few excellent features offered by the top domain marketplace "DomCop"
See more than 10 million new domains every month
Save time by using advanced filtering methods
Filter out fake domains by using 40+ metric checks.
One-click of the mouse will display domains and handy metrics including: Alexa rank data. DomainScope DNS information. Estibot valuations.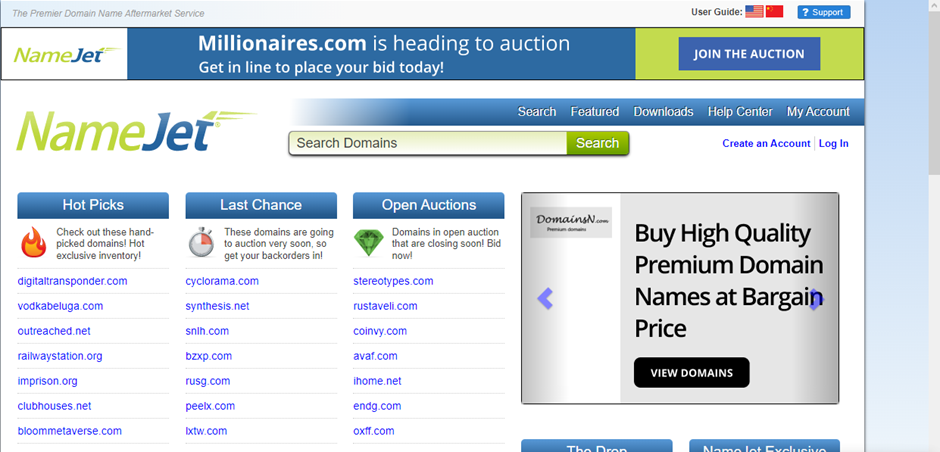 NameJet is the premier marketing place for buying expired domains names. They use advanced domain software which allows them to display all the domains for domain professionals, small businesses, and individuals to acquire domain names including those that just expired.
It is a domain name aftermarket auction company that consolidates an exclusive inventory of expired and deleted domains from top domain name registrars and makes them available for auction.
It provides a chance for customers who are attempting to acquire expired domain name registration or domains that have not been renewed again by their current registrant.
They provides access to the domain name inventory from the industry's leading registrars—Network Solutions, eNom, and Bulk Register.
NameJet's auction services provide the ability to place backorder requests on any expired domain name and access to expired .com, .net, .org, .biz, and .info top level domains as well as special listed domains through an online search or downloadable lists.
NameJet arranges equal opportunity to everyone interested in the same domain name that has been back-ordered by customers.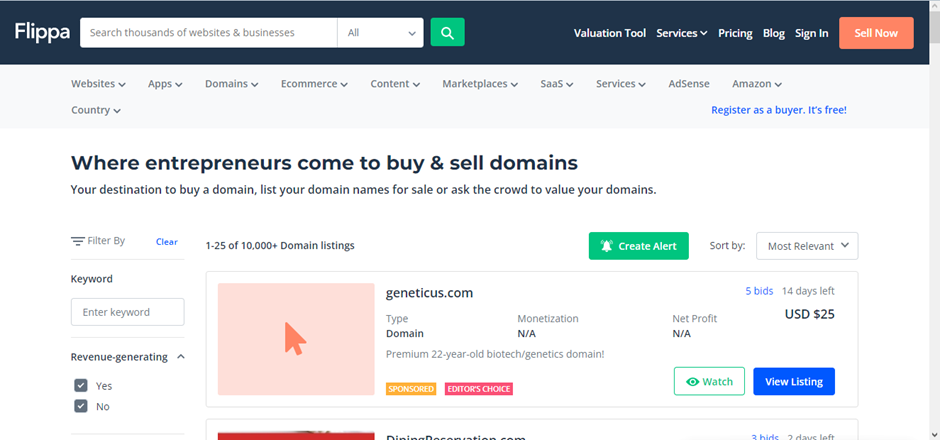 Flippa is one of the biggest marketplaces for buying and selling expired domains as well as websites. It also provides a column called "Editor's Choice" where you will get a huge list of all those domains that are worth purchasing. That helps people buy and sell websites, domains and even mobile apps.
It also has a dedicated search engine for finding expired domains where you can find all the active domains, soon going to end domains, brokered domains etc. Although the cost of the domains that you find at Flippa would be bit expensive but you will get access to one of the best sites for buying these domains.
Flippa success fees for businesses sold up to $50K is 10%, between $50,001 to $100K the success fee is 7.5%, for businesses over $100K the success fee is 5%.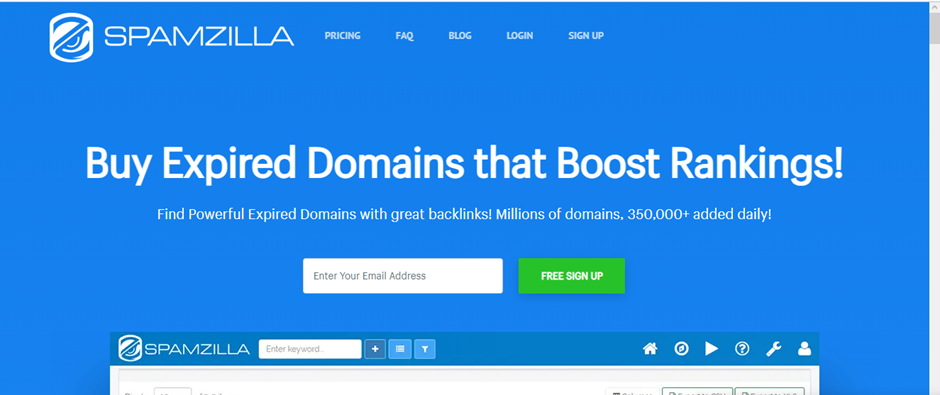 One of the riskiest aspects of buying an expired domains is not knowing the types of spam associated with that domain name. SpamZilla takes the guesswork out of purchasing an expired domain name, allowing you to feel confident that your new web address is clean and spam-free.

Backlinks Miner
The Backlinks Miner allows you to quickly analyze the top 100+ backlinks from each domain.
Anchor Language, DoFollow/NoFollow, DR/UR, Outbound Links, Anchor text
Select a backlink and quickly review its website
Click on the anchor text to find the links location
Quickly review the best links to each domain.
You really want to buy an expired domain with great backlinks. The SpamZilla database includes backlinks data so you can easily find domains with powerful backlinks.
Advanced Filters
With 70+ filters you can search the best SEO metrics from Ahrefs, Majestic, Moz, SEMRush, Alexa and SpamZilla!
Select Auction, Expired or Expiring Domains
Save your favourite filters for easy use
Find domains with powerful, authority backlinks
Receive daily domain lists from your custom filters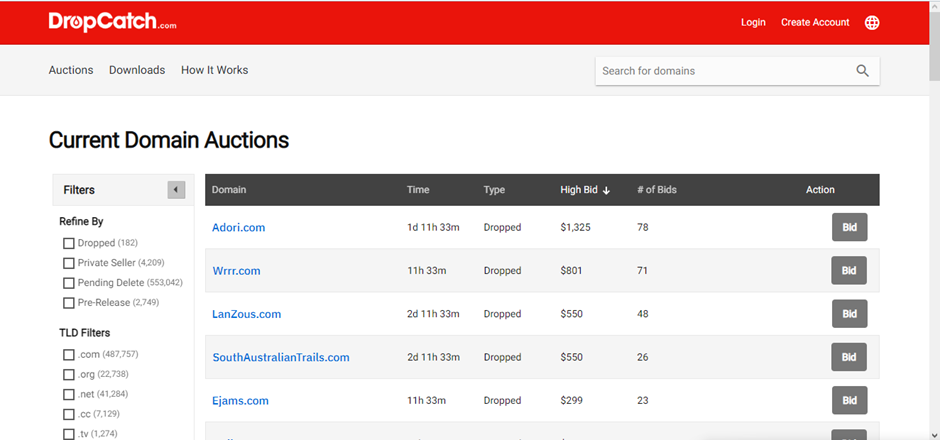 Dropcatch is a publicly open domain marketplace that lists dropped domain names. These public auctions have thousands of recently dropped domain names, and plenty of gems mixed in.
DropCatch Monster will not disappoint you.
Main Features
Portable, no installation is required.
Dynadot API Support more than 270+ Domain extensions.
Support schedule to run.
100% Comply with Dynadot API standard, optimize to established only one API request simultaneously, to ensure that you never get soft banned.
Some domains are highly sought after, and can only be acquired by advanced computer algorithms. DropCatch was designed from the ground up to compete for these domains. Our advanced software and registrar network help give you the competitive advantage you need to get the domains you want.
Suddenly, acquiring a great domain name is not only possible, it's easy.
Our parent company TurnCommerce, Inc. is a proven leader in the domain industry. Since 2006 we have acquired over 1,000,000 domain names through the Drop.
DropCatch is located in Denver, Colorado.
Now you got the list of where to buy, but here we will discuss about the steps from checking each and every Domains history to traffic, and verifying the status too, all you need to do is just follow the steps given below, to bid the best one.
let's get started….
Firstly, choose what kind of domain you want and for what purpose?
Suppose you want a domain with traffic to start your company website, blogging or some other artistic and miscellaneous reasons.
for instance, you want to create a blogging website with traffic& good no of backlink and want to know every detail before bidding for it.
First choose the place from where you need to buy, let's take an example of GoDaddy Auctions since it's to popular for the best Expired Domains click the link for GoDaddy Auctions.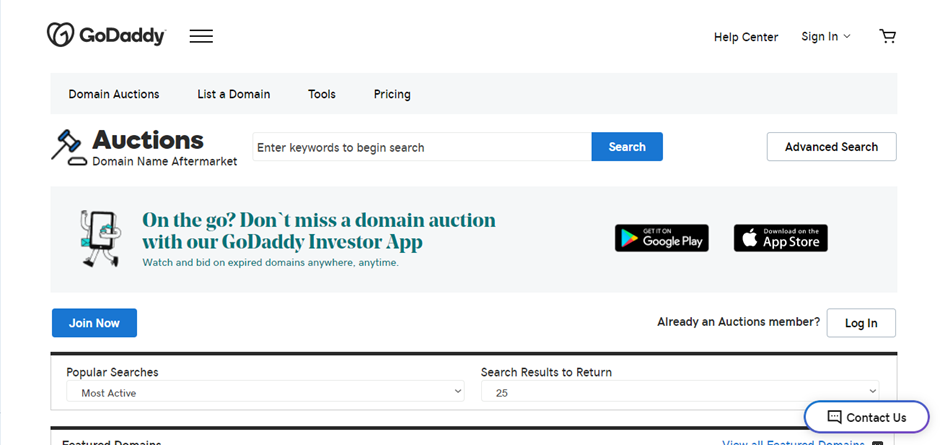 This is what it will look like when you will click on link, then just scroll down if you want to see the best bid going on or want to buy the options given down below in list.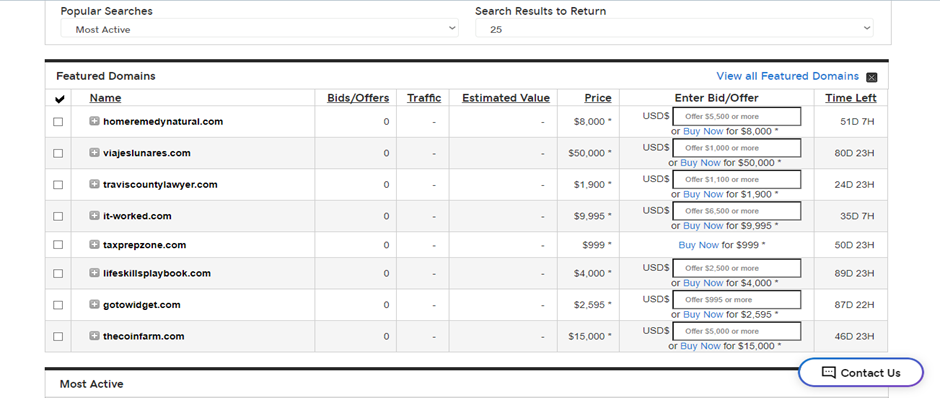 There are many options to choose from, so don't worry you got the choice. On the top of screen, you can see Popular Searches you can select from there.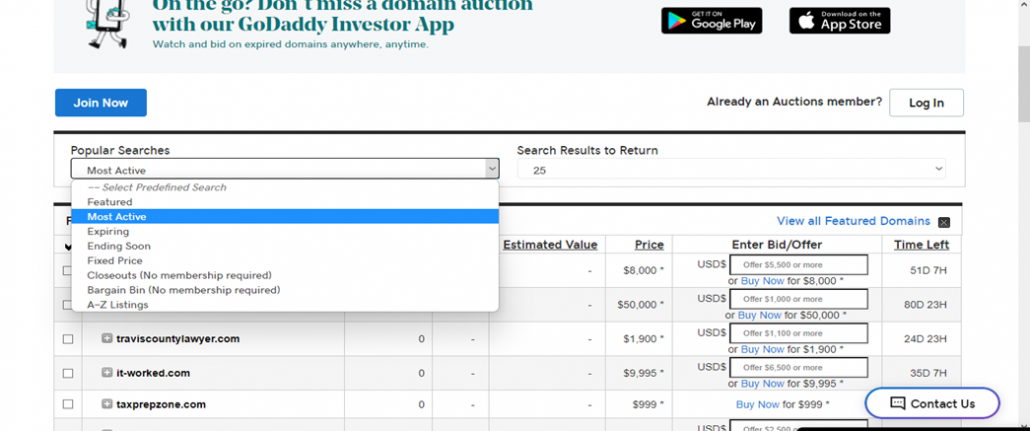 As you can see the options listed are like Most Active, Expiring, Ending Soon, Fixed Price or so on….
Here what you have to decide or research manually like what kind of Domains are best for your kind of Website or what you are looking for? Let's go with Most Active one, or you can choose with your suitability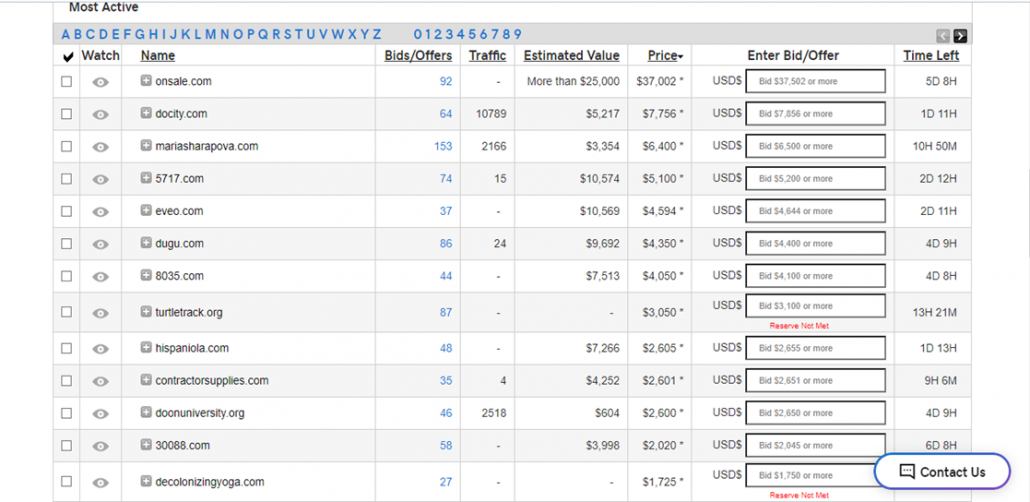 Now you all will be overwhelmed from the info given in the form of list but don't worry it only helps you to decide you what you are bidding for…
for example let's take the first one onsale.com wow it's bidding price is so high, $37,002 for an website sounds odd but odd is new normal these days, and where will you get such short domain like easy to remember and if you are using it for some online sale purpose then it's cherry on cake. But, firstly we need to research this website history before bidding this high cause no money falls from tree….
GoDaddy have given some info about his Traffic which is not that satisfying, moving forward to check its history which is not provided by GoDaddy, so where we can check from?
There are many ways to check that,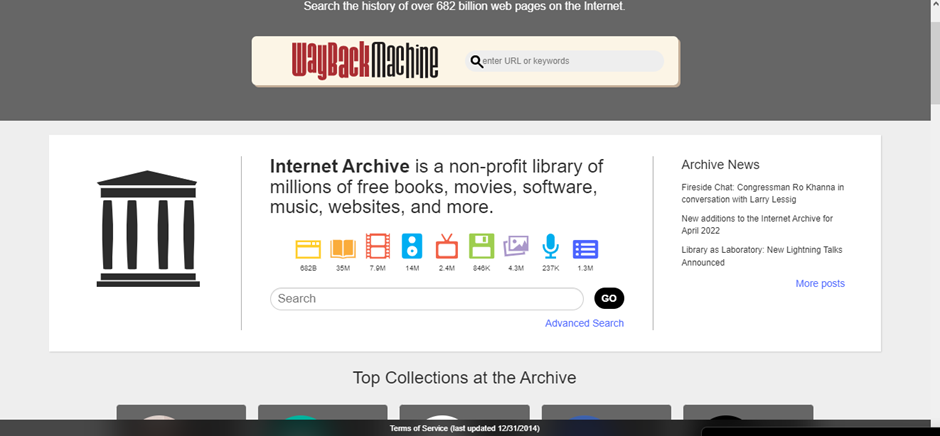 The Wayback Machine (web.archive.org) is a digital archive of the World Wide Web. Since its launch in 2001, over 452 billion pages have been added to the archive. You can enter a URL to view and interact with past versions of any website contained in the Archive, even if the site no longer exists on the "live" web.
let's take onsale.com for example,

This Chart view maps the number of times onsale.com was crawled by the Wayback Machine, not how many times the site was actually updated.so here we can see that how this website was used in history or is it spam or not. So here comes the another one.
Archive.org saves screenshot of different website since it's established so by checking how it look previously we can conclude whether it is spammy or not, by scrolling down we can see calendar and then date which is circled with blue color is the one you have to click, then it will open a page with the screenshot of the website.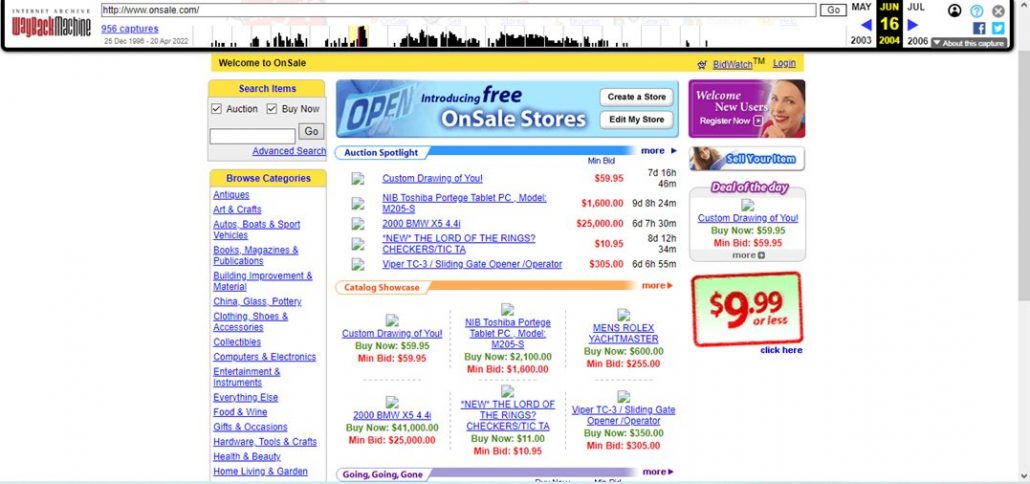 That's how it looks in 16, June, 2004. So, it's not spam it really look like an online store.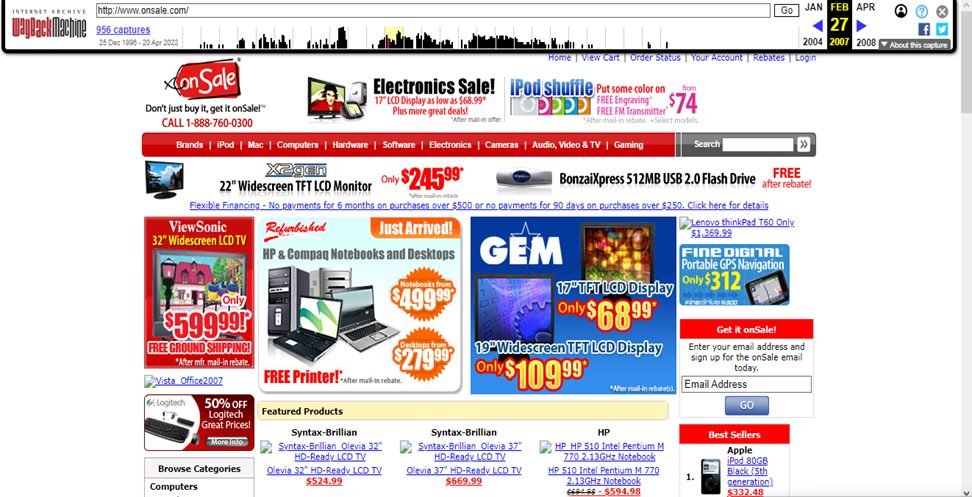 Here is some more screenshot of website, it doesn't look like spam but we still lack more information after conforming it's not spam that is DA, backlink, rating and more stuff so we will do some more manual research on different website.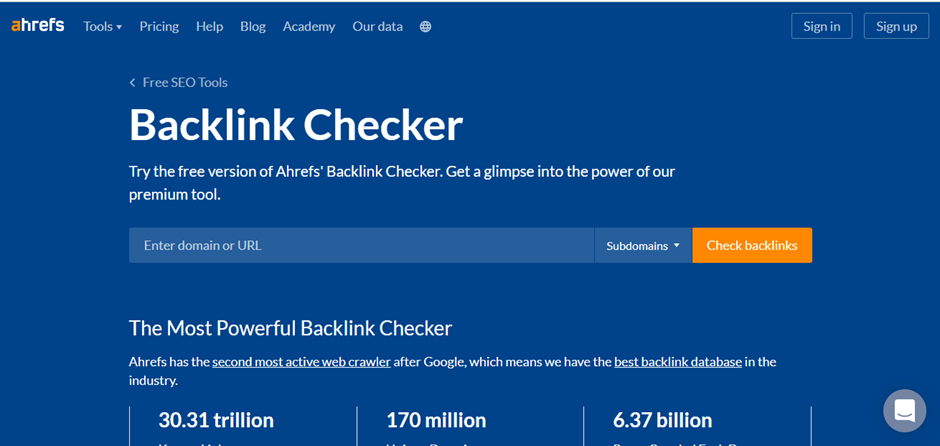 Ahrefs is an SEO software suite that contains tools for link building, keyword research, competitor analysis, rank tracking and site audits. Most of the features inside of Ahrefs are designed for marketing professionals. In short: Ahrefs is a popular SEO tool that people use to get higher Google rankings.
95% of an expired domains value comes from its backlink profile., so with the help of Ahrefs SEO we can check onsale.com history.

Onsale.com got really amazing backlinks and domain rating is also high, with 87% do follow its definitely cherry on cake website with everything you needed for your website.
There are many more ways to check the backlinks, rating or traffic of expired domains Ahrefs is just one of them with free service also provide premium one with various service which is why this is among top most for backlink checker. For example, …
Majestic SEO, Moz, SEMrush, Backlink Watch & many more which will help you to give clarity about domain before bidding.
Now we want to bid for onsale.com as well, or any other domain you liked of your choice let's go back in GoDaddy Auctions page. After entering the bid money higher than the last one or same as the offer one, we got a message of "In order to continue, you must be a GoDaddy Auctions® member."
And there is plan too with $4.99/year with some additional services you can benefit with them, moving on if you are bidding from Closeout and Bargain Bin domains do not require a membership. So, you can choose the free one too.
How does the domain expiration process work?
When a domain name initially expires, the owner receives notification for renewal. They also give some leeway to renew post-expiration since expirations aren't always intentional.
For example, let's say you set a domain name to automatically renew, but your credit card expires. When the automated system goes to renew, it can't because your payment information isn't accurate. You'll be contacted and given some time to rectify the situation.
Registry redemption is at least a 30-day period for expired domains mandated by the company that runs the TLD (like Verisign for .com). During this time, the original owner can redeem (renew) the domain after expiration at an additional cost.
Once the domain redemption period has passed, the original owner can no longer claim the domain via renewal.
The easiest way to see if a domain name is in redemption is to check the WHOIS database. On the WHOIS, look for a line that says "status" or "domain status," depending on the domain registrar.
What happens when domains expire?
If your domain expires then it will immediately become inactive. This means all the services that are attached to it also stop functioning.
You cannot make updates to an expired domain but the domain should be available for you to reactivate with your previous rate within the Expired Domain list.
Additionally, your domain will be marked as expired, at which point the domain registrar will begin accepting bids.
What is the grace period for domain renewal?
A domain renewal 'grace period' is the period of time that someone can renew their domain registration for the normal renewal price.
Most domain providers will offer a 40-day renewal grace period but this could vary so be sure to check out and make note of how many days you have to renew your expired domain when purchasing.
What time are domains dropped?
After the grace period expires, the domain name will be placed in the "deletion" state, where names are formally removed from listings five days later, between 11 AM and 2 PM Pacific Standard Time.
Wrapping it up
As Google has developed, they have become better at determining what the site was previously, where it is now referring, and if they are indeed the same "entity" or something entirely new.
how to find expired domains and use them to build domain authority, drive search traffic, and make more money?
The old adage "one person's trash is another person's treasure" definitely applies here.
Just because someone else didn't want buying those expired or deleted domains anymore, that doesn't mean you can't make use of them.
Always proceed with caution to ensure the domain you purchase gets you good results. Whether you plan to use the expired domain as your new website or want to start a PBN, consider the points we outlined in this article.
Has your domain ever expired? Did you manage to recover it in time? Let me know in the comments below.
https://inguide.in/wp-content/uploads/2021/02/inguide_logo_red_340_156-300x138.png
0
0
Rakhi
https://inguide.in/wp-content/uploads/2021/02/inguide_logo_red_340_156-300x138.png
Rakhi
2022-07-18 11:28:47
2022-11-21 07:26:14
Exclusive Guide of Buying Expired Domains with Traffic