20 WordPress plugins for Chatbot and LiveChat
A WordPress Chat Plugin is a piece of software you can add to your WordPress website to provide real-time assistance with on-site visitors. A chat plugin adds a live chat widget to the bottom right or left corner of your website.
If you run a business website like Woocommerce, installing a LiveChat plugin is essential as it offers instant responses and quick answers to customers' problems and questions. Moreover, 80% of online customers prefer this method of communication compared to email or social media.
However, using Artificial Intelligence (AI) technology such as Chatbots can help you streamline and enhance customer support. Surveys show that consumers' interest in using chatbots to interact with brands is on the rise.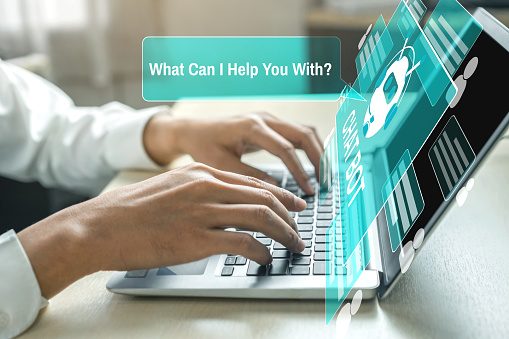 Chatbot Vs LiveChat
Chatbot and LiveChat are two distinct methods of providing customer support and communication. Here's a differentiation between the two:
Chatbot:
Automated conversational agent powered by AI
Provides pre-programmed responses based on predefined rules or machine learning algorithms
Can handle multiple customer inquiries simultaneously
Available 24/7 without human intervention
Can assist with basic queries and tasks
LiveChat:
Real-time interaction with a human customer support representative
Offers personalized and tailored responses to customer queries
Provides immediate assistance and support
Allows for complex problem-solving and detailed conversations
Requires human presence and availability during designated hours
In summary, while chatbots provide automated responses using AI, LiveChat involves direct interaction with a human representative, offering a more personalized and interactive customer experience.
Why Do You Need Chatbot Plugin?
These are a few reasons why you should consider getting Chatbot:
Bots are cheaper than humans
Chatbots can ease user friction
Bots are faster & provide your website with 24/7
Pre-qualify & score leads
Collect leads for your sales team
Why Do You Need LiveChat Plugin?
Simply, a WP live chat plugin is useful because visitors can get answers to their questions without much delay.
Instant customer query resolution and immediate assistance.
Personalized engagement in real-time.
Quick issue resolution for higher customer satisfaction.
Support in customer buying journey for improved sales and conversions.
Proactive assistance and guidance during the purchasing process.
How to Choose a WordPress Chat Plugin?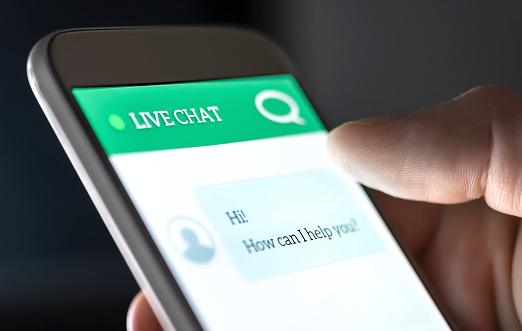 Choosing the best WordPress chat plugin is dependent on the type of website you have. However, here are four essential characteristics of chat plugins that every business owner who wants to add chat to their site should consider:
Revenue generating.
Customer-focused.
Secure.
Customizable.
This way, your business can make improvements and decisions based on data.
Best Chatbot Plugins for WordPress.
Chatbots are used in, but not limited to, the following industries:
Ecommerce
Healthcare
Customer service
Travel & tourism
Banking & Finance
Food services & grocery stores
However, with so many WordPress plugins available, choosing the most suitable one can be overwhelming. In this article, we've listed some of the best free and premium WordPress chat plugins, complete with their features, pricing, and information on who it is most suitable for.
That's why we compiled a list of the best chatbot plugins for WordPress.
1. Tidio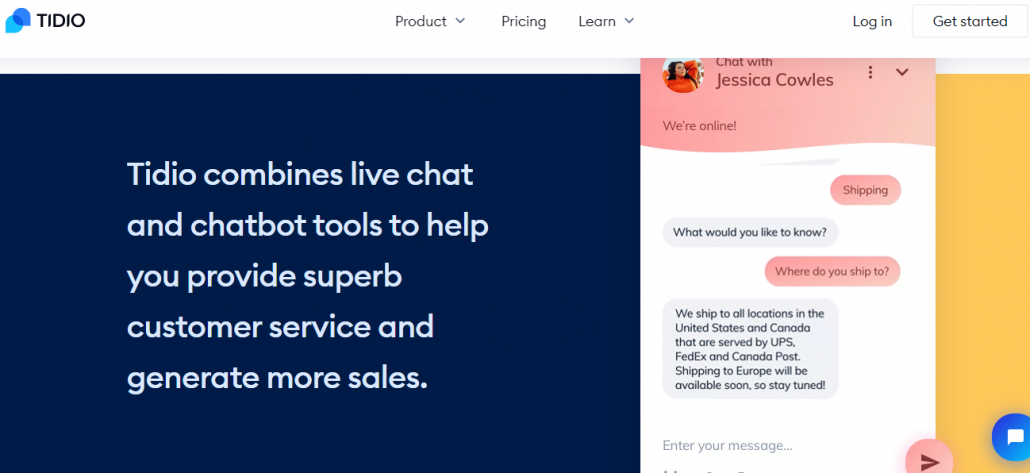 Tidio is the first AI chatbot on this list. Its WordPress chatbot plugin is preferred by clients who might use the advantage of having artificial intelligence in their customer support workflow. Also, it has live chat support, for which the businesses might need to employ full-time employees to operate. It supports an impressive number of 183 languages, out of which 21 come pre-translated.
Features:
It is free and integrates with WordPress, Google Analytics, and eCommerce platforms, such as PrestaShop and BigCommerce.
Simple chatbot creator software to create industry-specific chatbots.
Simple chatbot templates for lead generation and customer support.
Mobile app for Android and iOS that notifies visitors and conversation requests.
Once you install the plugin the widget pops out and you are done. You can communicate with your customers from a single dashboard, and when you are not around – the chatbot will keep an eye on your customers' queries for you.
It is fast to install and a breeze to customize. It offers WP live chat support, chatbots, and email marketing services with Facebook Messenger integration. For small businesses, the free plan will be sufficient. However, to take your business further, tidio's premium plans cost $18/month or $180/year.
2. Collect.chat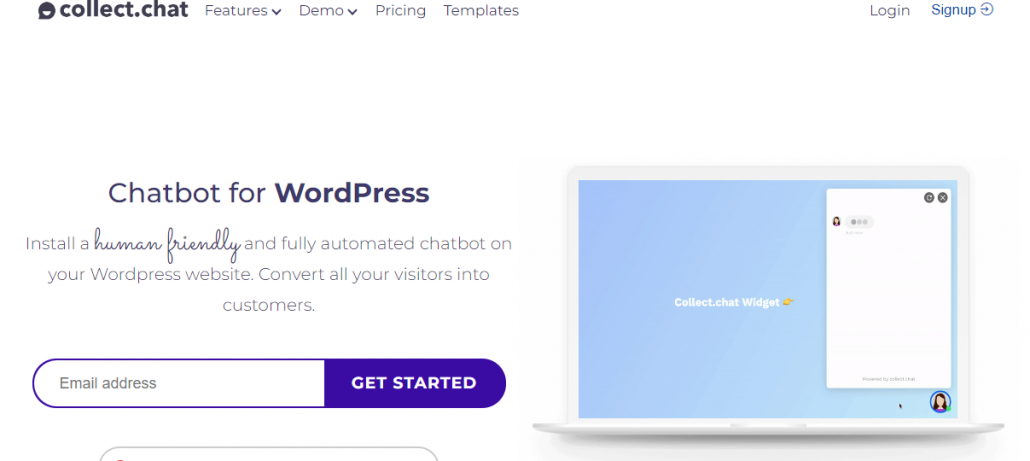 Collect.chat is an interactive chatbot that collects data from your website visitors by asking scripted questions – 24/7, fully on auto-pilot. Whenever a user response is recorded, you get an email notification. Anyone can build a chatbot with zero coding knowledge and install it in seconds.
You can choose a template to allow website visitors to set up appointments by providing them with a calendar. As customers choose dates, they will automatically get recorded into your Google Calendar.
The best feature of collect.chat is that if you are too busy to build one for your business, it will make one for you. All you have to do is give in your WordPress website URL and the plugin will create a template for you.
Key features
Human-friendly conversation flow designed for lead generation
Appointment booking with Google Calendar integration
Survey collection for getting feedback from visitors
Free up to 50 responses/month, the pricing starts from $24/month.
3. Botsify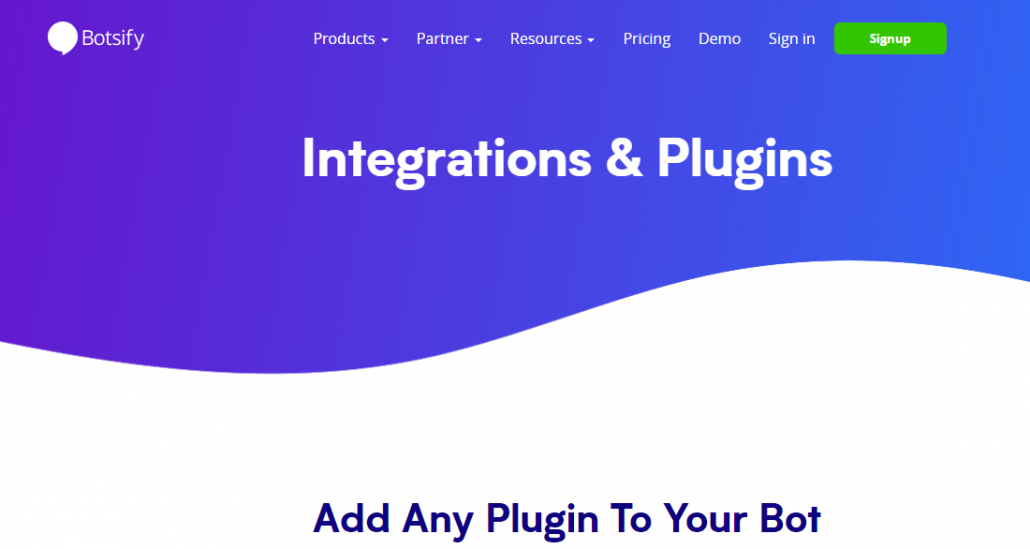 Botsify is a popular WordPress plugin option among site owners that are just getting started with chatbots.
There's no AI incorporated, but you can integrate it with tools such as Google Docs, Slack, or email to streamline the transmission of captured data to your preferred form of intake.
Botsify Features
Botsify's chatbot window is sturdy and allows for voice or text communication.
Botsify's live chat capabilities enable you to transfer discussions to a human agent throughout the chatbot-to-human conversation by email or push alerts in browser or mobile.
Create a variety of field kinds to capture information during a chat, such as a Name, Email, Location, Phone Number, or Geocode.
The plugin can also be used on an eCommerce website to allow customers to opt-in for receipts, order updates, and abandoned cart messages.
Botsify's multilingual chatbots can react in almost any language.
Using Botsify, you can create custom abilities for Amazon Alexa that allow you to ask questions, create conversational experiences, and collect data.
Botsify offers three distinct payment options. The Personal Plan is $49 per month or $490 per year if you pay annually, Professional plan costs $149 each month or $1,490 if paid in total for a year. The Business Plan starts at $499 per month or $4,990 per year.
Each plan includes a 14-day free trial, allowing consumers to experiment with the service before committing to any long-term arrangements.
4. Chatfuel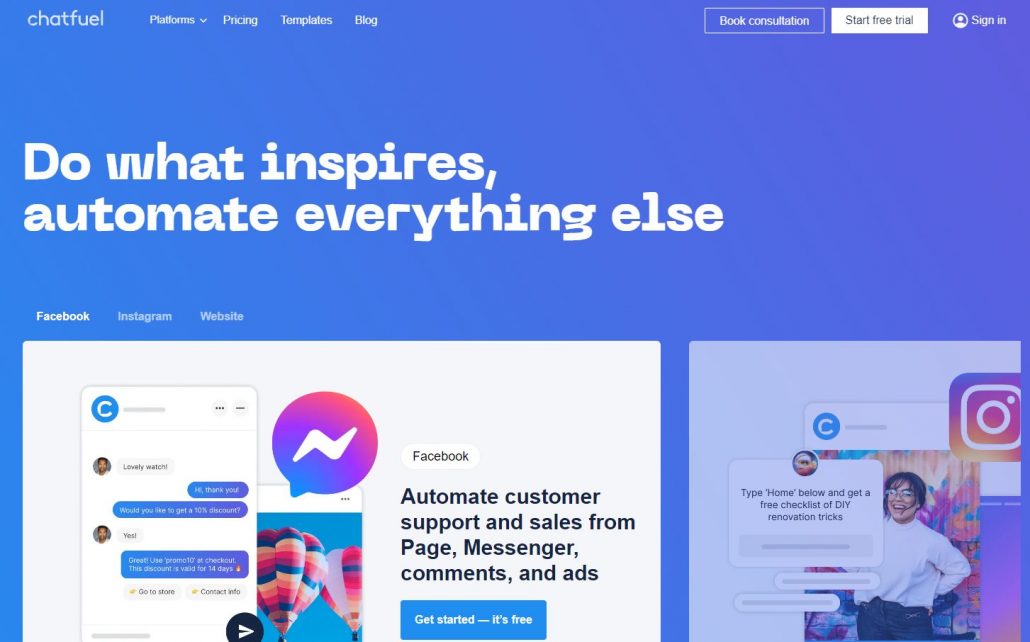 Like some other chatbot builders, Chatfuel enables you to program your bot's conversational flow using a series of blocks. It's up to you to define what information you want to provide or questions to ask. It also offers templates to get you started. Chatfuel is a chatbot builder for Facebook Messenger.
Chatfuel gives business owners an AI-powered (artificial intelligence) platform to build chatbots from scratch. It is effortless to use Chatfuel's service because it is simply a matter of dragging and dropping components to create a working chatbot program.
It allows you to create Facebook Messenger chatbots easily and quickly. Chatfuel offers everything a small business owner needs to create a simple bot that can answer questions and sell products or services on your behalf.
Features
Chatfuel has an amazing analytical report system.
Chatfuel is a chatbot-designing platform that allows you to build a Facebook Messenger bot in a matter of minutes.
It's best for marketers who want to create simple Messenger bots.
Auto-reply to people's comments on Facebook through an AI-powered chatbot engine.
Button Creator: Send consumers to your bot when they click the Message button on a product on your Facebook page or the Messenger symbol in the bottom-right corner of a webpage.
This is a very sweet deal for small businesses.
The basic version of the bot is free, but if you want a more advanced bot with better functionality, there's also a paid version (the Pro plan) that costs $30 per month or $300 per year.
You can use Chatfuel for free for up to 50 subscribers. You'll then need to upgrade to a paid plan.
5. IBM Watson Assistance

IBM uses machine learning to understand customers' behavior. The data is then used to provide the best experience for customers on your website. In a nutshell, Watson can integrate with a multitude of popular services, including Slack and Messenger. You can also connect the assistant with the Internet of Things (IoT) devices, to build chatbots that can genuinely double as assistants.
When it comes to web chats, Watson Assistant includes all the classic features you need. You get access to a simplified chatbot builder, and users can ask to be 'handed off' to a live agent. Plus, it handles changes in topics gracefully, at least for a robot.
Features:
Connect your chatbot to a vast list of services and IoT devices.
Get access to machine learning functionality.
Build your chatbot using a simplified interface.
Integrate the bot with WordPress using a plugin.
You can integrate live chat with Twilio VOIP.
Easy account management from the WordPress admin dashboard.
You can control where you want the chatbot to appear.
Easy drag and drop customization to give your Chatbot the appearance of your choice.
IBM's Chatbot is highly customizable and suitable for most businesses. It utilizes Watson assistant and you can use it with a free IBM cloud lite account.
There are free options with enough tools to keep small businesses going, like 10,000 messages per month and ready-made content you can tailor as you wish.
6. Landbot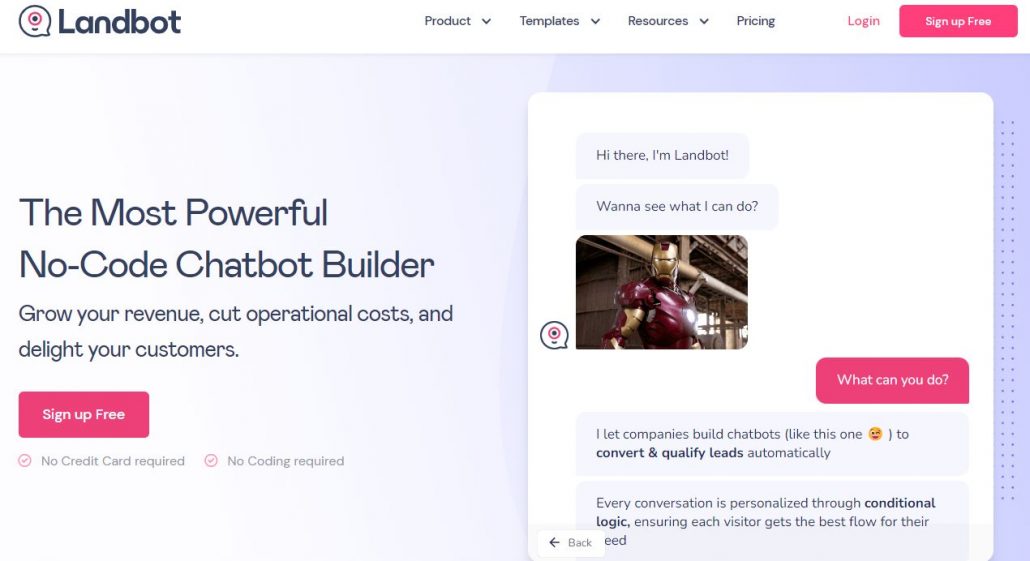 Landbot creator enables you to drag and drop to create efficiently improved chat flow, flexibility, and speed. You can launch chatbots on popular messaging channels or web-like pop-ups, widgets, predictive pages, or embedding websites with a single click.
Chat services are available on WhatsApp, Facebook Messenger, and any other platform that provides APIs. With pre-built bot templates for any event, you can customize your chatbot. Get all the latest production templates, product launches, event registrations, and job applications.
It enables you to transform conversations as a product finder, a filter that delivers relevant products to the customer directly in seconds. Customers can book tickets, appointments, or bookings during a conversation, naturally and conflict-free. You can improve staff knowledge through a flexible ride system that retains its personal touch.
Key Features:
Use a visual builder to create your chatbots.
Design complex conversational flows using mind maps.
Tweak your chatbot's design using several settings and pre-built templates.
Free plan supports up to 100 chats and premium options start at $23/month.
You can customize elements such as second visit messages, the robot avatar, fonts, personal fields, and more. You can also add custom CSS. Plus, you can choose from four different formats: a full landing page, a pop-up, a site embeds, or a live chat module.
Landbot.io enables you to include GIFs as part of your responses. The interface of the chatbot itself is a lot more stylish than most other options.
7. Chaport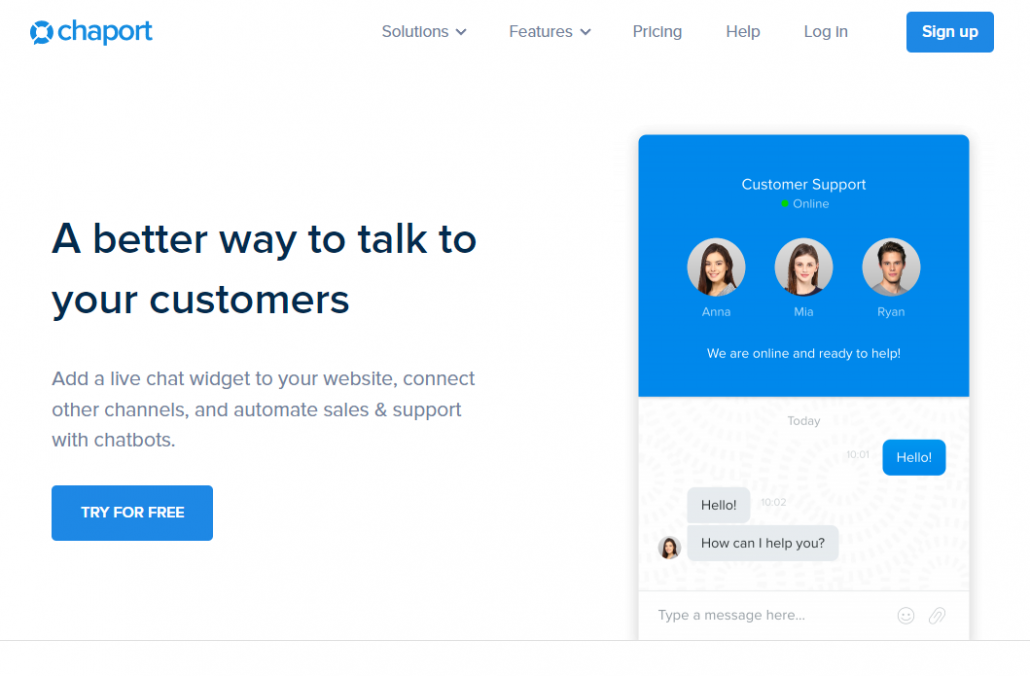 Chaport is a cloud-based live chat and chatbot solution for websites that also enables businesses to communicate with clients across various channels such as Facebook, Viber, and Telegram. It provides desktop apps for Windows and macOS, a web app for all browsers, and mobile apps for Android and iOS devices, allowing professionals to chat with website visitors, even from remote locations.
This plugin helps you communicate with your customers more efficiently with the help of a user-friendly chatbot and live chat solution.
With qualified lead generation, the plugin will be a great help to your marketing efforts. Moreover, you will be able to integrate it with a third-party solution to streamline your workflow.
Features
Live chat and chatbot solution with a simple user interface.
Helps you understand customers better with pre-chat forms, typing insights, and more.
No limits on the number of chats in the free version.
Initiate conversations with visitors
Answer common customer questions
Transfer chats to operators
It also has Zapier integration that helps companies to connect Chaport to 3,000+ apps without any programming skills. The product is available on monthly and annual subscriptions, and support is extended via live chat, email, and documentation.
8. Flow XO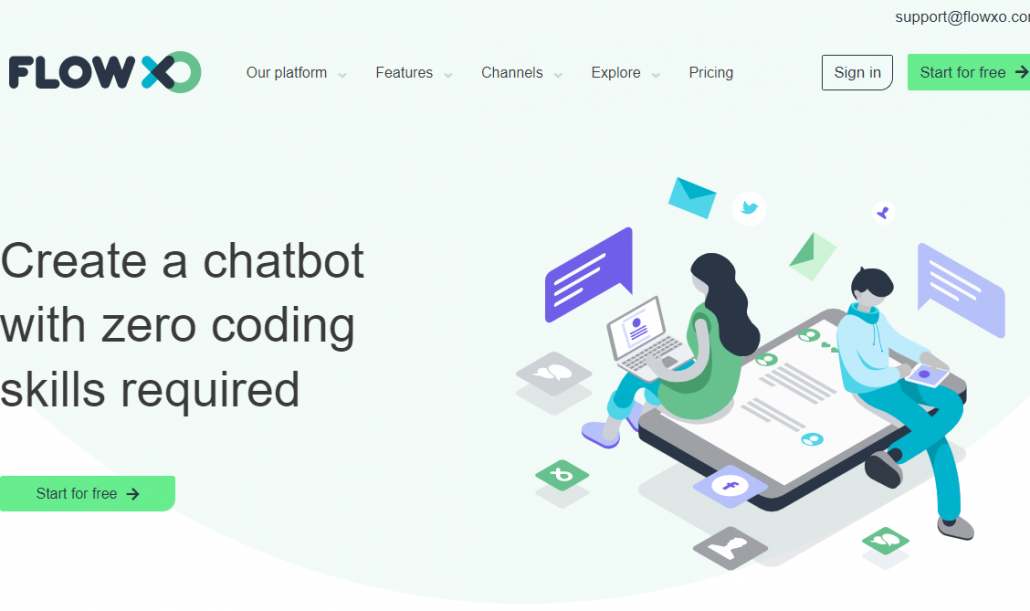 Flow XO is a no-code solution for building chatbots, as well as hosting and deploying them across different channels/platforms. You can also build chatbot widgets for your website or integrate them with suitable third-party platforms like Facebook Messenger and Twilio.
Flow XO Features
Provide multiple-choice answers
User data and interaction history
Accept payments through your bot
Flow XO is available to use on different marketing channels. The most popular channels include web chat, Facebook Messenger, Telegram, Twilio, and Slack.
Flow XO has over 100 direct integrations with software such as Buffer, MailChimp, LinkedIn, Intercom, Insightly, Salesforce, Pipedrive, and Google Calendar, to name a few. Additionally, some notable eCommerce integrations with Flow XO include BigCommerce, Stripe, Recurly, and WooCommerce.
While Flow XO does a lot of things well, such as the ability to create multiple workflows and deploy your chatbot across multiple platforms/channels, it also does a lot quite poorly when compared to other top chatbot building platforms.
9. Join.Chat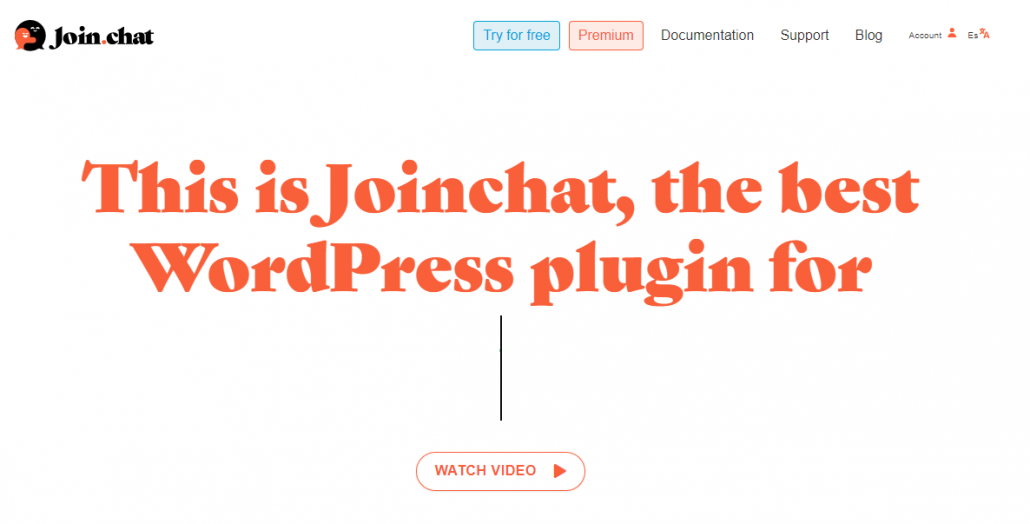 Join.Chat offers a readymade chatbot service for offline stores, water delivery, craft shops, internet shops, clothing stores, restaurants, and bars. The software features dual chatbots teamed with a single admin panel for Telegram and Viber messenger, eliminating the extra hassles of double work.
Owners can view their product catalog, specify quantities of multiple goods, select a convenient delivery pattern and streamline the payment method. Join.Chat with its integrated emailing functionality allows business houses forward promotions and orders to specific clients, enhancing their sales.
Detailed sales-related metrics offered by the software covers areas like average bill, sales volumes, highest purchase, loyal customers and more ensuring enhanced analysis and business decisions.
Chat with your website visitors through their favorite chat applications. Place a floating button at the bottom of your site and give the best support to your customers.
In addition, they have custom call-to-action messages, WooCommerce integration, to help you sell your products, instant messaging apps, Support Agents configuration, and multimedia elements that will be displayed just when needed.
Join.Chat places a floating button at the bottom of your site that makes it easy for your users to contact you if they have any questions or feel lost while browsing your website.
10. Formilla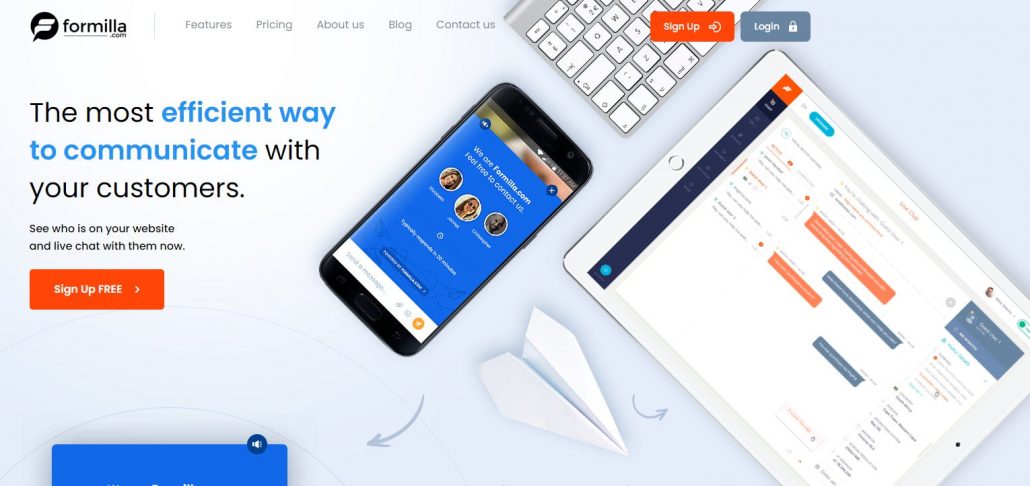 Formilla has a proactive chat feature that triggers an automatic chat when a visitor stays on the website for a defined number of seconds.
Another mention-worthy feature is its real-time visitor monitoring. It shows the number of active visitors on your website and initiates a conversation when the time comes. With just one message, you'll gather a whole bunch of data from your visitors.
When you upgrade to Formilla's premium live chat plugin, you can integrate your software with hundreds of apps via Zapier. Formilla features a chat broadcast that notifies your team of an incoming message.
Supporting the chat broadcast, this plugin also comes with a chat transfer feature. This lets agents transfer chat messages back and forth with available team members to provide the most suitable support to the visitors.
Additionally, you can view what country visitors are accessing from the pages they recently viewed, as well as the operating system and browser they are currently on. These insights can help you tailor a more personalized message and help turn visitors into leads and sales.
11. Artibot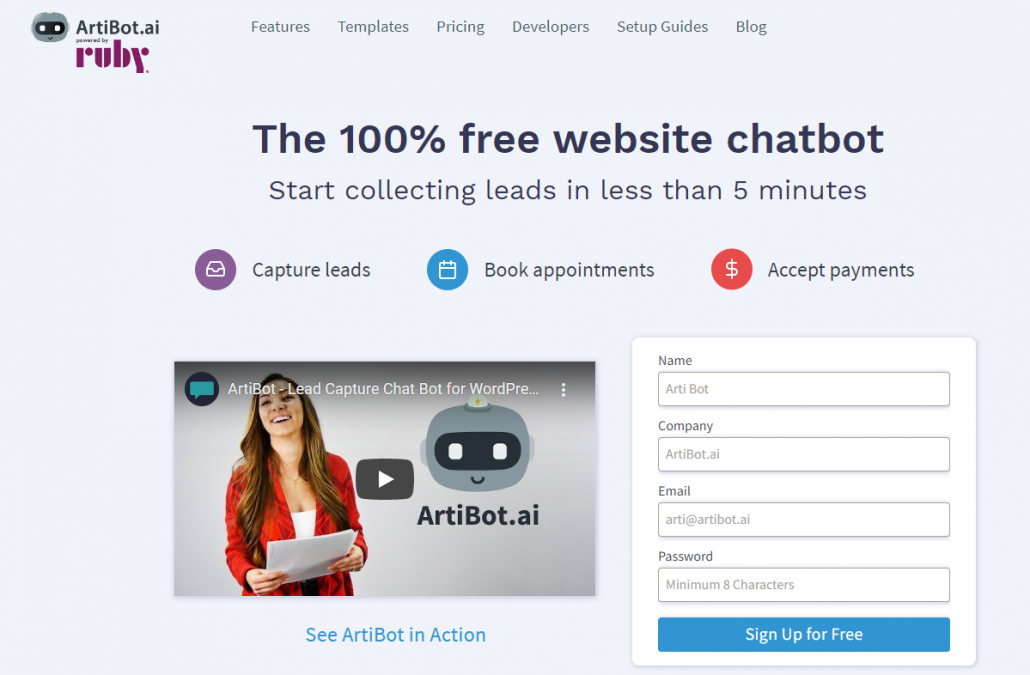 Artibot is an AI-powered chatbot that can collect leads, schedule appointments, accept payments, and even execute custom code. Add this free lead capture bot to your website quickly and easily at ArtiBot.ai to start collecting more leads than ever before.
ArtiBot is a Free Chatbot plugin for WordPress with 3 big features: Get Leads, Schedule Appointments, and Collect Payments.
Connect ArtiBot to your Google Calendar, and ArtiBot can offer appointment slots to your visitors so they can schedule an appointment on the fly, without the need for any human intervention
Let ArtiBot collect payments for you. Simply connect a payment processor, like Stripe, provide some basic information to ArtiBot, and ArtiBot takes it from there. The moment a new lead is captured, it can send you an email or push notification to the free native mobile apps for either iPhones or Android phones.
Artibot free features are:
Google Calendar integration
It works 24 hours a day, 7 days a week! It's super easy to setup and use. Plus, it's free.
12. Zendesk Chat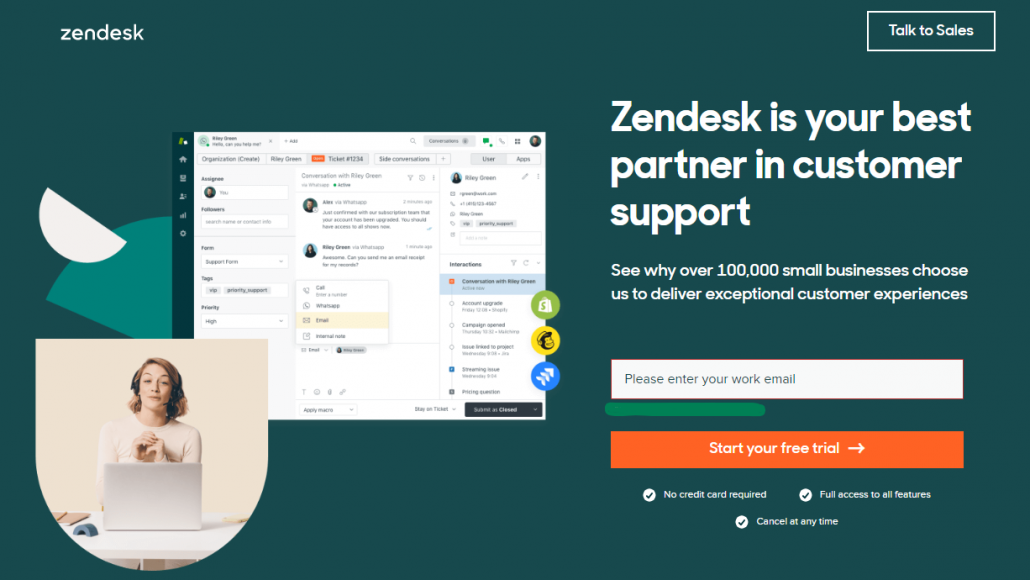 Zendesk is the best solution for a WordPress ticketing system. Blog comments are automatically converted into tickets, making it possible to use business rules, automation, and other great Zendesk features. Zendesk Chat also stores customers' profiles and history to give the agents more information about the issue before responding for a better chat experience.
Zendesk Chat lets you stay connected on any channel via the web browser, a mobile device, or social messaging apps, such as WhatsApp and Messenger. This way, agents can continue the conversation on the go and provide support efficiently.
Manage all your conversations from one place, even when your customers are in many different places. The web dashboard lets you serve customers wherever they are – on laptops, on mobile, or even in your app.
With Zendesk, your business can:
Stay connected on any channel
Manage all your customer conversations from one place
Reach out in real-time with proactive engagement
Enable 24/7 support with automation
Get more efficient with live chat analytics
Offline form
The price starts from $49 to $215, there is no free plan but have free trial of 14 days.
Best LiveChat Plugins for WordPress.
LiveChat are used in, but not limited to, the following industries:
Customer Service
Financial Services
Education
Healthcare
Real Estate
Nonprofit Organizations
Professional Services
These are just a few examples, and LiveChat can be beneficial for any industry that aims to provide instant customer support and engage with website visitors in real-time.
That's why we compiled a list of the best live chat plugins for WordPress.
1. Tidio
Tidio, which was previously mentioned as a top Chatbot plugin, continues to excel in the LiveChat plugin category as well. It stands out from its competitors by offering a comprehensive set of features and pricing options that have already been discussed.
With its impressive range of functionalities and reasonable costs, Tidio solidifies its position as the leading choice for businesses seeking a reliable and efficient LiveChat solution. Whether it's providing exceptional customer support, engaging with website visitors, or boosting sales and conversions, it proves to be a versatile and powerful LiveChat plugin that caters to the diverse needs of businesses.
2. LiveChat
LiveChat is an extremely convenient live chat solution designed to be user-friendly for both website visitors/customers and you (your agents). It presents a pleasant chat box at the bottom of the page that remains visible and can be accessed easily with a single click.
However, the number of amazing features that LiveChat offers to you and your support staff is where it really stands out among the other WordPress live chat plugins.
Customers can provide feedback and rate their experience after the chat.
Social media share buttons are available for customers to give a shout-out.
LiveChat stands out with its extensive range of features.
Proactive customer engagement is possible, increasing positive experiences.
Chat window customization is available.
All conversations can be managed from a single dashboard.
Colorful circles indicate waiting time to prioritize faster responses.
Full chat history is accessible.
You may easily connect LiveChat's service with your website using their WordPress plugin. The chat window itself is welcoming and uncomplicated. However, be aware that the cost may change depending on how many agents are on your squad.
3. Formilla
Formilla Live Chat is a freemium chat plugin for WordPress. In addition to being an all-around fantastic free option, it's incredibly mobile-friendly — for you as well as your visitors. It adapts to various devices with different screen sizes instantly, ensuring that people have a seamless interaction with your website.
Formilla stands out from its competitors by offering a comprehensive set of features and pricing options that have already been discussed. You may also choose your operating hours, in which case your chat widget will be available during those hours and unavailable otherwise.
Email submissions can be gathered while offline in the Customer Inbox. It's a fantastic live chat option for your WordPress website overall.
4. Zendesk
On this list of WordPress live chat plugins, Zendesk's chat boxes are among the classiest. You have access to a large selection of beautiful, scalable layouts and themes. Additionally, the functionalities of Zendesk are already covered in the list of chatbot plugins.
This live chat plugin starts from $19 per agent/month when billed annually. However, if you'd like to get started with a free version, Zendesk Chat offers a Lite Plan – a free plan that's tailored specifically for WordPress users.
5. JivoChat
JivoChat offers a simple and efficient way to connect with your online visitors in real-time. It provides multiple channels for communication, including live chat, email, social media platforms, and even phone calls, all accessible from a single, user-friendly dashboard.
With its powerful web-based app, JivoChat works seamlessly in the background, appearing on both desktop and mobile devices as needed. It operates with speed and convenience, opening within the same window as your website.
Additionally, JivoChat acts as a built-in CRM, allowing you to gain valuable insights about your site visitors and engage with them instantly.
Jivo Chat provides an extensive range of features that enable you to stay informed about each visitor's activity and respond promptly when necessary:
Chatbots are available to handle routine queries not only on your website but also through messengers and social media.
Utilize statuses, tags, deals, comments, and color-coded chats to swiftly address customer inquiries.
Agents can engage in multiple chats simultaneously.
Monitor visitors in real-time and proactively initiate conversations using smart triggers.
Capture visitor information and follow up later with offline contact forms if you're not available 24/7.
Connect your phone to make or receive calls through Jivo.
Utilize Google Analytics to gather leads, track sources, collect feedback, monitor negative ratings, and review employee responses and response time.
With JivoChat, you may have limitless conversations on as many websites as you like for free. It might very well take the role of your team communication software with the ability to answer via chat and messenger and talk with any number of team members at once.
6. Chaport
Chaport is a messaging platform that promotes customer self-service through the integration of live chats and chatbot services. By setting up a knowledge base on your website and enabling an FAQ bot in the chat widget, the chatbots handle common inquiries, gather feedback, and perform other tasks. This allows the agents to concentrate on more intricate chat conversations.
With qualified lead generation, the plugin will be a great help to your marketing efforts. Moreover, you will be able to integrate it with a third-party solution to streamline your workflow. Additionally, the features of Chaport are already covered in the list of chatbot plugins.
7. Pure Chat
Previously, Pure Chat was a popular free WordPress chat plugin, but it was acquired by Ruby last year and discontinued the freemium version.
However, if you are willing to pay, Pure Chat by Ruby offers a comprehensive set of features and even integrates with ArtiBotl, a dedicated chatbot solution.
In the past, Pure Chat had notable advertisements featuring a lawyer-like character using live chat for his daily operations. Currently, their brand communication appears more conservative and infrequent. Nevertheless, the WordPress community generally holds a positive opinion of it.
The free chat feature is only available during the 30-day trial period.
Key Features:
SMS notifications
Chat history records
Mobile applications for iOS and Android
Alerts based on triggers
Predefined responses
Pricing:
Growth plan: $39 per month
Pro plan: $79 per month
8. Tawk.to
Tawk is considered the top free chat plugin for WordPress, boasting the highest number of installations compared to other chat plugins. It offers a comprehensive set of features right from the start and has received positive reviews. However, it does not provide any premium features beyond the advanced capabilities of its basic version.
The only upgrade available is a no-branding variant of the chat, which can be accessed by paying $15.00 per month. Tawk.to does not offer their live chat for sale but provides the option to hire assistants and live chat support agents, which serves as their main revenue stream. As a result, chatbots are not included as a feature in their offering.
Features:
Notifications via email and desktop
File transfer capability within the widget
Unlimited conversations and chat history
Message filtering and sneak-peek previews
Group messaging
Pricing:
Free version available
Option to remove branding for $15 per month
Conclusion
Chatbot & LiveChat Plugins are becoming immensely popular plugin and can make your WordPress website achieve the next level. Whether you're running an online store, a brick-and-mortar store, or a simple blog, chatbots can become your powerful weapon to deal with customers' inquiries, so you don't need to spend much time answering simple questions.
It's obvious to say that chat plugin can't be a complete replacement for human interaction, they can be a reliable customer assistant to provide support and information instantly to customers..
https://inguide.in/wp-content/uploads/2021/02/inguide_logo_red_340_156-300x138.png
0
0
Rakhi
https://inguide.in/wp-content/uploads/2021/02/inguide_logo_red_340_156-300x138.png
Rakhi
2022-08-08 05:52:31
2023-07-13 11:27:46
20 WordPress plugins for Chatbot and LiveChat