How to solve Email Deliverability issues with Gmail?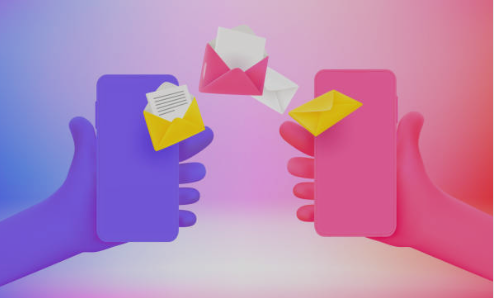 Are you aware that your IP addresses may be included on Gmail's Blacklist? Google may have placed your IP address to their email blacklist, which is one of the most frequent causes of your emails deliverability.
This post will undoubtedly be helpful if you discover that your email stats have collapsed and you are unable to send emails to your Gmail subscribers.
Why Does Gmail Block My Emails?
While Gmail doesn't share specific details about their email filtering criteria, here are some typical causes for Gmail to reject email deliverability from your IP addresses or label them as spam.
If you're encountering any of the following situations, it may give the impression that you're sending spam, leading Gmail to block your server's IP address.
Usually, Gmail blocks your emails for several reasons:
1. Sending a large number of emails
2. Sudden changes in email volume
3. Sending emails to "spam trap" addresses
4. Sending emails to unknown users
5. Presence on email blacklists
6. Gmail users marking your emails as spam
7. Using a new IP address
8. Incomplete or incorrect DNS records
9. Missing unsubscribe link
10. High image rate vs low text rate.
To resolve these problems, you should review your email server's logs to identify the specific issue and stop the behavior that triggered the block.
It's also advisable to check if your server's IP is listed on public blacklists, such as pbl.spamhaus.org, sbl.spamhaus.org, xbl.spamhaus.org, and cbl.abuseat.org.
If your IP is listed, it indicates potential spam activity originating from your server. In that case, you need to find and eliminate the source of spam. Once the issue is resolved, you can request removal from the blacklist. Keep in mind that removal from some blacklists may happen automatically. And to know more in details you can read our article on "what email goes to spam in Gmail, AOL & others"
Understanding Gmail's Email Filtering System:
To improve email deliverability in Gmail, it's crucial to understand how Gmail's spam filters work. Gmail employs advanced algorithms that analyze various factors to determine whether an email should be delivered to the inbox, sent to the spam folder, or blocked altogether. Factors such as sender reputation, email content, engagement metrics, and user feedback impact Gmail's filtering decisions.
How to Check the Gmail Blacklist?
If Google has flagged your email address as spam, your email server will notify you. Gmail uses either a 421 error or a 550 error to indicate this. The 421 error means there are temporary issues, while the 550 error means all emails from your internet address are blocked.
You might need to reach out to your email provider to investigate the server settings. Another option is to use a website like MXToolbox, DNSBL.info, and MultiRBL, provide information about the blacklisting status of specific IP addresses.
Guidelines for Seeking Removal from Gmail's Blacklist
If you send a large volume of legitimate emails and receive bounce notifications with the "400" error code, it is important to review Google's guidelines for bulk senders and then submit a request for removal by using the Bulk Sender Contact Form provided by Google.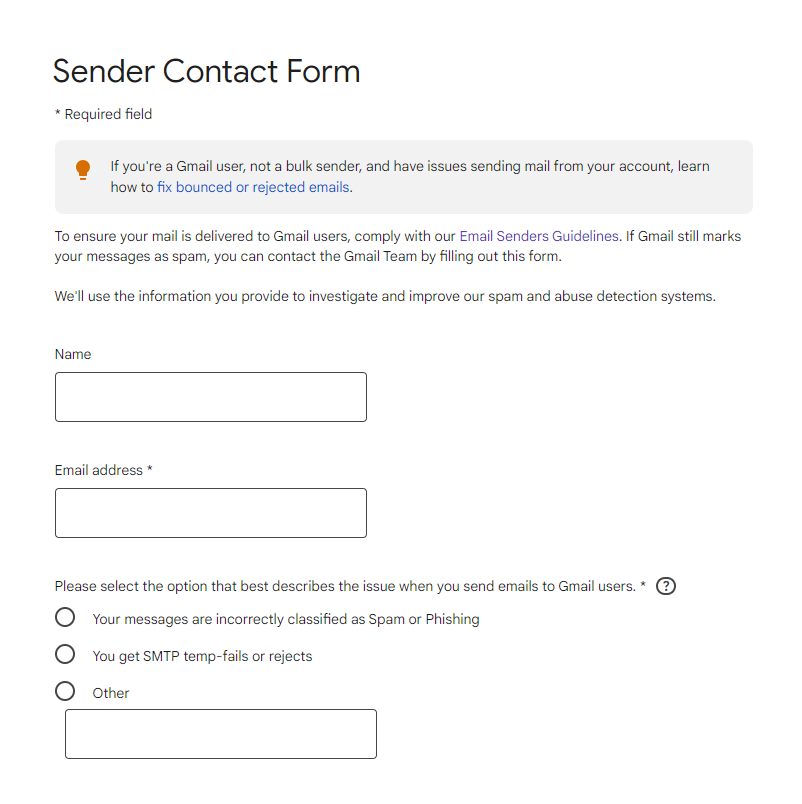 In a Bulk Sender Contact Form, you will have to follow these steps:
1. Fill out your name, email address, and the reason you're filling out the contact form whether it be:
-Your message was incorrectly classified as spam,
-SMTP Temp-Fails or Rejects,
-Or another issue (there is a field to specify what exactly).
2. Press 'Next' to see the second screen. Here you will have to write two versions of your problem – a short one and a detailed one.
3. It's also required that you add the headers of the messages you sent to the Gmail account or the Google app user that were marked as spam/phishing. The newer the message the better, but it can't be older than 12 days. Now you can submit your form.
Note that Gmail does not usually reply to your submission, so don't worry, they'll process your submitted form, although it may take up to 15 days.
Use Postmaster Tools to get going
Gmail's Postmaster Tools provides metrics on reputation, spam rate, feedback loop, and other parameters that can help you identify and fix delivery or spam filter issues. I highly recommend you enroll in those services.
You will get access to several dashboards such as:
1. Spam Rate Dashboard
2. Domain and IP Reputation Dashboard
3. Feedback Loop Dashboard (only for senders who implemented the Gmail Spam Feedback Loop)
4. Authentication Dashboard
5. Delivery Errors Dashboard
You can use the data from the different dashboards to understand the best way for you to send your emails.
Follow Gmail's Best Practices
The broad guidelines in this section might help you decrease the likelihood that Gmail will ban communications from your domain.
1. Set up valid reverse DNS records of your IP addresses that point to your domain.
2. Set up SPF and DKIM so that they're aligned.
3. Use the same domain for sending email and for hosting your public website. Set up SPF and DKIM for this domain.
4. Ideally, send all messages from the same IP address. If you must send from multiple IP addresses, use a different IP address for each type of message.
5. Don't mix different types of content in the same message. For example, don't include content about promotions in sales receipt messages.
6. Messages of the same category should have the same From email address.
7. Make sure your domain isn't flagged as hazardous by Google Safe Browsing on a frequent basis. To check your domain status, enter your domain on the Safe Browsing site status page.
8. Don't send test phishing messages or test campaigns from your domain.
9. Don't impersonate other domains or senders without permission.
10. Messages sent from an address in the recipient's contacts list are less likely to be marked as spam.
Conclusion
Improving email deliverability in Gmail requires a combination of technical implementation, best practices, and ongoing monitoring. By following authentication protocols, maintaining a good sender reputation, optimizing email content, and utilizing the available tools and resources, you can overcome deliverability challenges and ensure your emails reach the Gmail inbox.
Remember to regularly analyze your email metrics, adapt to changes in Gmail's filtering algorithms, and stay proactive in your approach to achieve successful email deliverability.
https://inguide.in/wp-content/uploads/2021/02/inguide_logo_red_340_156-300x138.png
0
0
Rakhi
https://inguide.in/wp-content/uploads/2021/02/inguide_logo_red_340_156-300x138.png
Rakhi
2023-06-12 12:47:38
2023-07-17 13:33:33
How to solve Email Deliverability issues with Gmail?