Plugins for WordPress to power your Ecommerce site
If you looking for the best WordPress Ecommerce plugin to build your online store? That said, keep reading to learn about the top WordPress Ecommerce plugins on the market.
Choosing the right plugin is crucial for your business because a better platform means more growth opportunities for users to end up losing money because they didn't do proper research when choosing the Ecommerce platform to start their store.
In this article, we will compare the best WordPress Ecommerce plugins. We will also explain their pros and cons to help you find which plugin is right for your business.
Whether you're trying to make it big as a digital retailer, or you'd like to invest your time in a physical product store, we'll narrow down which WordPress Ecommerce plugin is perfect for your organization.
The main objective of adding extensions and plugins to your website is to improve the efficiency and productivity of the store.
Best Ecommerce plugins For WordPress
Each plugin you use should do something important to enhance your visitor's experience at your site… so now we will discuss the list one by one, keep reading and choose the best and most suitable plugins for your next Ecommerce WordPress…
1. WooCommerce: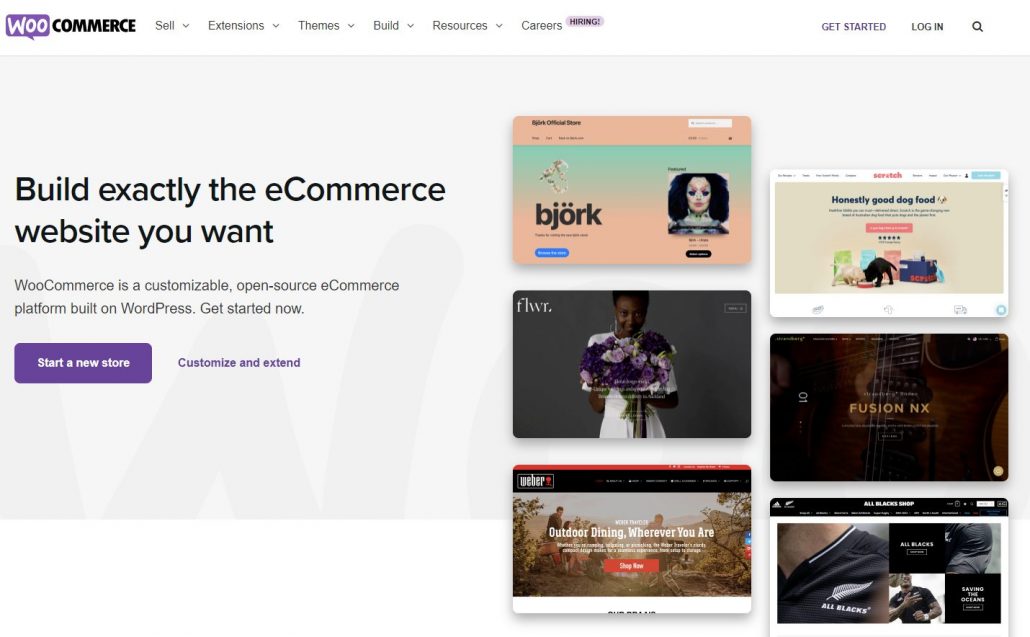 It is the most popular WordPress Ecommerce plugin. WooCommerce is also the most popular Ecommerce platform in the world. It's the driving force behind 30% of all online stores and offers incredible flexibility and customization.
It's owned by Automatic, one of the most reliable and powerful companies in the WordPress community. You can use WooCommerce to showcase physical and digital goods, product variations, custom configurations, instant downloads, and affiliate items. Bookings, memberships, subscriptions, and dynamic pricing rules are only an extension away. And you can always leverage WordPress' SEO advantage to bring people to your eCommerce store.
Features include:
product and inventory management
order management
customer profiles
control over shipping
comprehensive statistics
coupon management
WooCommerce Scalability
Plugin Complexity.
Security.
Customer Support.
2. Ecwid Shopping Cart:
You can sell your products globally with more than 40 international payment options, real-time shipping integration, and support in 45 languages. You can also easily sell your products on Facebook and Instagram since Ecwid automatically syncs your products, customers, orders, and inventory between your WordPress and social storefronts.
Ecwid eCommerce shopping cart helps you add an online store to your WordPress site. It is powerful, easy to use, and Gutenberg-friendly. So, you don't need to worry about software updates, security patches, and server maintenance. Your online store gets all the new eCommerce features and bug fixes automatically. It integrates with major carriers, including USPS, UPS, FedEx, Canada Post, Australia Post, and others, to automatically calculate shipping rates. It includes automated tax rate calculations for the U.S. and Canada, as well as EU VAT.
Key features are:
Automatic shipping & taxes
Sell on Facebook & Instagram
Ecommerce Mobile apps
Unlimited Storage, Automatic Backups & seamless upgrades
PCI DSS validated level 1 service provider
Superb Support
Sell Everywhere
Mobile Responsive
Hundreds of extension and powerful API
It is Free
3. Shopify: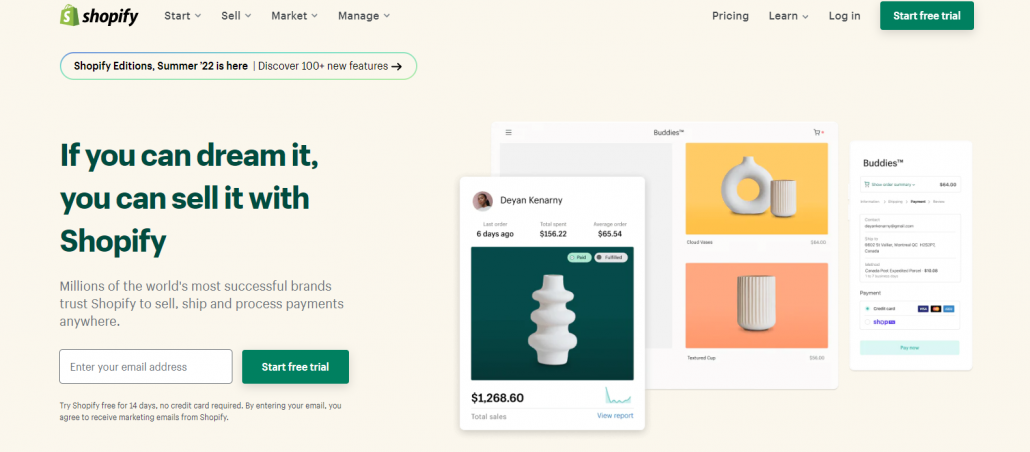 If you want to have a powerful platform without having to deal with technical issues, then Shopify is the solution for you. WP Shopify provides powerful and seamless ways to show your products, it also creates your checkout and cart experience, with no setup required.
You can display a single buy button or a whole list of products with ease. The base plugin includes many of the features you would expect of Shopify, including automatic syncing that keeps the products you display on WordPress "in sync" with your Shopify store and product detail pages that sync your Shopify data with your WordPress codes. Alternatively, you could opt for WP Shopify Pro, which includes additional shortcodes, PHP Templates, Gutenberg Blocks, Dedicated Live Support, and much more.
With this plugin, you can also:
display product variants
enable one-time purchases or subscriptions
have a built-in shopping cart
Super Easy for Beginners
Supports Both Digital and Physical Goods
Complete Inventory Management
Payment and Shipping Options
Facebook Store and Buyable Pins.
While the monthly fee sounds bad at first, the hassle-free approach and peace of mind are worth it because it allows you to focus on what you do best, your business!
4. BigCommerce Plugin for WordPress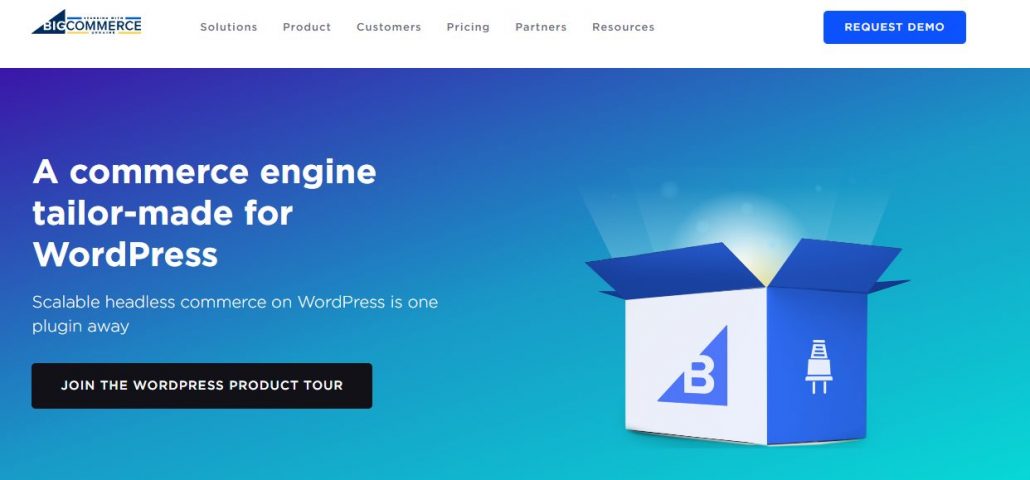 It's similar to that of Ecwid, where you can place the BigCommerce module on multiple sites and not have any problems with syncing. BigCommerce is a rising contender in WordPress for headless eCommerce. It takes care of technology infrastructure, so you can focus on growing your business. BigCommerce is a fully hosted eCommerce platform that offers seamless integration with WordPress.
This allows you to use a scalable eCommerce platform while using WordPress to manage your content and run your website.
BigCommerce is an incredibly powerful yet very easy-to-use eCommerce platform. It's a SaaS eCommerce platform, but with their BigCommerce WordPress plugin, you can use both together. All of your inventory and sales are managed from one dashboard. BigCommerce also has something called headless commerce, where WordPress resources are handled on the front end to free up space and speed up processing payments and catalog management on the backend. At the same time, you don't have to worry about security, performance, or finding extensions for SEO and caching.
Key Features of BigCommerce plugin
High scalability
Less Maintenance
Sell across Multiple Channels
No transaction charges
5. Cart 66 Cloud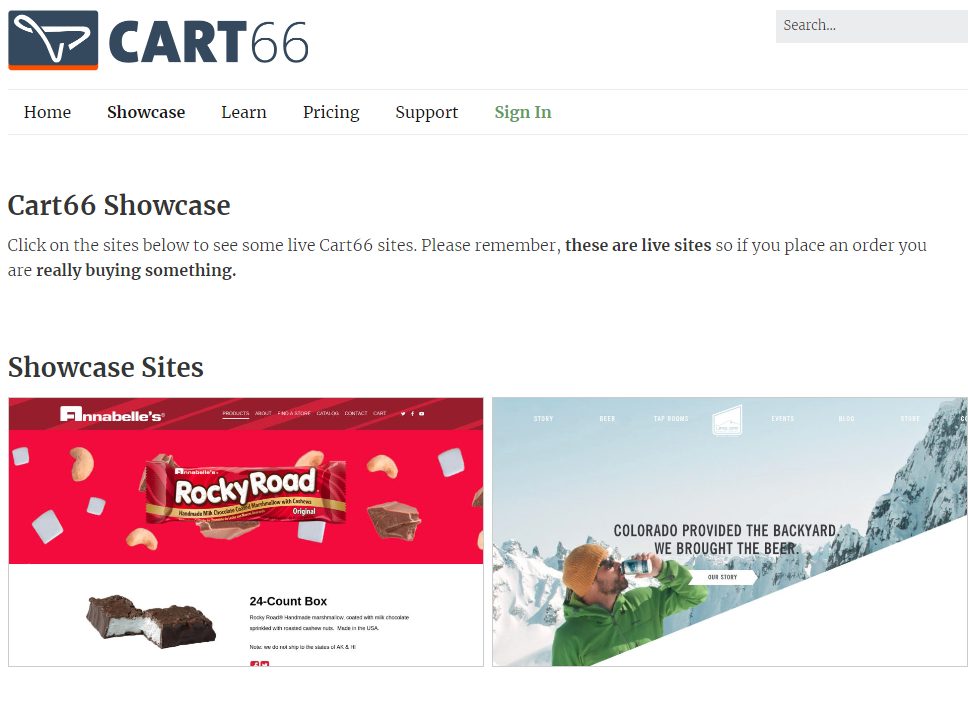 Cart66 provides an all-in-one solution to sell physical and digital products, services, donations, memberships, subscriptions, and more. It has taken an approach to minimize the number of add-ons needed for the plugin to work smoothly since it can often be tricky making your site work with a collection of add-ons and extensions.
Therefore, Cart66 Cloud provides a WordPress eCommerce plugin with most of its features built in. You can use a shopping cart, or bypass the shopping cart giving your customers a super-fast, "buy now" checkout experience. You can take one-time payments as well as recurring payments.
Cart66 includes a ton of features to help you sell your products and collect payments the way you want.
Physical products
Unlimited product variations
Digital downloads
Secure digital file storage
eBooks
Event Registration
Online Giving / Donations
Memberships / Subscriptions
Recurring payments
Content restriction
Unlimited Coupons
Shipping & Package Tracking
Track inventory
Min/Max cart quantities
Business class SMTP mail server built-in
Secure customer portal
Order notification emails
Buy now links
100+ built-in payment gateways
5 Star Customer Reviews
6. Schema Pro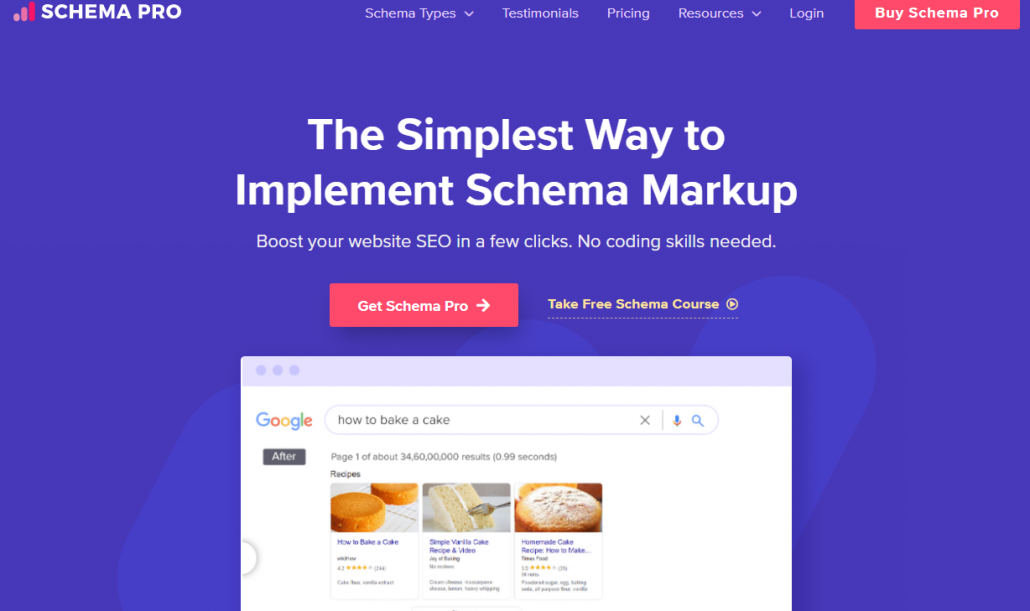 Schema PRO is a plugin for WordPress which allows you to make schema markups for your website in just a short period. The Schema PRO plugin is excellent for giving websites an attractive look. The aesthetics of your rich snippet is not only good for making your website seem classier and for catching people's attention, but Google places more value on sites when it appears more likely to get clicks.
With the Schema PRO plugin, your snippet can show ratings, costs, features, and other pieces of relevant information instead of just the link and a short description.
Snippets (The first thing internet users see on Google search result pages is your website snippet, since the snippet is the main bridge between your website and the people you want to invite into it) made with Schema PRO can increase the number of organic clicks your website receives, showing Google that your site is credible. There's also the option to let people vote as visitor rankings, though this can be disabled.
If you don't give your meta description, Google will make one of its own, usually by taking a couple of lines from the page content. This is why the Schema PRO plugin for WordPress is critical for your website's success.
This plugin comes with 13 different types of schema markups for whatever kind of SEO you need:
Review Schema
Local Business Schema
Article Schema
Service Schema
Product Schema
Course Schema
Person Schema
Recipe Schema
Job Posting Schema
Schema Pro costs $79 for use on unlimited sites with one year of support/updates. You can also purchase a lifetime license for $249.
7. TrustPulse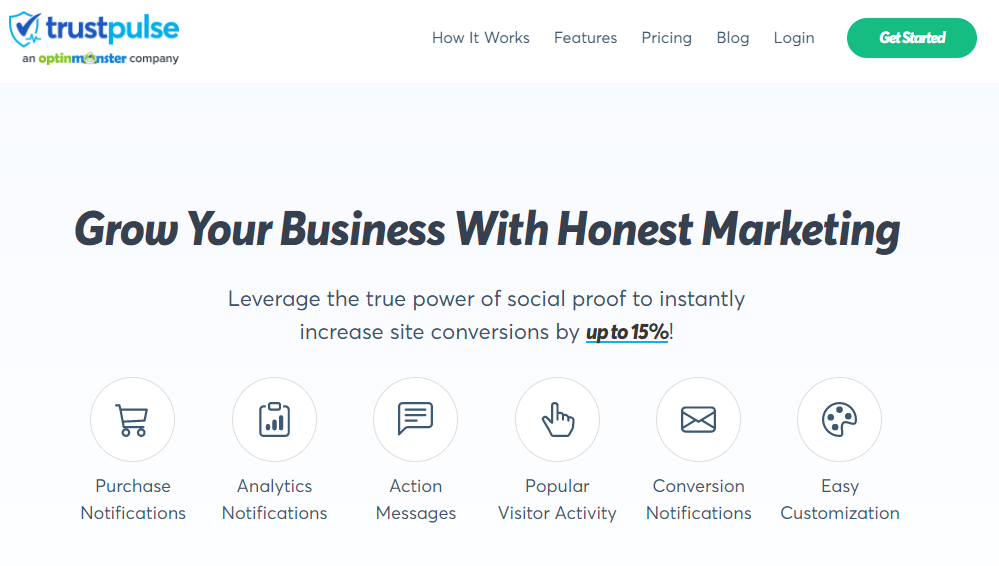 TrustPulse is a stand-alone social proof app that integrates with all website platforms, including WordPress. It comes with an easy-to-use social proof notification builder that allows you to create beautiful WordPress FOMO (Fear Of Missing Out) popups that are proven to convert.
You can customize the message, colors, images, and more to match your FOMO social proof notifications with your website. Signups on your membership site, and get more email subscribers. TrustPulse is an honest marketing platform that leverages and automates. The real power of social proof is to instantly increase trust, conversions, and sales. The plugin uses FOMO to boost your sales and conversions with social proof notifications. It helps boost sales on your WooCommerce store, and increases. Use it to boost sales on your WooCommerce store, increase signups on your membership site, get more email subscribers, and more.
With TrustPulse you can choose between 2 types of FOMO campaigns:
Recent Activity: Showing a live stream of website activity like WooCommerce purchases, membership site registrations, email signups, and more.
On-Fire: Showing the number of people acting on your website in a given period.
Here are TrustPulse's features that make it the most powerful WordPress social proof plugin:
Incredibly Easy Setup Process
Useful Analytics to Help You Boost Conversions
Easily Customized Notifications
Smart Targeting
Quick to Set Up but Easy to Customize
Top-Rated Support Team
8. MemberPress

MemberPress is a WordPress paywall, membership, and LMS plugin, it will give you the ability to confidently create, manage and track membership subscriptions and sell digital products. With MemberPress, you can create dynamic, beautiful pricing pages for your membership products effortlessly. Sort the order of your products, change the copy, the look, the feel, and more. With access to several pricing page themes out of the box, your pricing page looks good – no CSS or HTML coding required.
MemberPress integrates seamlessly with bbPress and many other WordPress forum plugins. It gives you fine-grained control over what content your users can see based on what membership or digital products they purchase. Restrict access to pages, child pages, posts, custom post types, categories, tags, and almost any other file in your WordPress installation.
MemberPress allows you to generate as many coupons as you want, control when they expire and their number of uses, and even customize your coupon codes.
One tool that does it all
Paywall Power
Online Courses
Coupons
Community Building
Pricing pages
Drip content
WordPress Affilates plugin
Payment Gateways
WordPress subscription Plugin
9. Store Locator (Google Maps) For WordPress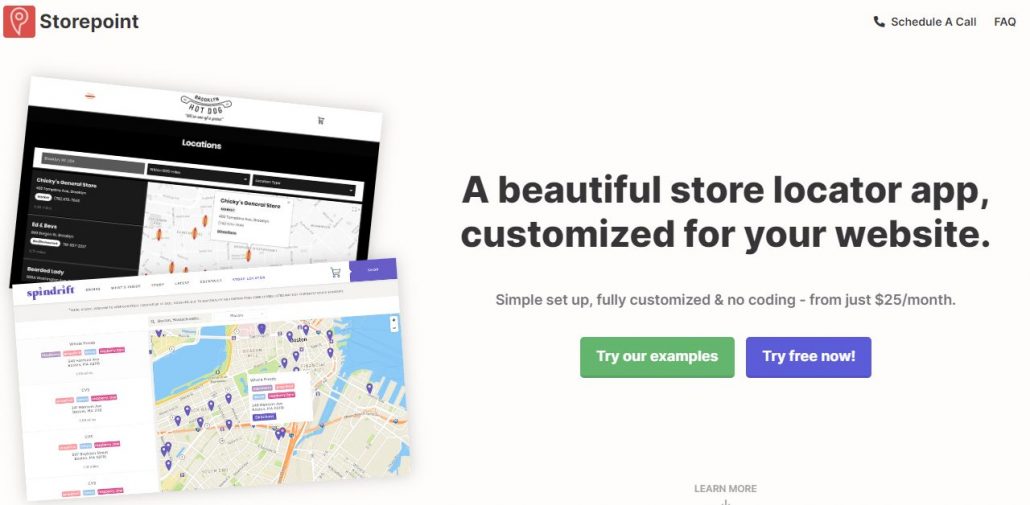 Store Locator allows users to locate you on the map, find driving directions, or share the location with friends. Adding a store locator to your business website or even an online store helps you instantly earn user trust. It is a free Google Maps plugin that allows you to create a custom map with multiple store locations and custom fields.
To use the WP Store Locator plugin, you will need to generate two API keys. The first one is called the Browser API key and the second one is called the Server Key. The Store Locator with Google Maps extension adds physical store locations and displays them on dedicated store-finder pages. Using the Google Maps API, you can show locations on maps, allow your customers to find locations near them, and get driving directions.
Features
Add unlimited store locations along with
Names and addresses
Description and default zoom level
Store emails and contact numbers
Display latitude and longitude
Store time zones, daily hours of operations, and holiday schedules
Available store products
Create different timetables for hours of operation or holiday schedules and assign them to specific stores
Add store tags for easy navigation
Configure standard latitude and longitude
Use default map zoom, marker image
Use a Shortcode to display the store locator on any page
Customize searches, default radii, and footer links
Customize backgrounds and text colors of buttons
Option to add custom titles for different sections of store locator pages
10. EasyCart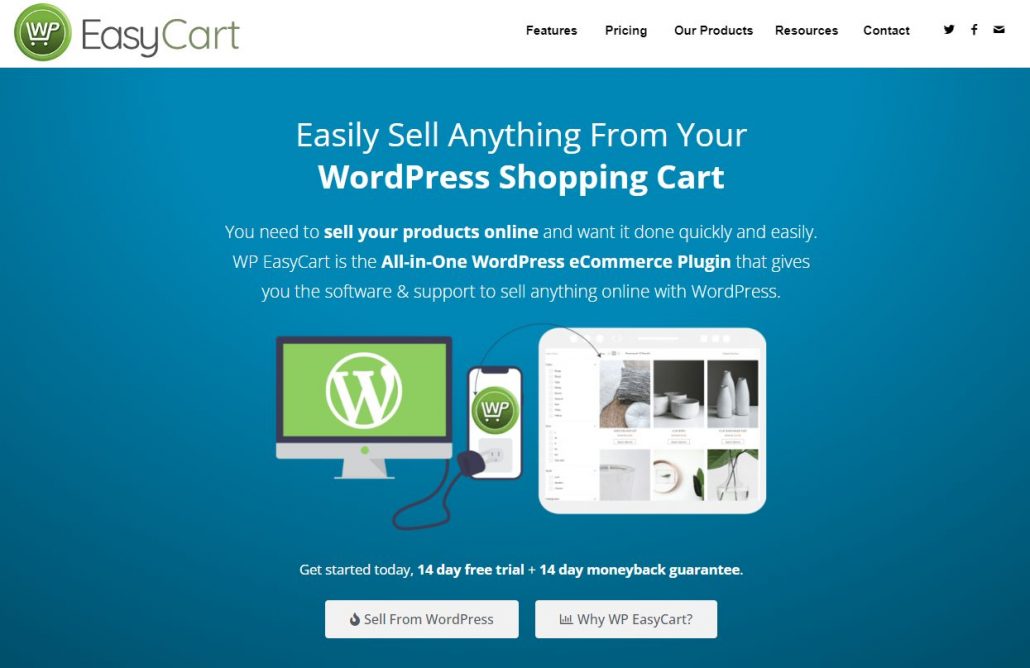 WP EasyCart is a powerful FREE WordPress eCommerce store & WordPress Shopping Cart plugin that installs into new or existing websites. The eCommerce plugin lets you sell unlimited products, manage orders, create basic shipping & taxes, and collect payments using PayPal Express as well as Square or Stripe within your cart.
The WordPress Shopping Cart plugin will automatically create 3 new pages in WordPress for the store, cart, and account. Customize with all our basic design features, utilize multi-currency & multi-language features, and even add one of our dozen widgets to a sidebar to help you start selling your products.
WP EasyCart comes in 3 different shopping cart editions to cover every online store need.
FREE eCommerce Edition – Unlimited Products, Unlimited Orders, and sell with PayPal Express, Square, and Stripe.
Professional eCommerce Edition – No Fees, 30+ Additional Payment Gateways, Live Shipping Calculators, Coupons, Promotions, Order Editing, Digital Wallet Payments (Apple Pay & Google Pay), Subscription products, and More!
Premium eCommerce Edition – Everything in the Professional Edition plus apps for Desktop, Tablet, iPhone, and Android plus 10+ Premium Extensions! Facebook & Instagram, Ship Station, Stamps.com, QuickBooks for Desktops, MailChimp, and others!
Wrapping Up
We have presented to you the 10 best WordPress plugins for eCommerce and their outstanding features. Hopefully, at this point, you will have a better idea of which WordPress eCommerce plugins is best for your online store. At present days, the demand for switching between eCommerce platforms to better facilitate growth is increasing drastically. It's an act of choosing a more suitable place for the next stage of your business success.
That's all we hope this article helped you find the best WordPress Ecommerce plugins for your site….
https://inguide.in/wp-content/uploads/2021/02/inguide_logo_red_340_156-300x138.png
0
0
Rakhi
https://inguide.in/wp-content/uploads/2021/02/inguide_logo_red_340_156-300x138.png
Rakhi
2022-08-11 07:58:48
2022-11-26 11:40:29
Plugins for WordPress to power your Ecommerce site