Best WordPress Plugin for Blogs in 2023
Whatever you need your website to do can be done with a plugin… putting it simply if the WordPress theme is a layout of your website then Plugin is all about functionality and features.
Plugins are like a building block of your WordPress site. As by plugging into your WordPress site, the new features, and functionality or extend existing functions on site. You can do many things with Plugins by simply installing and activating the plugin on your WordPress site. Many non-coders use plugins as it adds & enhances the functionality without using any code just simply downloading or purchasing from WordPress or a third-party site. Many coders use plugins too, to save time and make it more accurate
Some WordPress users install too many plugins on their sites. Your site's performance depends more on the quality than on the number of plugins on your site. They can slow down or even break your site if they aren't regularly updated.
What is Plugin?
Plugins can make small or massive changes to your site depending upon the feature it holds, allowing you to create virtually any kind of website from company website to E-commerce, to the portfolio.
We need Plugins for various reasons like stats, essential SEO, spam protection, Security scanning, backups, contact forms, advance galleries, Email subscriptions, Media embeds, etc. WordPress has some free plugins and you can also download them. A strong majority of the plugin is available for free in WordPress.
Since, anyone can create and distribute a WordPress plugin, plugins will vary in quality. For this reason, it's important to research your options each time you want to install a new plugin and check recommendation lists and plugin reviews to check for quality.
Even if you installed WordPress plugin and don't activate it. It won't work activating a plugin can be thought of as "turning on" the plugin on your site. You can also deactivate the plugin to stop working on your site.
Free plugins are offered as they are, with no warranties or promise of support. Plugin authors can stop working on a plugin at any time they want.
If you feel you will be needing lots of support, and you want regular updates, then a paid plugin will be a better choice.
There are 60,000+ plugins in WordPress and more in third-party sites, so we can't choose which is best among them, so we will categorize them like:
In this article we will discuss about plugins for blogging in detail…
Plugins for Blogs:
Bloggs can be easy to target, and it's all about you so try to make it more flexible and easy to use with plugins.
First lets discuss the kind-of plugins necessity for blogs,
Search Engine Optimization (SEO) plugin: When you rank better on search engines like Google, more traffic will be drawn to your site. and thus getting SEO can be of immense help for bloggers to rank higher on search result.
Contact Form Plugin: You can use the contact forms to get/receive orders, requests, and inquiries. Also, they provide an easy way to order, apply, or register online.
Security Plugin: Most security plugins provide some of the best features that you'll ever need for your website. They include firewalls, malware scanning, reports, backups, and spam protection.
Cache Plugin: Cache plugins solve this problem by creating static pages, saving them on your server, and delivering them to the user. This decreases the time that a user has to wait for the website to load completely.
Google Analytics Plugin: This amazing tool collects data and generates useful reports, that will help you better understand your visitors. You can easily see which pages are popular and which are underperforming. Using that, you can uncover insights about the performance of your website.
Top 10 must-have Blogging plugins:
1.Yoast SEO: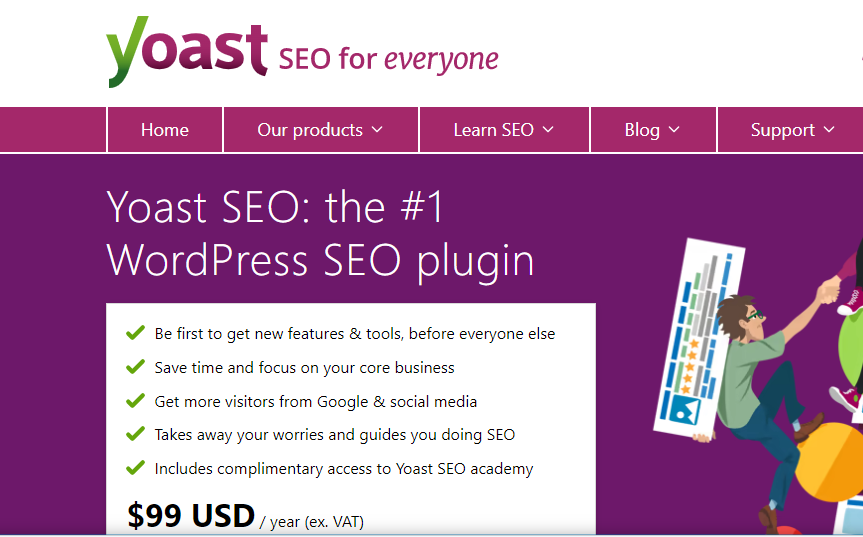 The name itself states it is a search engine optimization plugin, it has more than 5 million + active installations with 25k 5-star reviews on WordPress.org. Yoast SEO improves your website ranking on search engines, by helping you optimize your site's content and keywords. Once installed on your WordPress site, the Yoast SEO plugin will appear on each of the pages and posts you create. Yoast SEO analyzes the page's content and provides suggestions on how to improve it. The plugin gives you a score and tells you what problems there are and how to improve your content for SEO.

The key tool of Yoast SEO are:
The Focus Key Phrase- this is used to rank your post in a particular keyword you would like it or your post is about.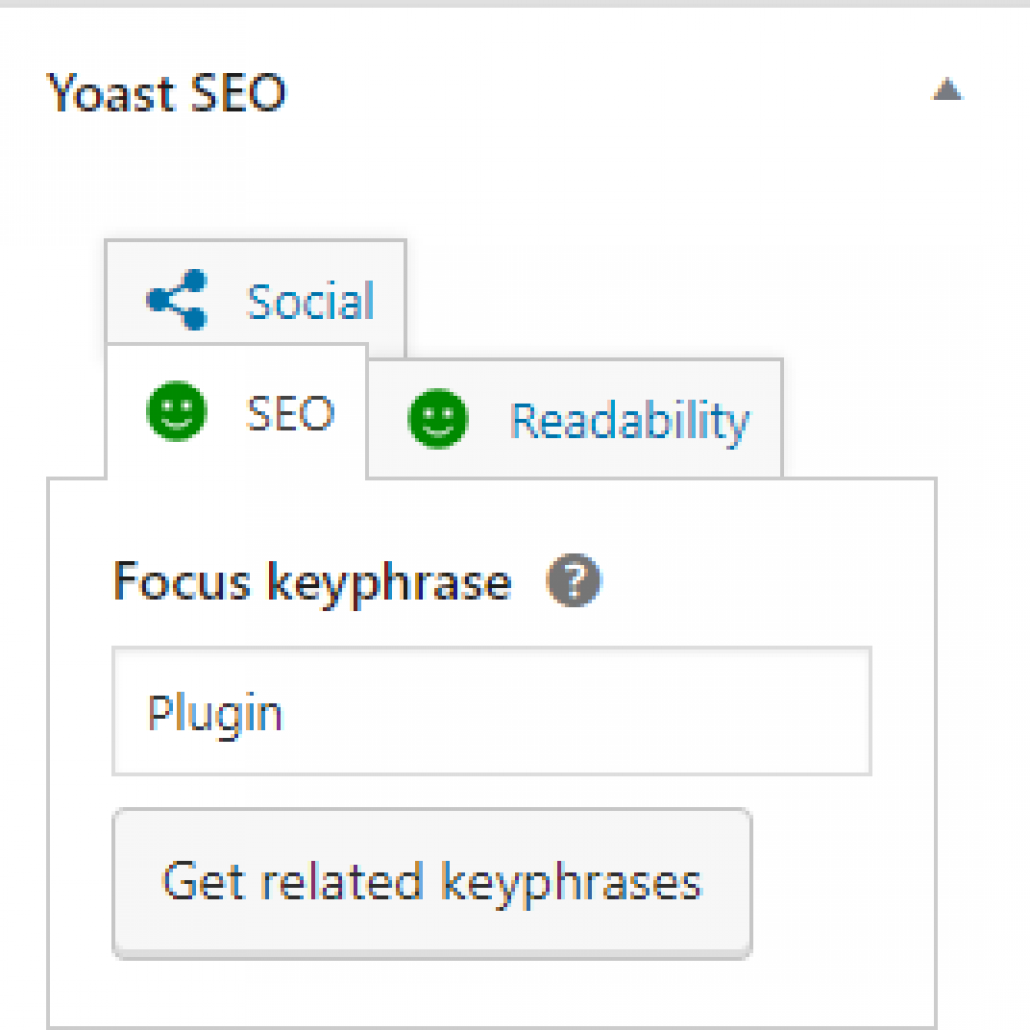 Google Review- This tool is used to display how your website would show up in search results.
2.Jet Pack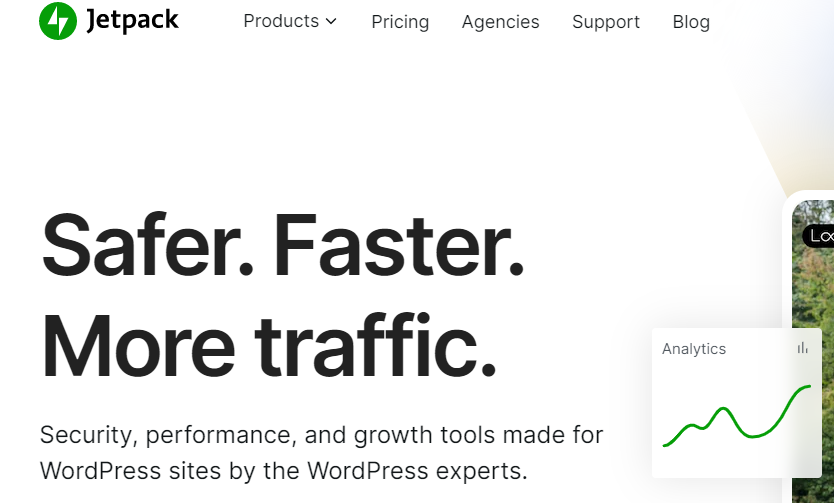 Jet Pack is a must-have for any website owner as it performs as versatile, features such as spam & malware protection, backup, and activity logs make it a more powerful and easy-to-use plugin. Jetpack is a good plugin for most users who are still starting and are not too familiar with WordPress.
For blogging website, it is a more helpful website as it enables you to add social sharing buttons to your posts on the most popular networks. Additionally, it comes with various customization tools, giving you more flexibility in your blog design.
It is free, but if you want to use more advanced options, you can also access one of the premium versions. Which starts at $19.95 per month. If you want all the most important features in a single plugin, like contact form, stats, security, design, marketing, and so on. Then Jetpack is the right solution for you.
Jetpack is being maintained and updated frequently. They're also constantly adding more and more features to the plugin.
3. Akismet Spam Protection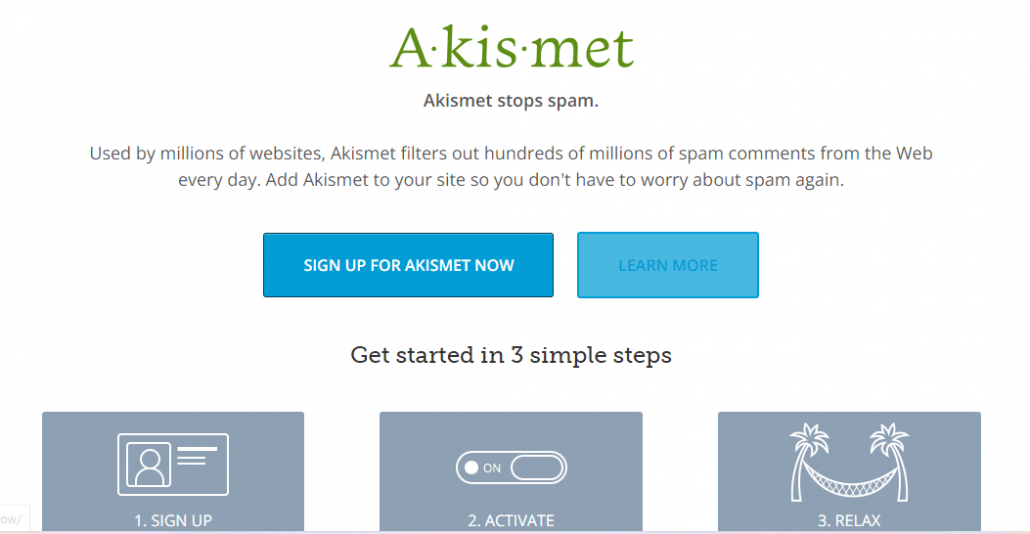 Akismet is a service that filters spam from comments, trackbacks, and contact form messages. It uses algorithm to filter out spam from Blog comments. For example, when several websites start reporting similar-looking content as spam, then Akismet will learn to identify that kind of content as spam in the future. Every time a user posts a comment, Akismet examines it based on its database. If the algorithms identify a comment as spam, it will be removed from your website.
As of today Akismet have caught 523 billion spam comments and the number is still growing. It is a cloud-based application, so the massive databases used to filter and catch spam reside in the cloud. The performance impact on your site is unnoticeable.
Akismet also has monthly paid plans starting from $5 per month for a single site. For $9 you get Akismet and Vault Press (a fully automated backup solution for WordPress sites).
Enterprise clients can get Akismet for $50 a month with large number of checks and unlimited sites. Email and chat based support is offered for each plan. Fixed monthly plans get priority support.
4. MonsterInsights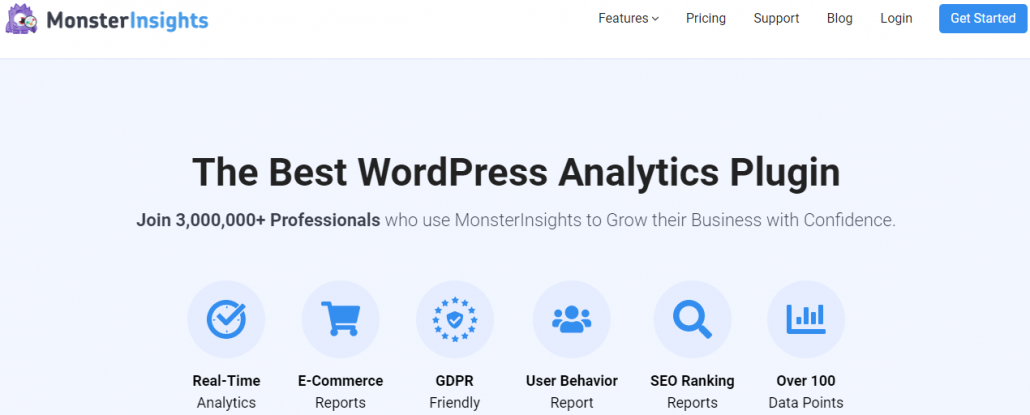 MonsterInsights is must-have plugin for Bloggers, it is genuinely the best Google Analytics plugin for WordPress. With the help of this plugin, you can see useful information about your visitors right inside your WordPress dashboard. And for bloggers the most important part of website is audience, and MonsterInsights plugin makes Audience Report. That shows you which country your visitors are from, what are they most interested in, which device are they using, their age, gender, and a whole lot more.
You can use these insights to improve your overall web strategy. It's easy to use and offers a ton of features that will help uncover insights about your audience. Plus, its reports are clean, simple, and user-friendly, so you can find data to make perfect blogging decisions and no longer work on your best guess.
Same as Google Analytics in MonsterInsights, you can have that same insight for your WP site, minus the hassle of understanding the GA suite.
You can swiftly become familiar with your guests, location, the material that most appeals to your target base, and much more. It comes both free and paid version, and you can choose freely whatever suits you.
You didn't have the vaguest idea but MonsterInsights does:
keywords generating the most site traffic
WordPress creators, labels, or categories
The explicit documents clients are downloading from the webpage
5. WP Rocket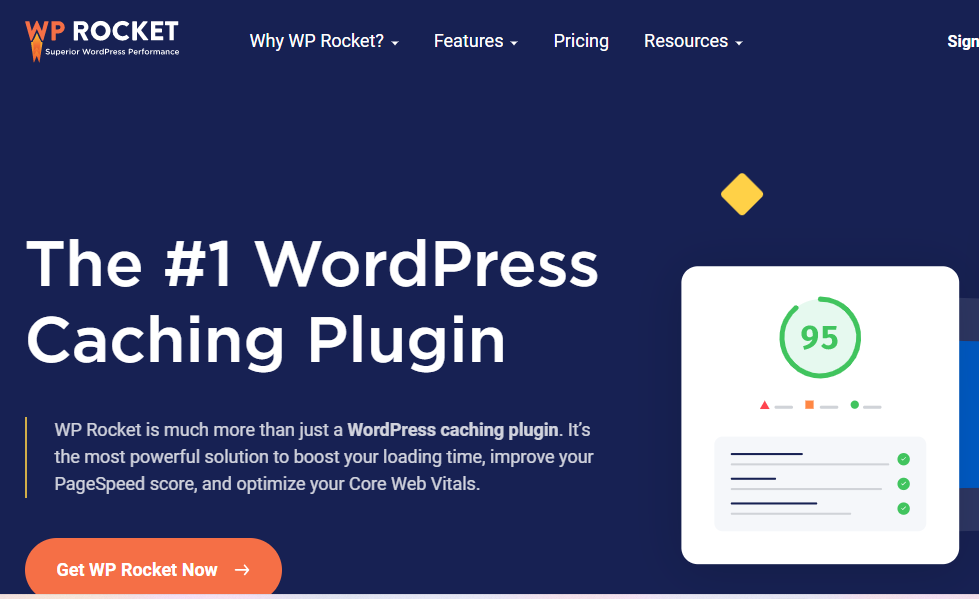 Site speed being one of the most important ranking factors, you will make Google happy too, and rank higher in search engine results. So, this WP Rocket plugin helps you to improve your loading time and deliver a great user experience for your website.
When the loading time of your pages increases, your readers get bored and abandon you. Don't let this happen: take advantage of caching with WP Rocket! WP Rocket caches your pages by creating static HTML files and making them easily available for future visitors.
It also applies browser caching, asking the browser to store the commonly-used but rarely-updated files in its local cache memory.
WP Rocket Add-ons are a set of features that extend available options in very few steps:
Varnish Cache
Cloudflare integration
Sucuri integration
Control them with a 1-click switch, the pricing start from $49/yr for a single site.
6. Smash Balloon

Who wants to integrate social media content into their website to help grow their following, increase conversions, save time, or engage more with their users, then they must use Smash Balloon plugin. Smash Balloon is a combination of 5 WordPress plugins. Each of these plugins makes it super easy for you to create and display social media feeds on your website.
Even without hiring a developer, you can use Smash Balloon to add custom Facebook feeds, Instagram feeds, Twitter feeds and YouTube feeds to your WordPress. It is a popular option for people who want social media feeds on their websites. With Smash Balloon plugins, you can easily show videos from all the major social media platforms on your website.
It is compatible with Divi, Elementor, Yoast SEO, image carousels, social widgets, and all other popular blog themes and plugins and you can use them without any worries. WP Rocket automatically preloads the cache every time you make some changes on your pages.
Smash Balloon pricing starts from $49/yr for single website to $249/yr for unlimited website.
7. OptinMonster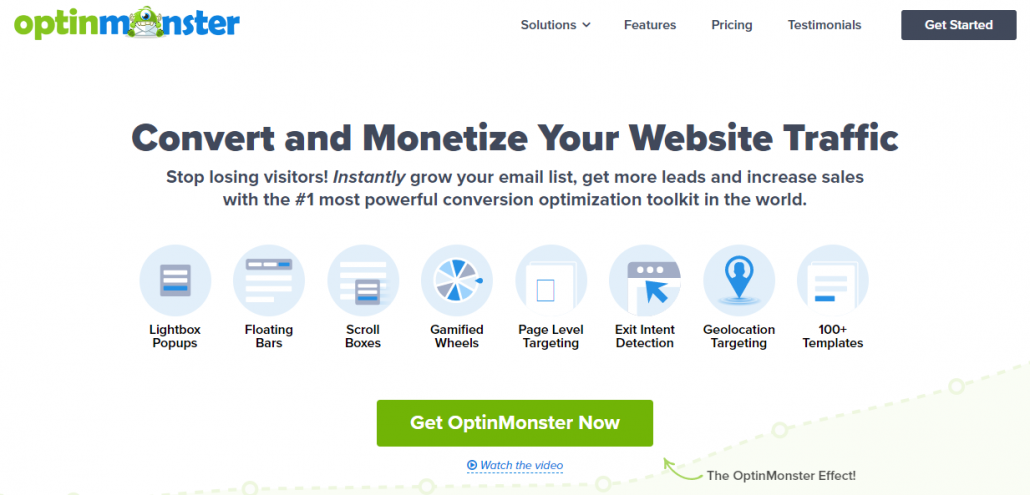 OptinMonster is best WordPress for popup builder and email newsletter popup plugin, for blogger you can use this plugin to create beautiful popup campaigns, email subscription forms, sticky announcement bars like hello bar, gamified spin-a-wheel opt-n forms, and other types of interactive popups for your site in minutes, not hours! Easy popup builder from OptinMonster increases conversions with the help of their various tools:
Lightbox popup
Floating Bar popup
Slide-in popup
Fullscreen welcome Mats
countdown timers
yes/no popup
Mobile popup
canvas custom popup

The best feature of OptinMonster is Exit-Intent popup and onsite retargeting, why? cause it can help you convert abandoning visitors into subscribers and customers.
With exit intent popups, your visitors see a targeted popup message at the precise moment they are about to leave. you can use exit intent popups combined with Onsite retargeting to show different popup message to new visitors & returning visitors.
8. Smush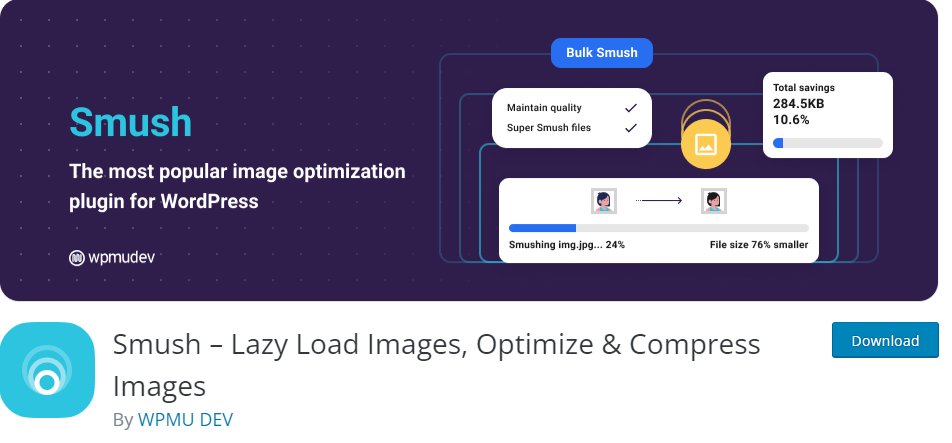 Image optimization is the easiest way to make your site load super fast, so Smush is what you need as it is among best image optimization plugins for your blog website. You may not know that each image on your website sends the individual HTTP request to the header, and that's why optimizing the images will provide you speed of your website, which ultimately enhances the user experience.
Other key features of the WebP Smush are as follow:
With one click, optimize and compress approximately 50 images at a time.
Incorrect Image Size Detection to locate images slowing the site speed
Select a maximum width and height to scale the large images.
Compress the images without the reduction in quality
It processes all the images present in the PNG, GIF, and JPEG format for the best possible results.
You can save the plugin settings, save the file as config, and upload it to your other site.
WP Smush offers many, many more features for optimum image optimization.
While creating a blog, you'll also need to add the images on your blog page itself. So do try this plugin and explore it. it's free or $7.5/month
9. Updraftplus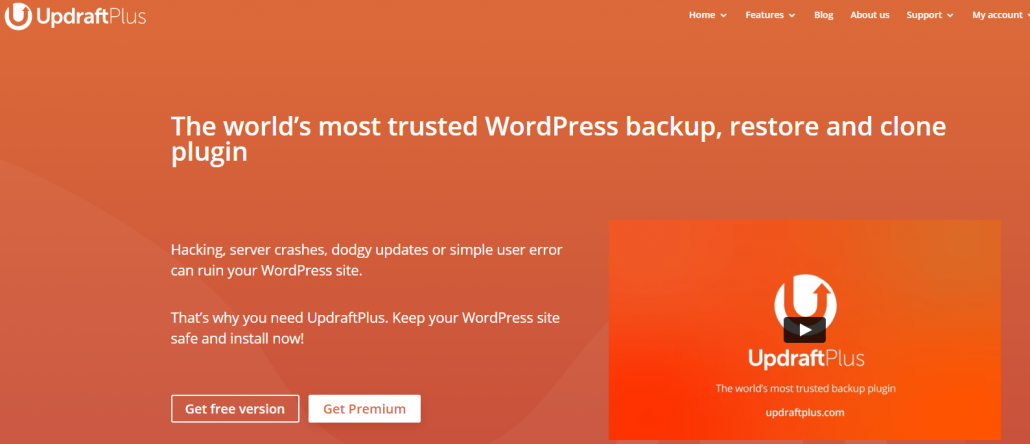 You can backup your contents using UpdraftPlus in the cloud databases like Dropbox, Google Drive, Microsoft OneDrive, iCloud and more. It Performs complete manual or scheduled backups of all your WordPress files, databases, plugins and themes. Restores backups directly from your WordPress control panel
It is the world's highest ranking and most popular scheduled backup plugin, the paid version also allows you to back up to Microsoft OneDrive, Microsoft Azure, Google Cloud Storage, Backblaze B2, SFTP, SCP, and WebDAV. WordPress, like any CMS, can be vulnerable to everything from server crashes, hacks, security flaws, bad plugin or theme updates, and insecure web hosts.
If anything happened to your website, it would cost you dearly in time, money, and reputation.
The key features of, UpdraftPlus:
Restores, as well as backing up
Backs up to more cloud options than any others
Allows you to set up automatic backup schedules, for the ultimate in convenience
Is faster, using up fewer server resources
Has been tested on over 3 million sites
10. Envira Gallery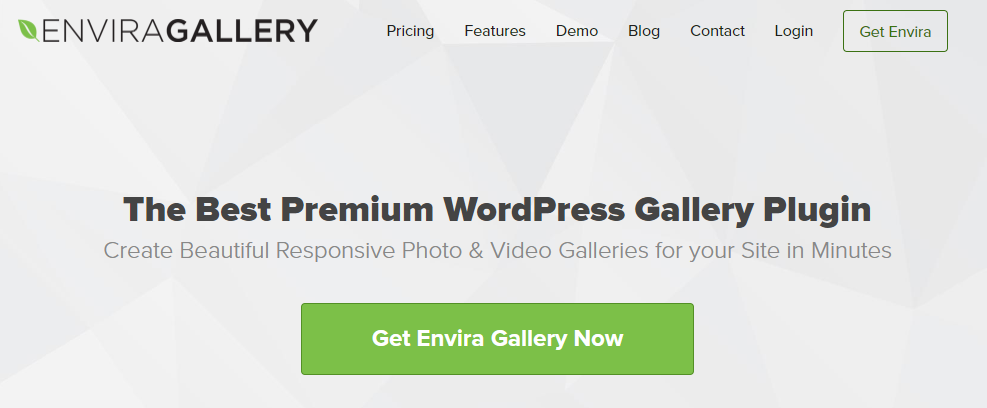 Envira Gallery allows you to create image galleries and photo albums on your WordPress blog instantly. To boost your site speed, improve the user experience, and also display your images in a more beautiful way, there's no better plugin than Envira Gallery. Envira Gallery is the best responsive WordPress gallery plugin.
Here are the features that make Envira Gallery the most powerful and user-friendly WordPress gallery plugin in the market:
Drag & Drop Builder
Gallery templates
Responsive Mobile Friendly
Album & Tags
Social Media Integration
Ecommerce Store
Watermark & protection
Slideshow & Fullscreen
Deeplinking & Pagination
Video support
Basically if you want to create a beautiful WordPress gallery, then you need Envira Gallery.
Conclusion
We hope this article helped you find the best WordPress plugins for blogs. With these plugins in your toolkit, you can take your blog to the next level. For any blogger who wants to optimize their blog and increase its potential, a plugin is a must! There are various benefits offered by plugins. And many of the plugins on this list offer free versions.
So, if you're a WordPress user on a budget, you can still use the free WordPress plugins to improve your blog. Then, upgrade to the pro versions as your blog grows. By installing these core, foundational plugins, you'll be well on your way to a better-performing website for your business.
These were some of the best WordPress plugins that we've gathered for your blog. S
https://inguide.in/wp-content/uploads/2021/02/inguide_logo_red_340_156-300x138.png
0
0
Rakhi
https://inguide.in/wp-content/uploads/2021/02/inguide_logo_red_340_156-300x138.png
Rakhi
2023-07-04 10:07:33
2023-07-08 09:52:55
Best WordPress Plugin for Blogs in 2023